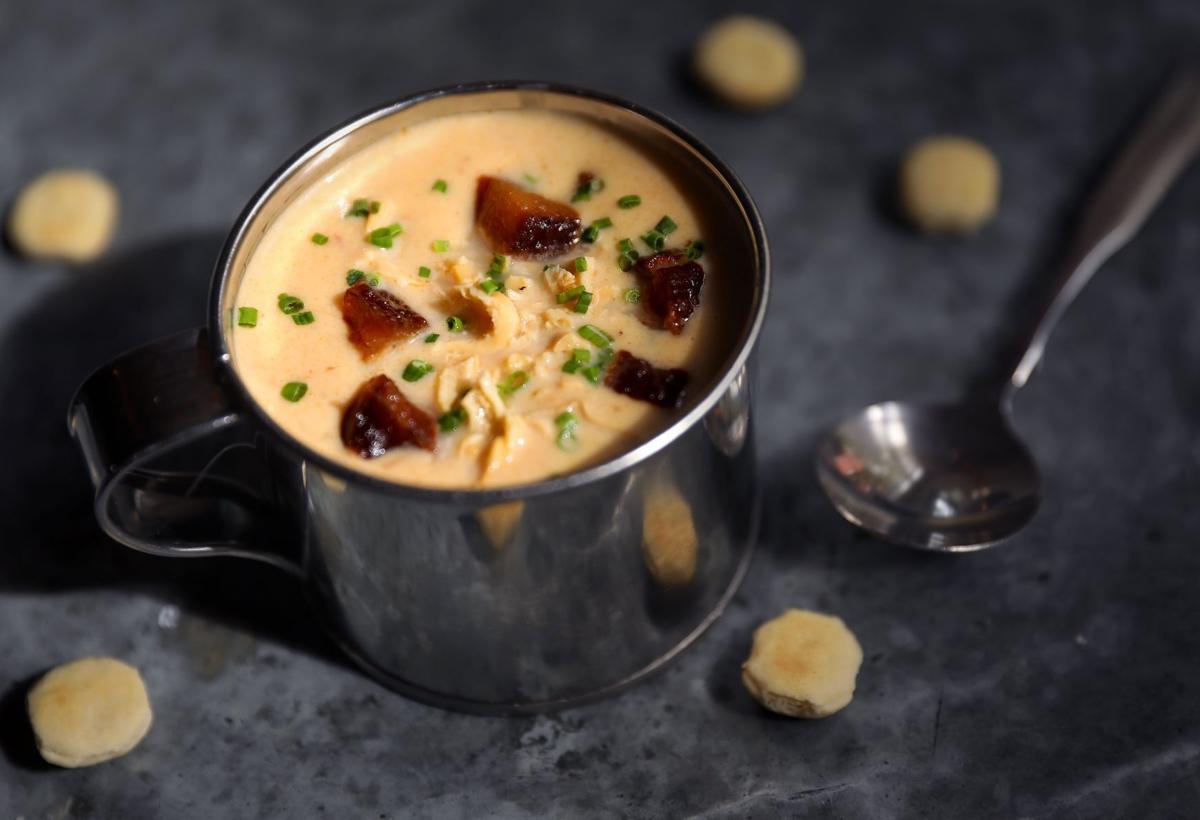 Q • My husband and I are avid clam chowder fans and recently tasted the most delicious ever at Peacemaker. It's the perfect blend of potatoes, creaminess and delicate clams. — Sue Ward, St. Peters
A • So first thing, check the ingredient list for Peacemaker's chowder. (Yeah, check. We'll wait.) Any surprises? The lemonade, perhaps? That's for acidity and a touch of sweetness. The sachet? It rounds out the rich creaminess. The Tabasco? Underlying heat. Oh and those fresh clams? So, so fresh.
And that's what's special about Peacemaker, the seafood place just down the street from Sidney Street Café. Both restaurants are from Kevin Nashan who this year was named Best Chef: Midwest by the prestigious James Beard Foundation.
Says John Messbarger, Peacemaker's top chef, "We have the same mentality as a fine dining restaurant. We're not going to shortcut something." That includes the freshness of the seafood, all sourced from coastal cities near Southwest Airlines' hubs so that seafood can hit St. Louis at least once a day.
Since opening in 2014, Peacemaker has featured Northeastern- and Louisiana-style seafood and the go-to order has been the lobster roll. So sure, says Messbarger, you can spend some money at Peacemaker. But he counters, "You can also order a catfish poorboy and a beer for thirteen bucks. Or gumbo and a poorboy and a beer for under twenty."
Personally, Messbarger is drawn to Peacemaker's raw bar. And the braised collard greens. And the New England-style "boils" — especially the shrimp boil. "The shrimp is so fresh. I don't know why, but it tastes like buttered popcorn," he smiles.
Peacemaker's chowder recipe developed over a few months before and after the restaurant opened. The objective was a slightly thicker version of a milky New England seafood chowder, something that sticks to a spoon but isn't gloppy. To replicate the chowder at home, Messbarger counsels patience. Cook slowly, he says, taking the time to develop flavor.
---
Peacemaker Lobster & Crab Co.
314-772-8858;peacemakerstl.com
---
Special Request is written by Town and Country resident Alanna Kellogg, author of the online recipe column KitchenParade.com and "veggie evangelist" at the food blog about vegetables, A Veggie Venture.
Amy Bertrand 314-340-8284
@abertrand on Twitter