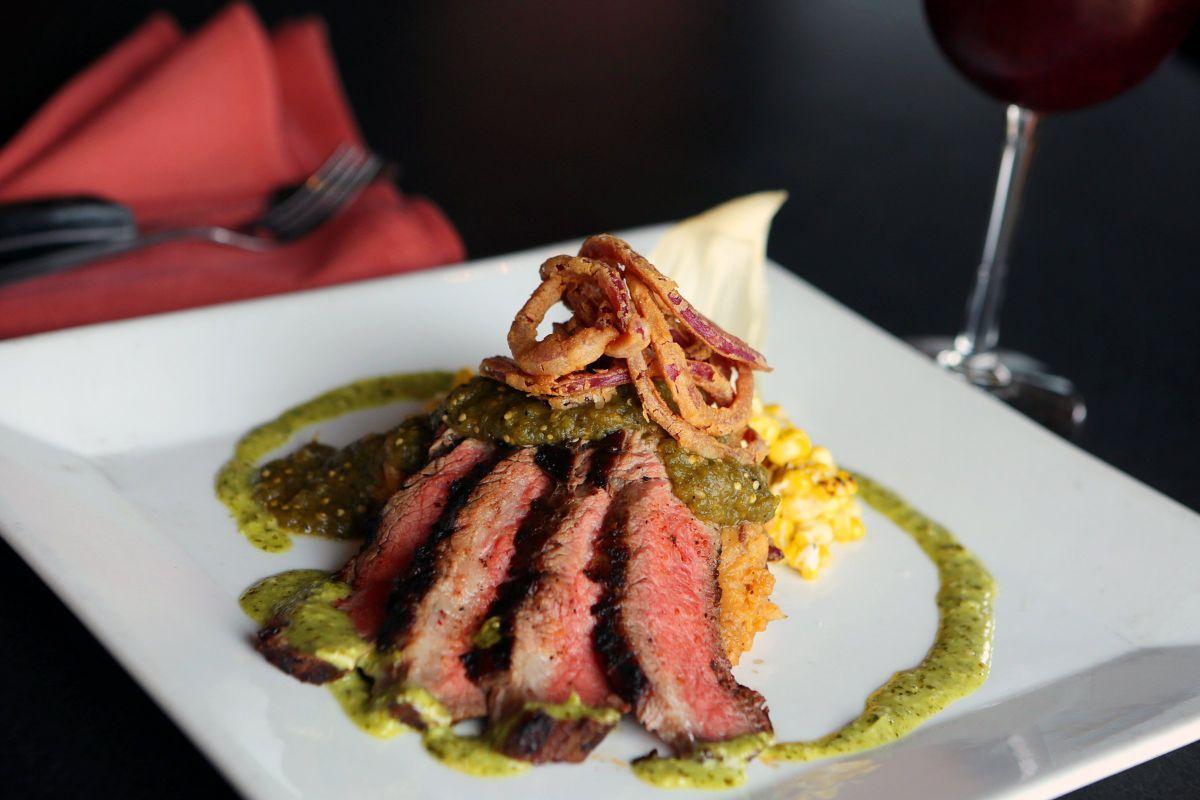 Q • Can I get the recipe for the Carne Asada (or at least the chile mashed potatoes it is served with?) at Milagro Modern in Webster Groves? — Donna Flanigan of Sunset Hills
A • Jason Tilford, executive chef and owner at Milagro Modern Mexican, calls his Carne Asada and chile mashed potatoes "the Mexican version of steak and potatoes." "The potatoes are pretty simple," he says. "We add smoked paprika, chipotle and ground ancho peppers, cumin and garlic, which gives them an orange-ish hue, much like a brick."
The recipe for his flavorful Carne Asada is simple as well, but the execution requires attention to details and patience. The steak should be fully covered with the tomato-based marinade.
The marinade needs 24 hours to work its magic. Other fine points include a grill at full temperature, leaving the meat undisturbed to develop a good sear and allowing the cooked meat to rest before slicing.
He brings the same discipline to each item on Milagro's menu from drinks to desserts. Tilford's cooking shows respect for the conventions of fine Mexican cooking. He doesn't take shortcuts with flavors. He coaxes maximum tastes from spices, herbs, peppers and high-quality fresh ingredients. "We make everything from scratch. The only can in our kitchen is tomato paste," he says.
"At Milagro, our menu concept is traditional styles of Mexican food or American specialties with a Mexican twist, like our meatloaf, which includes chorizo. (Note: the meatloaf is not a regular menu item but is offered as a special.) We serve it with our chile mashed potatoes and a roasted poblano 'gravy' cream sauce. We do backyard barbecued ribs spicy and smoky."
When Diana Kennedy, the grande dame of Mexican cooking, came to St. Louis, Tilford opened his restaurant to host a dinner fans of authentic Mexican cooking still remember. "That was the most nervous I've ever been cooking for someone," he says. "I spent a month on the menu, drawing inspiration from her latest book, 'Oaxaca al Gusto: An Infinite Gastronomy.'"
"When she arrived at Milagro, we invited her back to the kitchen. She tasted and talked. Most of the recipes I made for the first time that day, like the shrimp albondigas. She loved it."
---
20 Allen Avenue; Webster Groves
---
Would you like to request a recipe from a restaurant that is still open in the St. Louis area? Send your request along with your full name to reciperequest@post-dispatch.com.
A weekly treasure trove of tastiness, featuring reviews from restaurant critic Ian Froeb and how-to videos by food writer Dan Neman.