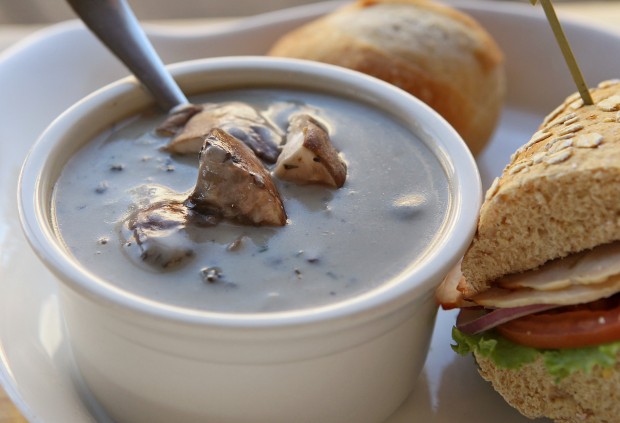 Q • I am interested in the recipe for the Mushroom Brie Soup from The Daily Bread in Des Peres. — Carol Carr, Kirkwood
A • The Daily Bread's owner Pat Judd looks puzzled when asked how his restaurant's mushroom soup compares with canned mushroom soup. "I don't even think about Campbell's," he says, even though Judd's mother, who turned 90 on Nov. 11 and who taught Judd to cook, used canned mushroom soup in green bean casserole.
For anyone who's only tasted canned mushroom soup, the Daily Bread's soup is a revelation. For starters, says Judd, "We use fresh mushrooms, nice big chunks." Leeks add flavor and texture and sherry draws out the mushrooms' earthiness. Some customers even buy the soup to-go for steak sauce.
Mushroom Brie Soup has been featured in the Daily Bread's fall seasonal menu but will remain available through Dec. 31.
The restaurant's year-round menus include salads, hot and cold sandwiches, soups and hearth-baked pizza. For seasonal menus, Judd says, "I look at the menu, then walk through old issues of Gourmet and Bon Appetit to match the season." From an inventory standpoint, he also looks for recipes calling for ingredients like mushrooms and brie already in the restaurant's pantry. This year's winter menu soup will include tortellini soup and beginning Jan. 1, black bean soup. The winter sandwich is turkey on multigrain bread with brie and cranberry salsa.
Judd offers easy tips to help home cooks re-create the Daily Bread's soup in their own kitchens. "Use dry sherry, not cooking sherry, which is awful. We stock sherry just for Mushroom Brie Soup." Also take the time to slice the rind off the brie, otherwise, says Judd, the waxy stuff will show up in the soup.
---
11719 Manchester Road, Des Peres
---
Send the name and location of the restaurant and a description of the dish to RecipeRequest@post-dispatch.com. Restaurants featured in this column must be in the St. Louis area. Include your full name, hometown and daytime phone number.
Special Request is written by Kirkwood resident Alanna Kellogg, author of the online recipe column KitchenParade.com and "veggie evangelist" at the food blog about vegetables, A Veggie Venture.