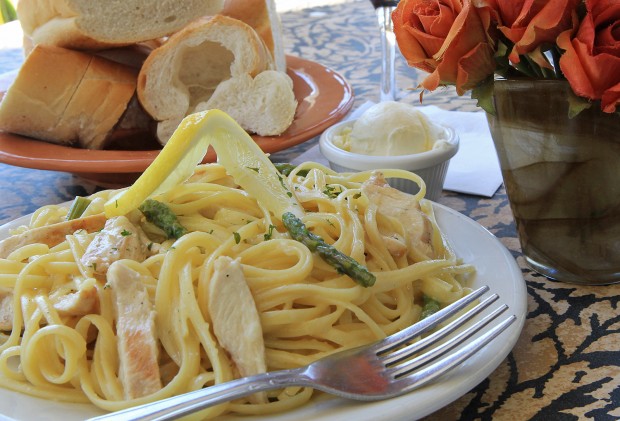 When restaurateurs Tom and Julie Kuhn bought a home in O'Fallon, Mo., in 1992, they noticed the development boom near the intersection of Highways K and N. "Schnucks and Dierbergs were building stores almost side by side. We figured, if they liked the area, we'd like it, too," Tom Kuhn says. At the time, the Kuhns' Madison's Café was a few miles east in Harvester. For six years, the couple operated restaurants in both communities.
Today, Madison's Café has found its place in O'Fallon. "It took us a while to find our place here. We try to be a family restaurant, a sports bar and a nightclub." Madison's hosts a "Super Long Happy Hour," half-price appetizers and reduced-price drinks from 4 to 9 p.m. during the week. In an area with lots of chains, Kuhn says, you do the best you can. "We've been in this location for 16 years now. We operate a clean restaurant with friendly people and good food. Do that, and it'll work."
Madison's Café serves Italian-American food. But, says Kuhn, who was named Restaurateur of the Year last year by the Greater St. Louis Restaurant Association, "we like to branch out, try new things. If customers like it, it stays on the menu." Cajun pasta is one popular menu item, so is seafood gumbo. Another is the "Burnt Sandwich" — the result of accidentally burning a steak, turning it into a sandwich with onions, mushrooms and melted provel. "It's an unbelievable sandwich," he says.
Kuhn says that customers came up with the idea for Pasta Sydney. "They wanted something light with chicken and asparagus."
The Kuhns have six children, four still at home in O'Fallon.
---
2974 Highway K, O'Fallon, Mo.
Special Request is written by Kirkwood resident Alanna Kellogg, author of the online recipe column KitchenParade.com and "veggie evangelist" at the food blog about vegetables, A Veggie Venture.