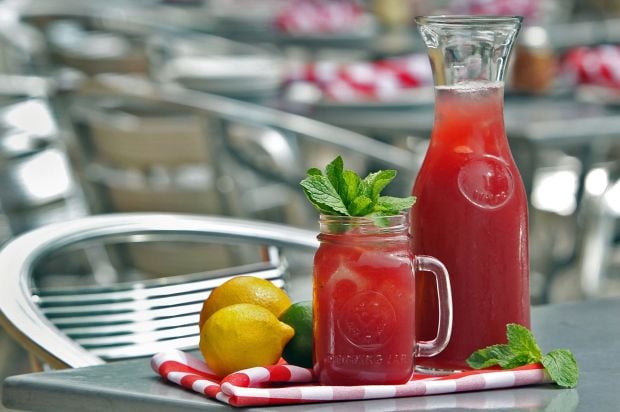 Q • Would you please ask Pi Pizzeria for its sangria recipe? It's soooo good! — "Mom Reccos" via email
A • Pi Pizzeria aims to "elevate" the pizza experience by delivering quality, consistency and value. That complete experience, says Coby Arzola, senior general manager, is "more important than any single one thing we do. It's the little things that add up."
Arzola says that families are the foundation of Pi's business. He's the son of Eddie Arzola of Dogtown's Chuy Arzola's fame and also ran Agave, his own place in the Grove, for two years. Arzola says his dad would always say, "We're in the people business. We just happen to serve food and drink."
People come to Pi, he says, not just for sustenance but to celebrate. "We don't want to be just dinner. We call that mediocre, and we don't want to be mediocre, we want to be great."
Arzola runs Pi's beverage business, and that means a commitment to local and craft beers and fresh, hand-crafted cocktails plus new attention, he says, on nonalcoholic drinks. "We're really working on that category." Pi thinks of itself — and its menu — as social, offering a shared experience, whether sharing a pizza, an appetizer, even carafes of sangria.
Pi's sangria veers toward fruitiness but with good acidity. "It's balanced, not too wine-y, not too booze-y, not too fruity," Arzola says. It's a big seller year-round, but during the summer months, sales double.
Look for Pi Pizzeria's sangria at its four full-service restaurants in the Delmar Loop, the Central West End, Kirkwood and downtown. There's also a carryout-only spot in Chesterfield, a restaurant in Washington, D.C., and another opening in Cincinnati later this year plus a food truck for catering and charity events. Pi also operates Gringo in the Central West End, which serves a stronger, richer sangria.
---
Special Request is written by Town and Country resident Alanna Kellogg, author of the online recipe column KitchenParade.com and "veggie evangelist" at the food blog about vegetables, A Veggie Venture.
A weekly treasure trove of tastiness, featuring reviews from restaurant critic Ian Froeb and how-to videos by food writer Dan Neman.