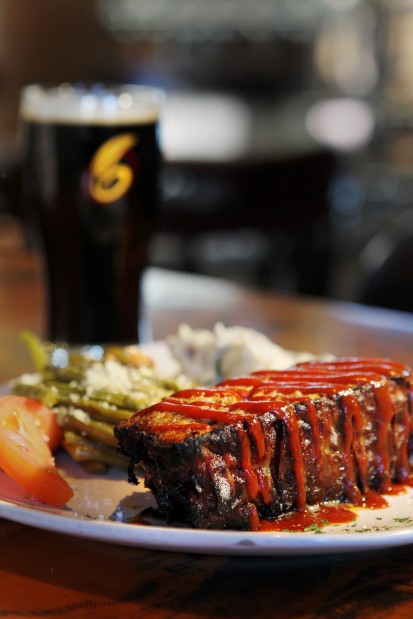 Q • My husband and I had a great lunch at Six Row Brewing Co. I would love their meatloaf recipe. — Faith Miller, Florissant
A • Six Row Brewing Co. opened in 2009 in the historic Falstaff building in midtown on Forest Park Avenue between Grand Boulevard and Vandeventer Avenue. The brewery's name gives nod to its six owners and to barley with six rows of seeds.
Eric Jarvis has headed Six Row's kitchen since it opened in 2011, building the menu from scratch and rising above pedestrian bar food. "Craft beers call for food," he says. "People won't come in if they can't eat, too."
The Porter Meatloaf recipe comes from Jarvis' dad and originally called for wine. "At a microbrewery, though, you want to use your own beer." The meatloaf "sells fast," he says. On a busy week, he makes meatloaf three times a week, a double batch on Fridays for the weekend. "Once one person sees it, the next person orders it, too. Meatloaf is such comfort food."
In two years, Six Row's kitchen has become famous not just for meatloaf but also for pulled pork. Both incorporate the brewery's porter, a dark beer. The pulled pork, Jarvis says, soaks in porter overnight.
Assistant brewmaster Joe Esser says that Six Row's porter is versatile for cooking: not too dry, not too sweet. "We go through a lot of it in the kitchen. It's dark and robust, so it really works with meat. So meatloaf and pulled pork, but also onion soup. Even our brownies use porter."
Six Row is the only brewery in St. Louis to brew porter year-round, a batch or two a month. During the winter, Six Row brews a vanilla porter, and once it brewed a bacon porter. "We'll do that one again some time," Esser laughs.
---
---
To request a recipe • Send the name and location of the restaurant and a description of the dish to RecipeRequest@post-dispatch.com. Restaurants featured in this column must be in the St. Louis area. Include your full name, hometown and daytime phone number.
Special Request is written by Kirkwood resident Alanna Kellogg, author of the online recipe column KitchenParade.com and "veggie evangelist" at the food blog about vegetables, A Veggie Venture.
A weekly treasure trove of tastiness, featuring reviews from restaurant critic Ian Froeb and how-to videos by food writer Dan Neman.