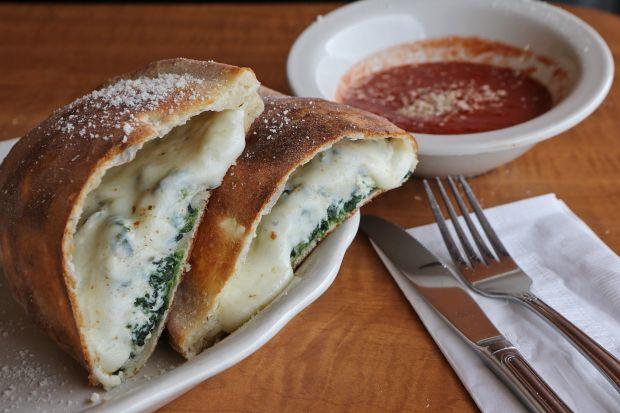 Q • I am a huge fan of the food at Racanelli's, especially the spinach calzones. — Brooke Schmidt
A • Ask the locals in Webster, Kirkwood, St. Peters and the Central West End about their favorite local pizza joint and odds are high the answer will be Racanelli's.
This year, Racanelli's celebrates its 20th anniversary by opening a fifth location, returning to the Delmar Loop, its first home, after a brief absence. "Racanelli's is an institution in the Loop," says restaurateur and self-dubbed "pizza king" John Racanelli.
Racanelli's unassuming neighborhood spots are famous for New York-style pizza, including house-made "everything," says Racanelli: pizza dough, tomato sauce, sausage and more. Racanelli says fans love the casual, family-friendly combination of casual quick-serve restaurants and "very high-end" pizza.
Both whole pies and individual slices are prepared to order and baked on-the-spot in brick-lined ovens set at 500 degrees that, Racanelli promises, "burn off all the calories." On a Friday night, he says, it's not uncommon for a table to order a whole pizza plus a couple of slices. "Mom and Dad want one thing, the kids another. Everybody gets what they want."
Racanelli's pizza dough starts off with a high-gluten, high-protein spring-wheat flour that yields a supple, elastic dough that takes pizza-makers time and finesse to learn. Manager Tanya Stark says she tells the guys, "Treat the dough like you treat a lovely lady."
The same dough is used for calzones, half-moon pockets stuffed with various fillings. The classic spinach filling originated with Fortunata "Tina" Racanelli, mother to John and his brothers and fellow restaurateurs Vito and Sam Racanelli; she uses it to stuff pasta shells and manicotti for family celebrations.
"Sometimes you gotta go back to what your mom taught you," her son says.Racanelli's New York Style Pizzeria
Four locations: Kirkwood, Webster, CWE, St. Peters
Fifth location opening in University City in September
Special Request is written by Town and Country resident Alanna Kellogg, author of the online recipe column KitchenParade.com and "veggie evangelist" at the food blog about vegetables, A Veggie Venture.