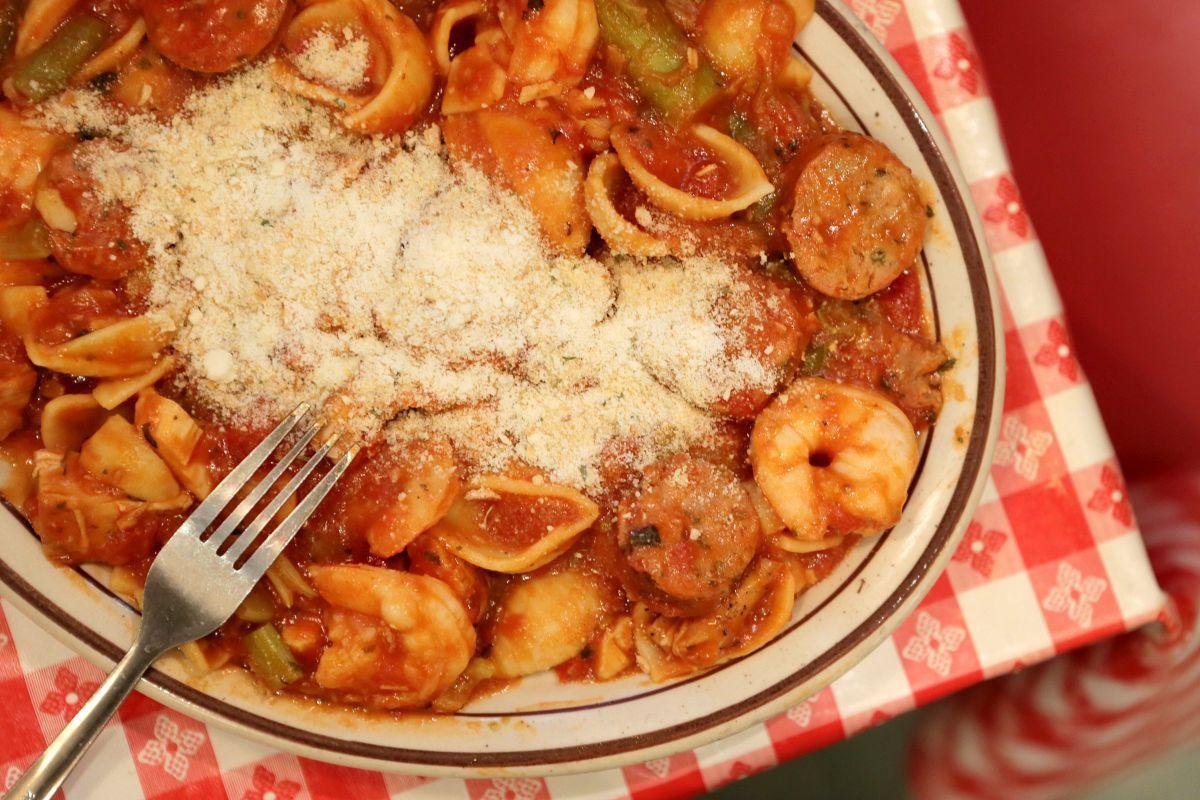 Q • My husband, David, comes from a restaurant family on the Hill. He loves Rigazzi's Pasta Cuggiano. — Deb Ruggeri
A • Rigazzi's is the oldest restaurant on the Hill and famous for big drinks, big plates and toasted ravioli. "Every year, our toasted ravioli is voted best in St. Louis," says owner Joan Aiazzi (pronounced "ozzie"). The ravioli are lightly floured, not heavily breaded. "They melt in the mouth."
Aizzi says that her husband, Mark, who died in 2013, still holds court in the restaurant, just as he did in real life, thanks to a portrait hung over the bar the night of a family wedding. Mark's mother, who founded Rigazzi's with her husband some 58 years ago, still comes in every day. "I still channel him," Aiazzi says of Mark. "Those are big shoes to fill. He was generous beyond belief."
Even this recipe originated with Mark, says longtime chef Jim Murphy. "One day he just decided that we needed an Italian jambalaya. It took a few test batches, but when we got it right, he said, 'Let's call it Pasta Cuggiano'." That may sound Italian, Murphy grins, but the name is made up. The Creole takeoff is packed with chicken, shrimp and sausage coins slow-cooked with pasta instead of rice, more of a stew than a soup.
Pasta Cuggiano is one of Rigazzi's daily specials. Usually, it's served at lunch only on Thursdays and all day on Saturdays when a smaller serving is paired with cannelloni, chicken marsala and Rigazzi's famous garlic bread in a special called "Roman Indulgence." This week only, Pasta Cuggiano is available every day for lunch through Friday and every day for dinner with the Roman Indulgence.Rigazzi's Restaurant
Special Request is written by Town and Country resident Alanna Kellogg, author of the online recipe column KitchenParade.com and "veggie evangelist" at the food blog about vegetables, A Veggie Venture.  
Would you like to request a recipe from a restaurant that is still open in the St. Louis area? Send your request along with your full name to reciperequest@post-dispatch.com.