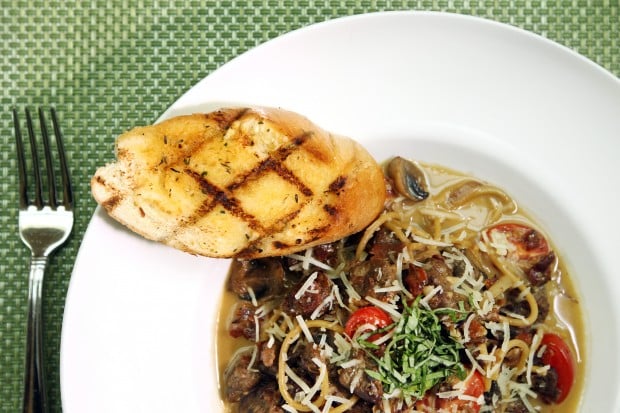 Q • The German Spaghetti at the Beerhouse at River City Casino is amazing! It has the most tender beef tips I've ever tasted, plus mushrooms, onions, tomatoes and bacon in a very light sauce. — Michelle Mantooth, St. Louis
A • The combination of beer, cream and tender morsels of tenderloin is unlike any other dish, says John Johnson, executive chef for River City and Lumière Place casinos. "It's the great hops of German cuisine with an Italian twist of spaghetti." Along with German Pot Roast and pretzels made in-house and served piping hot, German Spaghetti will never come off the Beerhouse menu, he says. "People love it."
To flavor its German Spaghetti, the Beerhouse uses 1904 American Red, an amber-hued lager brewed for the casino by Anheuser-Busch InBev. "We wanted a signature dish to showcase the house beer," says Johnson.
Johnson says the Beerhouse's cooks take ownership of their favorite dishes. German Spaghetti "belongs" to sous chef Briana Foresyth, who was born and raised in St. Louis and started out as a prep cook at River City when it opened in 2010. "It's not a combination you'd think of, but it works really well. It's a good winter meal."
Special Request is written by Kirkwood resident Alanna Kellogg, author of the online recipe column KitchenParade.com and "veggie evangelist" at the food blog about vegetables, A Veggie Venture.