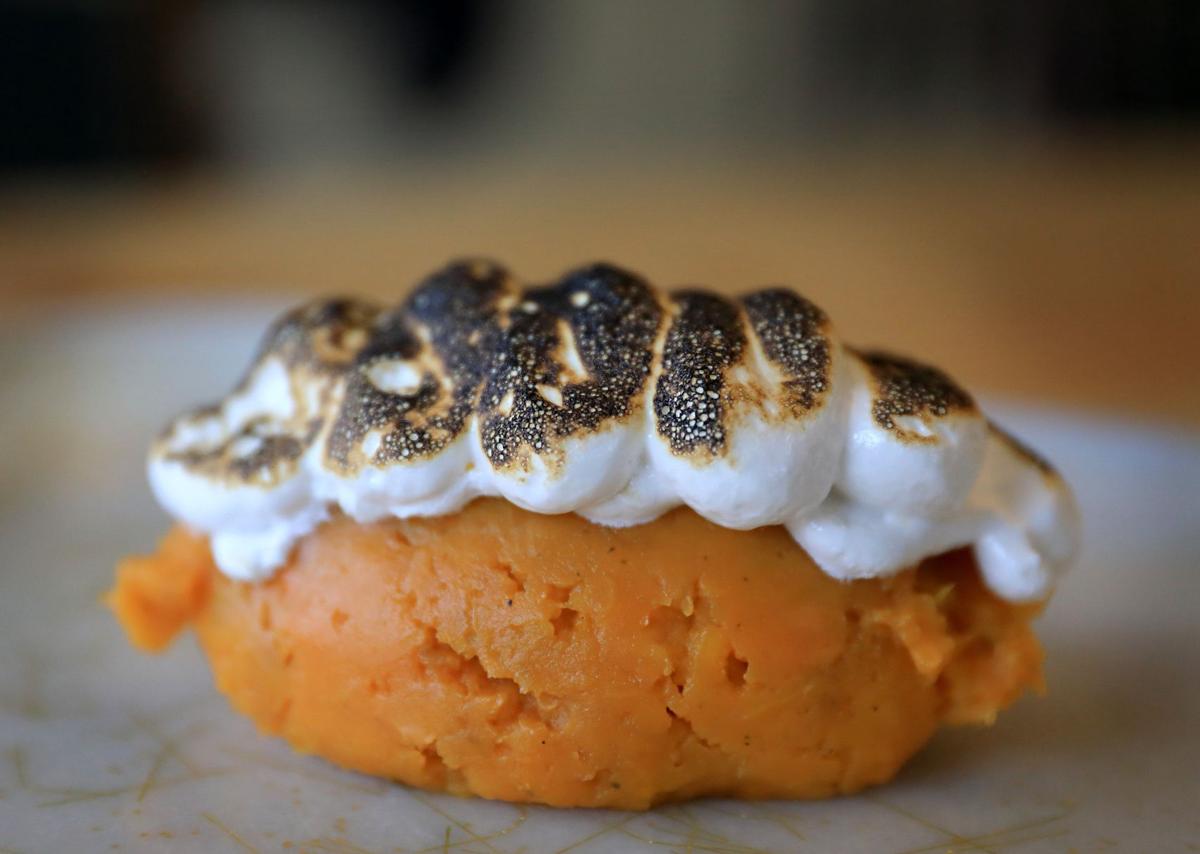 Q • I recently went to Grace Meat + Three in the Grove and ordered the Bourbon Sweet Potatoes. I really enjoyed them and was wondering if the chef would be willing to share the recipe. — Sharon Lewis, South County.
A • Baked sweet potatoes whipped with buttery bourbon syrup and topped with a toasted vanilla mallow cream make this fall and holiday side dish from Grace Meat + Three memorable. Chef Rick Lewis creates dishes with layers of ingredients that depend on careful preparations to maximize the flavors of foods.
"For this dish, you've got to go with gusto," he says. "We burn the bourbon off, flaming it with a torch in the restaurant kitchen, but even when the syrup is cooked stovetop, you've got to be prepared in case it flames. When you finish the mallow, the mixer's on high, and you're drizzling really hot corn syrup down the side of the mixing bowl. It's intense. You can always use premade marshmallow cream, but the flavor of homemade is just much better."
The restaurant, which opened in the Grove in mid-September, marries the culinary skills of Rick Lewis with his wife Elisa's sense of style and delightful front-of-house manners. Together, they've created delicious food served in a comfortable and stylish space.
Lewis draws on Southern food traditions to create new takes on classic dishes like cornmeal-dusted fried catfish, sweet tea-brined turkey legs, Rick's fried chicken and tender herbed roast beef. He serves the meats with a selection of sides that include southern staples like cornbread with pork cracklins and honey, butter beans with country ham, smoked cabbage and collard greens. He's got the comfort side covered, too, with creamy mac and cheese, green bean casserole and a keen selection of appetizers designed to share with friends.
Look for interesting design touches throughout the large space, including metal mattress springs holding live plants, vintage camping gear, toys, and paint-by-number landscapes Elisa Lewis selected.
For Thanksgiving, Grace Meat + Three will be cooking premade dinners, ordered in advance and ready for pickup from 9 a.m. to noon on Thanksgiving. "We'll offer sweet tea-brined 12- to 14-pound whole turkeys rubbed with Creole spices and charcoal smoked. We'll also have three sides: bourbon whipped sweet potatoes, green bean casserole with mushroom soup and crispy shallots, and a sausage and herb dressing. Our cracklin' corn bread will also be available," Elisa Lewis says.
---
---
To request a recipe • Would you like to request a recipe from a restaurant that is still open in the St. Louis area? Send your request along with your full name and the city you live in to reciperequest@post-dispatch.com.
Amy Bertrand 314-340-8284
@abertrand on Twitter
A weekly treasure trove of tastiness, featuring reviews from restaurant critic Ian Froeb and how-to videos by food writer Dan Neman.