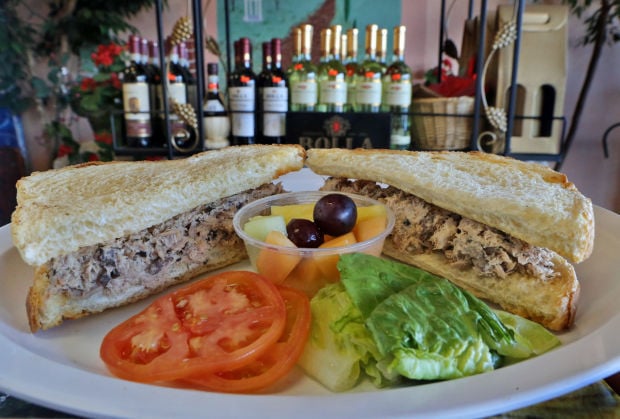 Q • I would really like the recipe for the Italian Tuna Salad from Viviano's Festa Italiano. — Gary Dell, Oakville
A • The first Viviano came to the United States from Sicily in 1926, and nearly 90 years later, the Viviano legacy continues in St. Louis.
With Viviano's Festa Italiano, Michael Viviano says that he hopes to honor the family name. Viviano, his wife, Beth, and her sister, Becky Parker, own the two "gourmet delicatessens" in the county, one in Old Town Fenton and another in Chesterfield. He says the relationship to John Viviano's & Sons, the longtime anchor and destination store on the Hill, is "same family, different businesses."
Festa Italiano locations are half restaurant, half Italian grocery, with shelves of hard-to-find Italian specialties. At the deli counter, the best sellers are the signature sandwich (hot roast beef on muffaletta bread with provel and a secret au jus mix) and the signature salad (lettuce with hearts of palm, salami, grated fontinella and Parmesan). Cannoli and house-made tiramisu are favorite sweets.
The restaurants make two to three large batches of Italian Tuna Salad a week, mixing water-based tuna with chopped kalamata olives and just enough mayonnaise to bind the tuna. "Some chop the olives to a tapenade texture." Michael Viviano says. "But we like a little chunk." Whatever you do, he advises, don't pulverize the olives. "The tuna will turn purple; it won't look like tuna salad." The contrast between the tuna and the olives makes Italian Tuna Salad special, he says, "a nice blend of Mediterranean flavors." No added salt is needed, thanks to the olives.
"Come to Viviano's," he says, "where every day is an Italian festival." Viviano laughs. "Put the emphasis on 'every.' Where else can you hear Frank and Dino in the background?"
---
62 Fenton Plaza, Fenton; 636-305-1474
Special Request is written by Town and Country resident Alanna Kellogg, author of the online recipe column KitchenParade.com and "veggie evangelist" at the food blog about vegetables, A Veggie Venture.