Some people, when they go to Italian restaurants, always order spaghetti carbonara. Some, when they go to Chinese restaurants, inevitably get chicken with black bean sauce.
When I go to a Mexican restaurant, you can be sure I'll order enchiladas. Always enchiladas.
Enchiladas, to me, encapsulate the best qualities of Mexican cooking. They can be made satisfactorily with an assortment of meats or cheeses; the fillings can be spiced or left plain; and they can be topped with a diversity of sauces — sometimes, colorfully, at the same time.
These days, enchiladas can be easy to make. Just buy a package of corn tortillas, wrap them around some precooked chicken or shredded cheese (a little more work is needed for beef or pork), splash a can of enchilada sauce on top and bake until done.
That's not how I make mine. And when you get down to it, that's not how your favorite Mexican restaurant makes theirs.
Homemade enchiladas taste better than that. You can make your own tortillas, you can make your own meat and you can especially make your own sauce, and the result will be far superior to anything involving a can. I didn't make my own tortillas this time — they're easy, but sometimes you just don't feel like making tortillas — and they were still amazing.
I started with enchiladas Suizas, which is what I inevitably order if it is on the menu. Enchiladas Suizas are chicken enchiladas with a green sauce — a salsa verde — that derives a delightful mild tang from its main ingredient, tomatillos.
They were invented in Mexico City. The name, Swiss enchiladas, comes from the fact that the other main ingredients are cream and cheese.
I cooked my chicken very simply, with just salt and pepper; you could also use rotisserie chicken or other prepackaged chicken. All the chicken needs to do is complement the sauce.
Admittedly, the sauce takes a little time and effort to make; the best foods often do. But I would say results are unquestionably worth it.
I made my standard, go-to green sauce. First, you simmer together tomatillos and a couple of aromatics (onion, garlic), and a serrano pepper or two or three, depending on your enjoyment of heat. No pepper at all is fine, too, if you like it extra mild.
After you blend these ingredients together with their simmering liquid and some sprigs of cilantro, there is still another step to go: You fry the mixture in oil. It isn't as weird or as fattening as it sounds; simmering the sauce with a little hot oil adds an almost magical level of depth to the flavor.
Baked all together with corn tortillas, queso fresco (a mild Mexican cheese) and crema, these enchiladas were bright and fresh and stunningly delicious.
But the beef enchiladas with a red sauce, to my surprise, were every bit as good, and maybe better.
I began by cooking ground beef with a familiar combination of spices — chili powder, cumin, onion powder, garlic powder and oregano. In effect, I began with the same seasoned beef I would use in a taco.
Then I made a red enchilada sauce, which was so flavorful that I found myself eating it by the spoonful as I was cooking it. The secret is to keep the tomato a minor component; it should act as a complement to the chili spice and the chile peppers.
It's a fair amount of work. You begin by rehydrating dried chiles, which are blended until smooth. Then you make a roux, add the blended chile liquid and simmer it together with a smear of tomato paste and a handful of helpful spices.
It is a bold sauce, complexly layered, and it goes almost bizarrely well with the spiced beef, corn tortilla and a healthy sprinkling of cheddar cheese. It is also excellent with chicken, pork and cheese enchiladas.
I am not kidding. I am not exaggerating. These are as good as any enchiladas you can get at a restaurant.
Trust me on this. I've had a lot of enchiladas.
Recipes to help you celebrate Cinco de Mayo 
14 recipes to help you celebrate Cinco de Mayo
RECIPE: Dos Reyes Mexican Restaurant House-Made Guacamole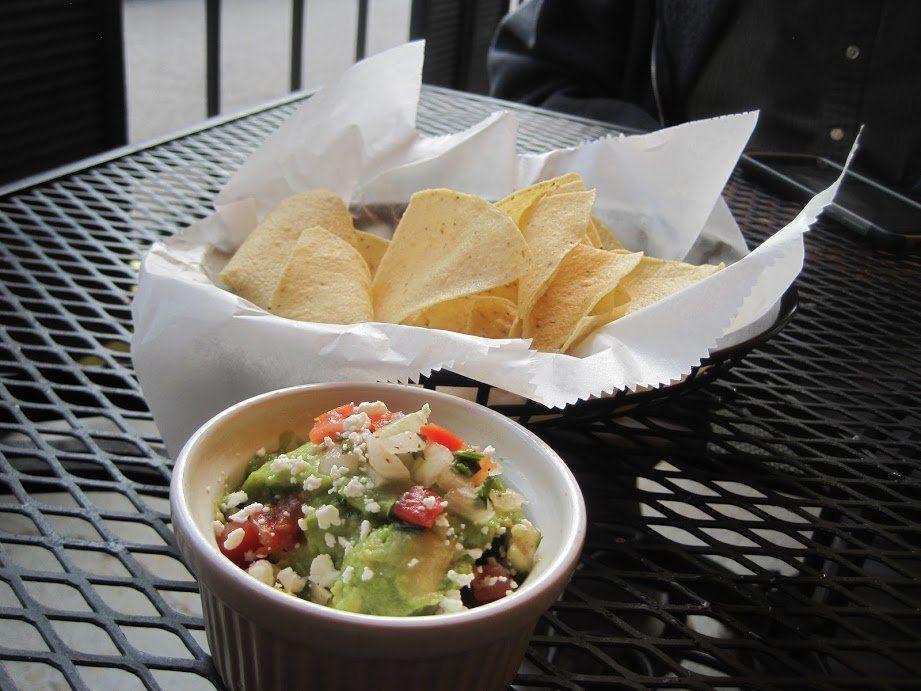 Yield: ¾ to 1 ¼ cups guacamole
1 small fresh jalapeno, about 2 inches long
Leaves only of one large sprig of cilantro; no stems
2 medium Haas ripe avocados
¼ teaspoon ground black pepper
1 tablespoon minced onion
1 ½ tablespoons crumbled queso fresco
1 tablespoon corn kernels, fresh or frozen, and lightly steamed
Notes: Buy avocados with unblemished skins and no soft spots and ripen before use. To tell if it is ripe, hold the fruit and apply a slight pressure. If it yields to gentle pressure, it is probably ripe. Check the stem of the avocado. If the stem holds fast, it's not ripe. If the stem pulls away easily but the spot underneath is brown or discolored, there may be brown spots inside. If the stem pulls away with slight pressure to uncover a green spot, it's probably ripe.
• Queso fresco is a Mexican cheese made from cow milk or from a combination of cow and goat milk. It has a crumbly texture with a fresh, bright, milky flavor that sets off the taste and creaminess of the guacamole.
1. Rinse, then core and chop the tomato into a small dice, about ¼-inch.
2. Use gloves to handle the jalapeno. Rinse under cool water, chop off the stem end and cut in half lengthwise. Dos Reyes leaves the seeds and ribs in the pepper. They can be removed if desired. Cut the peppers in a 1/8-inch dice and combine with the tomatoes.
3. Chop the cilantro leaves and set aside
4. Roll the lemon on the counter to break the cells for juicing, then cut in half horizontally. Use a reamer or a lemon press to juice. An alternate method if you don't have the tools is to hold the lemon half in the palm of the hand, then insert the tines of a fork into the segments and twist to break more of the juice cells and squeeze into a small dish. Remove all seeds.
5. Using a sharp knife, make a lengthwise cut in the avocado from the top until the knife hits the seed. Rotate the avocado, keeping the knife close to the pit, from top to bottom. Rotate the avocado a quarter turn and cut again, top to bottom.
6. Gently pull the avocado away from the pit. When one quarter remains attached to the pit, remove it carefully with fingers.
7. Peel the skin from the flesh and roughly chop it into large pieces. Place in a small deep bowl.
8. Add the chopped cilantro, diced tomatoes, diced jalapenos and lemon juice, salt and garlic powder. Stir with a fork to blend, pressing down gently a few times to mash part of the avocado. Some chunks should remain. Don't over mix.
9. Gently stir in the pepper last.
10. Place in a small deep bowl. Sprinkle with minced onion, crumbled queso and corn kernels.
11. Serve as an addition to top enchiladas, burritos or tacos. Use as a small side salad, or serve with tortilla chips as a dip.
Per serving (based on 4): 134 calories; 11g fat; 2g saturated fat; 2mg cholesterol; 2g protein; 9g carbohydrate; 2g sugar; 5g fiber; 611mg sodium; 31mg calcium
Five-Minute Vegetarian Burrito Bowl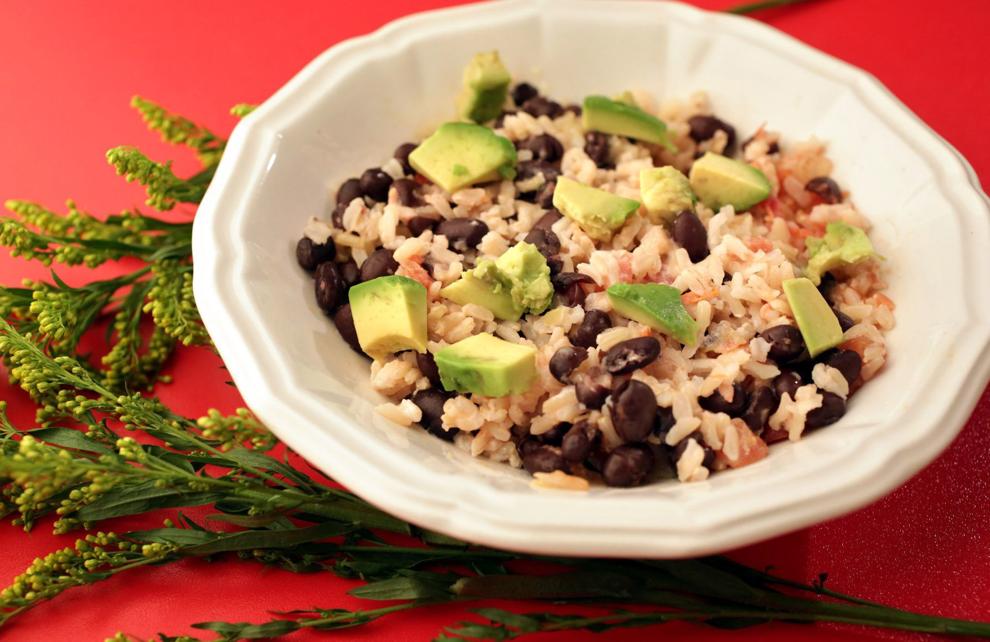 ½ cup black beans, drained and rinsed
2 to 3 tablespoons salsa, or to taste
1 tablespoon plain Greek yogurt
1 tablespoon shredded cheddar or Mexican-blend cheese
Diced avocado, diced tomato, guacamole, pico de gallo, etc. for toppings, optional
1. Prepare brown rice according to package instructions.
2. In a microwave-safe bowl, combine rice, black beans, salsa, plain Greek yogurt, and shredded cheese. Microwave on high for 30 to 60 seconds, or until heated through. Top with diced avocado, diced tomato, guacamole, pico de gallo, or other desired toppings.
Per serving: 458 calories; 11g fat; 3g saturated fat; 10mg cholesterol; 16g protein; 76g carbohydrate; 5g sugar; 15g fiber; 916mg sodium; 146mg calcium
Nutritional analysis calculated with 2 tablespoons avocado, 2 tablespoons pico de gallo, 2 tablespoons of diced tomato and 1 tablespoon guacamole.
RECIPE: The Royale's Fish Tacos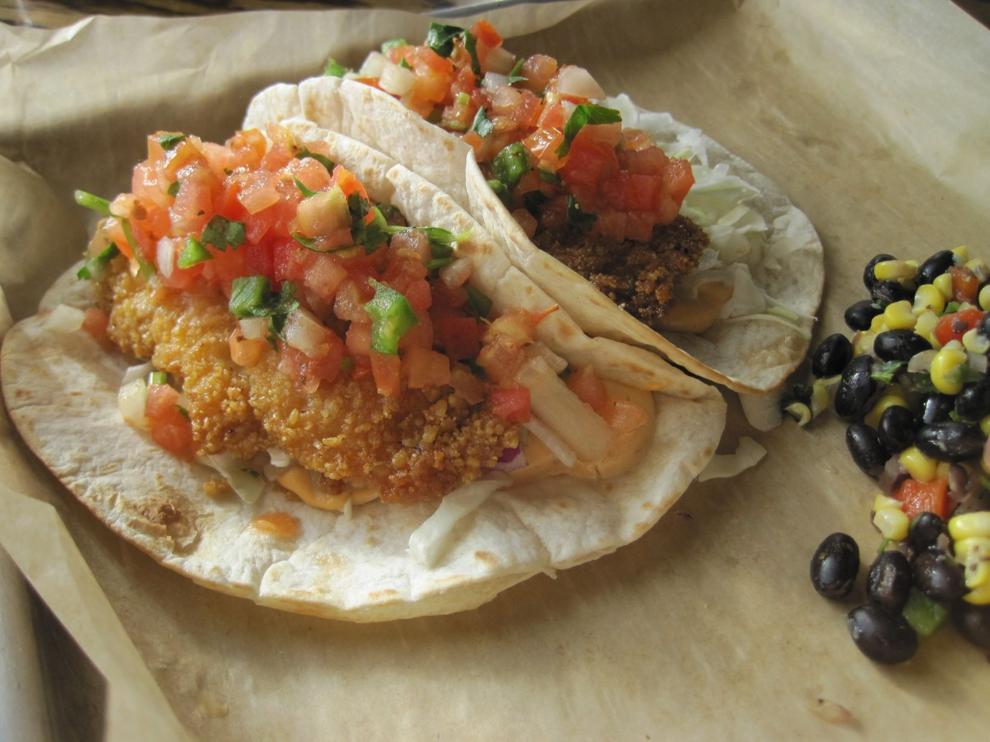 2 (8-ounce) catfish fillets
5 cups round restaurant-style tortilla chips, loosely packed
½ teaspoon ground black pepper
2 tablespoons extra virgin olive oil
¼ cup plus 2 tablespoons vegetable oil
8 (6-inch) flour or corn tortillas
8 to 12 tablespoons chipotle aioli, store bought or homemade
1 cup shredded green cabbage
1 ½ cups pico de gallo, store bought or homemade
Notes: If you don't have buttermilk on hand, place 1 tablespoon plus 1 ½ teaspoons lemon juice or white vinegar in a 2-cup measuring cup. Fill with milk to the 1 ½ cup line and let stand for five minutes.
• Don't use baked tortilla chips for this dish; the oiliness of thicker chips sticks better to the fish.
• The Royale uses oil that is a combination of 75% vegetable oil and 25% extra virgin olive oil to pan fry the fillets.
• For the final finish on the fillets, the Royale bakes them directly on the oven rack. You may place a baking sheet under the rack to catch loose crumbs. Alternately, use a rimmed cookie sheet with a cooling rack set on top for the bake. For the test, we used the rimmed cookie sheet.
• The Royale uses flour tortillas for their tacos but you can substitute corn if desired.
1. An hour or two before cooking, cut the fillets in half lengthwise, then cut each piece in half width wise. Rinse under cold water and pat dry.
2. Pour the buttermilk into a shallow bowl and add the fillets. Cover and return to the refrigerator.
3. To make the tortilla chip breading, pulse the tortilla chips in a food processor to crumbs. Add cumin, salt and pepper to the mix and stir to blend. Place 1 ½ cups in a shallow dish big enough to hold a fillet.
4. Preheat the oven to 350 degrees.
5. Remove catfish fillets from the refrigerator. Shake off excess buttermilk and dredge the fillets through the breading on both sides. Add more breading as needed.
6. Preheat an 8-inch stainless steel frying pan over medium-high heat for a minute or two. Mix the olive oil into the vegetable oil and add to the pan. Heat the oil until it begins to shimmer and a drop of water skitters on the surface. Add the fillets and pan fry until the coating turns light brown, about 3 to 4 minutes per side. If the breading does not adhere to the fillets, put the pan-fried fillets back in the dish with the breading and pat in place on both sides.
7. Place finished fillets on a rimmed baking sheet set with a rack and put in the oven to crisp up for about 5 to 7 minutes.
8. Spray a nonstick skillet lightly with cooking spray and add the tortillas to soften.
9. Place a tortilla on the plate and run a line of chipotle mayonnaise down the center. Top with shredded cabbage. Add a catfish fillet and top with 3 tablespoons pico de gallo.
Per serving: 821 calories; 47g fat; 12g saturated fat; 78mg cholesterol; 28g protein; 73g carbohydrate; 8g sugar; 2g fiber; 1,774mg sodium; 221mg calcium
RECIPE: Mission Taco Black Beans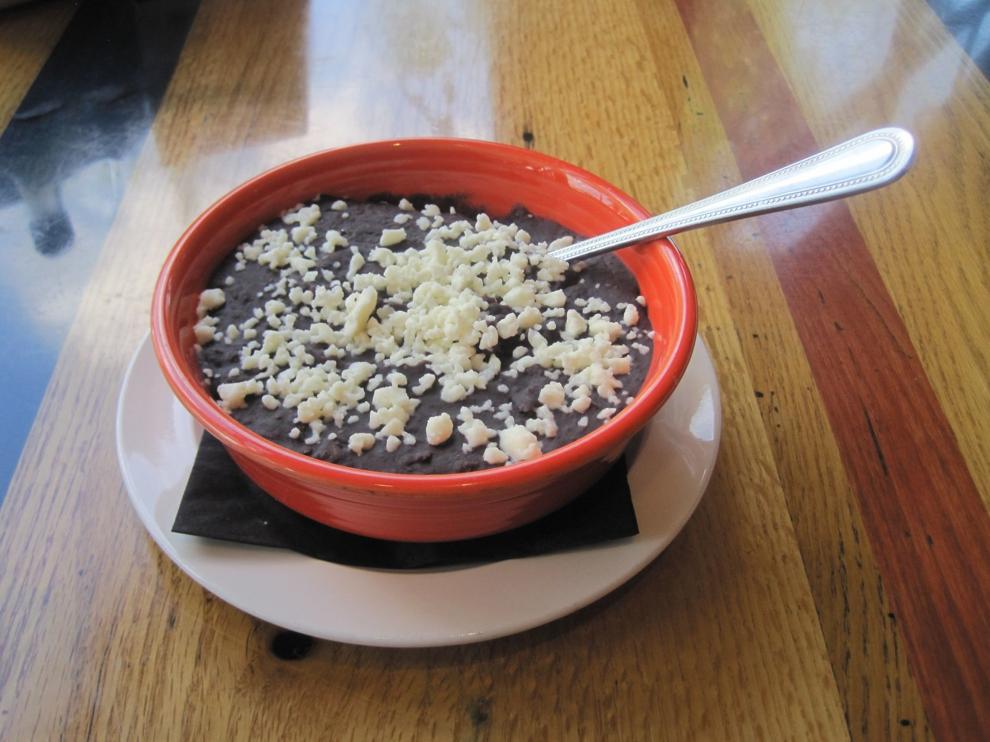 Yield: 5 cups cooked beans
1 pound dried black beans
½ cup chopped yellow onion
2 serrano chiles, chopped
1 tablespoon ground cumin
½ cup fresh epazote, chopped
1 to 2 tablespoons sea salt
½ cup crumbled queso fresco
Notes: Mission Taco does not presoak their beans.
Cooking dried beans is easy, but there are variables to cooking times, like the age of the beans, which can be stored for years. Older beans take longer to cook. Buy dried beans from grocers or sources, like international markets, where beans turnover quickly. Rancho Gordo sells very fresh beans online. Bob's Red Mill offers a good product available in better and premium grocers as well as online.
If added water is needed during cooking, heat it first. Adding cold water slows the cooking.
Epazote is a pungent Mexican herb that can be found fresh in international markets. Fresh stems should be placed upright in a glass with an inch or so of cold water in the bottom, covered lightly with a plastic bag and stored in the refrigerator.
Queso fresco is a Mexican fresh milk cheese, usually a combination of cow's and goat's milk, with a salty-sour flavor. It doesn't melt easily and is used in many dishes.
1. Rinse the beans under cold running water to remove any dust or bits of debris.
2. Combine beans, water, chopped onion and chiles in a 4- or 5-quart saucepan with a lid. Bring to a boil, and then reduce heat to a simmer. The simmer should be just below boiling with small bubbles coming to the surface. Cover and cook for 1 hour, stirring occasionally.
3. Add the epazote, cover and resume simmering. Check the beans for doneness after 15 minutes. Cook another 15 minutes if needed. The beans should be tender but not mushy and falling apart. Cook until beans are done, adding hot water from a kettle or pot in small increments as needed.
4. Taste. Add salt in increments and stir in. Taste, and adjust as necessary.
5. There should be about ¼-inch of water left in the pot above the beans at the end of cooking. If not add a little more hot water from the kettle or pan.
6. To reserve some whole beans to use for other dishes, take out a few cups of beans and place in a separate container.
7. Remove the beans from the heat and puree with either a wand blender in the pot or in a blender. If using a blender, transfer hot beans and liquid carefully in batches.
8. Add more water if needed to adjust the beans to the desired texture.
9. Top with crumbled queso fresco and serve.
Per (½ cup) serving: 182 calories; 3g fat; 1g saturated fat; 4mg cholesterol; 11g protein; 29g carbohydrate; 1g sugar; 7g fiber; 748mg sodium; 99mg calcium
Meyer Lemon Margarita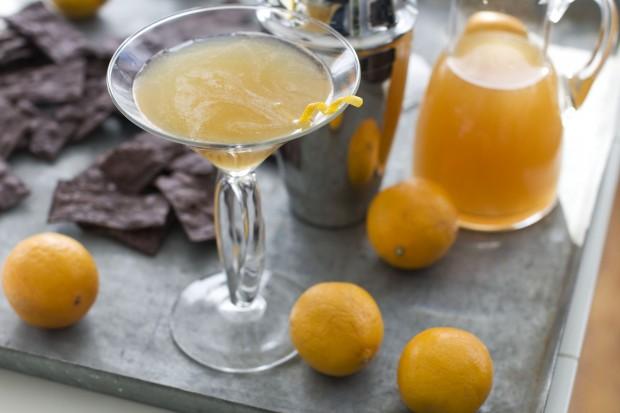 1 1/2 cups Meyer Lemon Infused Tequila (see recipe below)
1 cup fresh Meyer lemon juice (4 to 5 lemons)
1/2 cup Meyer Lemon Simple Syrup (see recipe below)
8 lemon twists, to garnish
1. In a pitcher, combine the tequila, lemon juice, triple sec and simple syrup. Cover and refrigerate until chilled, about 2 hours.
2. When ready to serve, fill a cocktail shaker half full with ice and pour in 1 cup of the margarita mixture. Shake, strain into two 6-ounce martini glasses and garnish each with a twist. Repeat for the remaining margaritas.
MEYER LEMON-INFUSED TEQUILA 
Yield: 1 (750-milliliter) bottle
750-milliliter bottle 100 percent blue agave blanco tequila
1. Using a vegetable peeler, remove the zest (colored layer of skin only) from the lemons in large strips. Place the zest in a large glass jar, then add the tequila and cover tightly. Let stand for 4 days to allow the flavors to blend, tipping the jar back and forth a couple times a day.
2. Strain out the zest, and the tequila is ready to use. Stored in a glass container or its original bottle, it will keep its vibrant color for 1 to 2 months.
1. Use a vegetable peeler to remove the zest (colored layer of skin only) from the lemons in large strips.
2. In a small saucepan over medium heat, combine the zest, sugar and water, stirring until the sugar is dissolved. Let the mixture reach a boil, then reduce the heat to low and simmer for 2 minutes. Remove from the heat and set aside to cool. Strain out and discard the zest. Cover and refrigerate until needed. Keeps for several weeks.
Adapted from Rick Bayless and Deann Groen Bayless' "Frontera: Margaritas, Guacamoles and Snacks"
Chicken Mole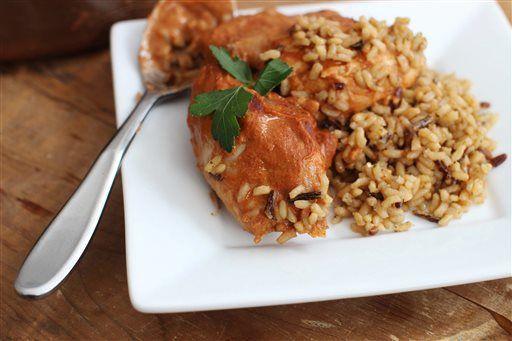 1 large yellow onion, diced
½ cup raw, unsalted almonds
1 teaspoon coriander seeds
2 to 4 Thai red chilies (depending on desired heat)
1 ½ cups low-sodium chicken broth or stock
2.7-ounce disc Mexican chocolate (such as Taza)
1 tablespoon vegetable or canola oil
2 pounds boneless, skinless chicken thighs
Cooked brown rice, to serve
1. In a large skillet over medium-high, heat the oil. Add the onion and saute for 3 minutes. Add the almonds, garlic, cumin, coriander and chilies, then cook, stirring often, for 6 minutes. Add the orange juice and chicken broth, then stir to deglaze the pan. Bring to a simmer, then stir in the tomato paste and oregano. Transfer the mixture to a blender, then add the chocolate. Blend until smooth, then set aside.
2. Return the skillet to medium-high and heat the vegetable oil. Season the chicken with salt, then add it to the skillet and cook for 3 minutes per side. Return the sauce to the skillet, stirring gently to cover the chicken. Return to a simmer, then reduce heat to maintain. Cover and cook for 5 minutes, or until the chicken reaches 165 degrees. Serve the chicken over rice, spooning mole sauce over the top.
Per serving: 441 calories; 23g fat; 5g saturated fat; 101mg cholesterol; 34g protein; 25g carbohydrate; 15g sugar; 4g fiber; 123mg sodium; 68mg calcium.
Mexican Double Chocolate Orange Cookies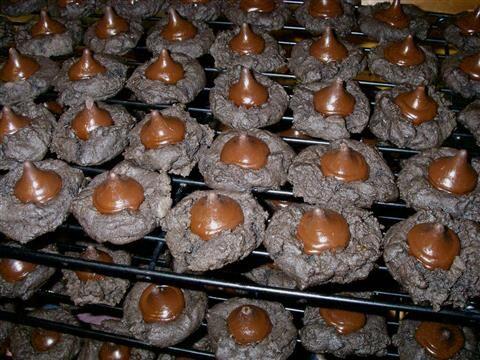 2 ¼ cups all-purpose flour
2/3 cup dark baking cocoa (darkest, highest cocoa content you can find)
2/3 cup brown sugar, packed
Zest of two large oranges
½ teaspoon powdered cayenne pepper
1 teaspoon vanilla extract
1 bag Special Dark Chocolate Hershey's Kisses
1. Preheat oven to 350 degrees
2. Combine flour, cocoa, baking soda and salt in a small bowl.
3. Beat butter, granulated sugar, brown sugar, orange zest, orange oil, cayenne pepper and vanilla extract in large mixing bowl with an electric mixer.
4. Add eggs one at a time, beating well after each egg is added.
5. Gradually beat in flour mixture.
6. Make 1 tablespoon balls and place onto parchment-covered baking sheets.
7. Bake for 9 to 11 minutes.
8. Remove from oven and immediately press 1 unwrapped chocolate kiss into the center of each cookie.
9. Let cool on baking sheets for 10 minutes so that kisses set up.
10. Transfer to wire racks and let cool completely.
Per serving: 105 calories; 6g fat; 3g saturated fat; 18mg cholesterol; 1g protein; 14g carbohydrate; 9g sugar; 1g fiber; 59mg sodium; 7mg calcium.
Recipe from Paula Brud-Brown of Lemay
Milagro Modern Mexican Carne Asada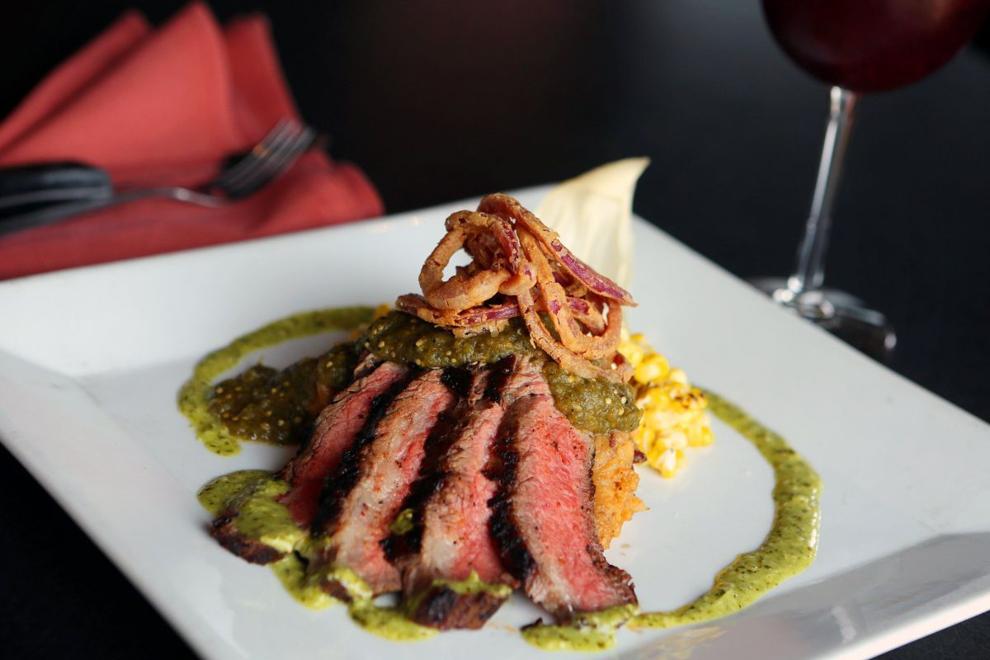 1 ½ cups crushed tomatoes
10 single garlic cloves, peeled
8 tablespoons chipotle peppers in adobo sauce
4 tablespoons ground cumin
3 ½ to 4 pounds flank steak
1. Prepare the marinade one full day before grill time. Place tomatoes, garlic, chipotle peppers, oil and cumin in the bowl of a food processor and blend until smooth.
2. Remove visible fat from the flank steak and place in a baking dish that fits the cut of meat and allows the marinade to fully cover the meat. Pour in prepared marinade to cover the flank steak. You may also place the flank steak and marinade in a zip-lock bag. Be sure the marinade covers both sides of the steak. Place plastic wrap or aluminum foil over the pan and place in the refrigerator for 24 hours.
3. The following day, remove the pan from the refrigerator 30 minutes prior to grilling.
4. Heat the grill to 500 to 550 degrees, remove the steak and wipe excess marinade away. Discard the marinade. Season with sea salt.
5. Grill 7 to 10 minutes per side, turning once, changing directions to get good grill marks. Don't move the meat around on the grill. Allow it to develop a good sear. Cook to an internal temperature of 140 degrees. Remove to a platter from the grill.
6. Let meat rest for 15 minutes to allow the juices to settle.
7. Slice thin, against the grain of the steak and serve.
Per serving: 257 calories; 14g fat; 5g saturated fat; 91mg cholesterol; 31g protein; 1g carbohydrate; no sugar; no fiber; 1567mg sodium; 24mg calcium.
Mix and Match Mexican Lasagna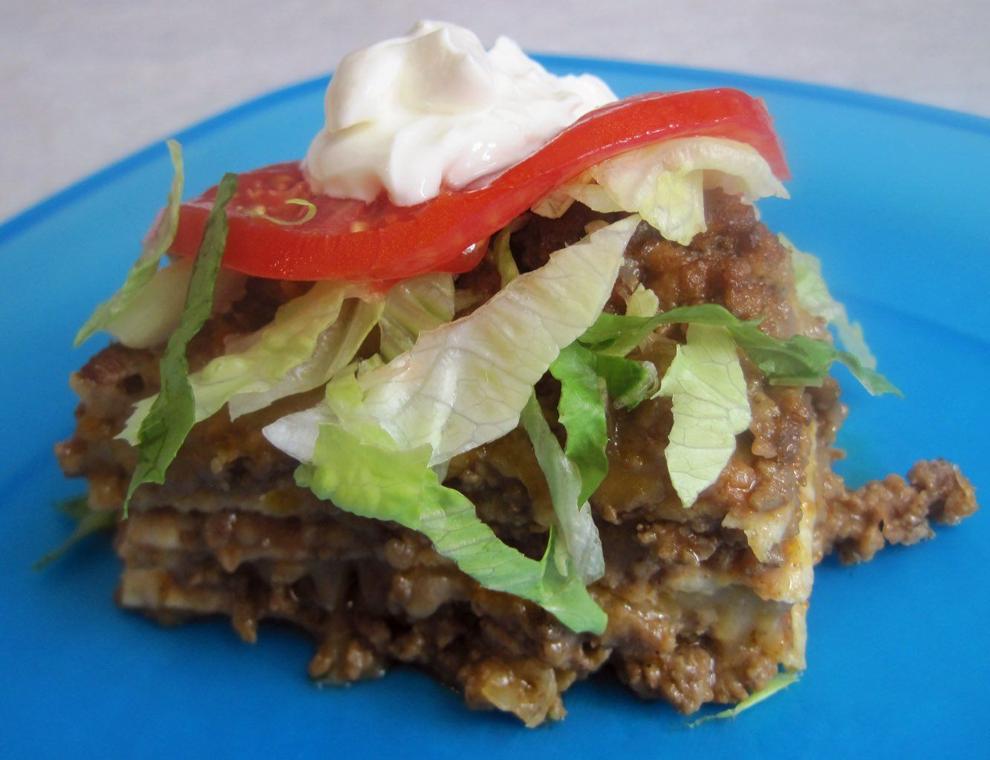 1 ½ pounds ground beef (73-percent/27-percent)
½ cup finely chopped onion
1 (15-ounce) package burrito-sized flour tortillas
1 (14 ¾-ounce) can refried beans
1 packet of taco seasoning
1 (15-ounce) can of nacho cheese sauce
1 (8-ounce) carton of sour cream
1 (7-ounce) bag shredded Mexican 4-cheese blend
1 cup corn, yellow or white
1 cup seeded and chopped tomatoes
1 cup chopped multi-colored sweet peppers, sautéed
1. Preheat oven to 350 degrees (325 if using a glass pan).
2. Brown ground meat and onions in an 8- or 9-inch skillet over medium-high heat. Break up meat to keep pieces small. Drain meat of grease and set aside.
3. Place 2 tortillas in the bottom of a 9-inch by 13-inch by 2½-inch baking dish. Cut a third tortilla in half and place in the center to cover the bottom of the pan.
4. Place browned and drained meat in a medium-sized mixing bowl. Add refried beans and stir in taco seasoning to blend. Take one-third of the meat mixture and spread over the tortillas in the pan. Spread a layer of nacho cheese sauce over the top. Use about one-third of the jar.
5. Add optional ingredients as desired, using half of the amount, and place evenly over the layer of meat and nacho cheese.
6. Place a second layer of tortillas over the filling. Repeat with an additional one-third of the meat mixture, reserving the remaining meat mix for the top layer. Spread with nacho cheese sauce and remaining optional ingredients as above.
7. Top second layer with tortillas.
8. Spread the remaining meat mixture over the tortillas and top with remaining nacho cheese sauce.
9. Sprinkle the shredded Mexican 4-cheese mixture over the top of the casserole. Sprinkle with crushed tortilla chips.
10. Place in oven for 15 to 20 minutes until the cheese melts on top. Remove from oven to a cooling rack. Allow the casserole to rest for 5 minutes.
11. Cut and serve. Top with salsa and a dollop of sour cream.
Per serving: 367 calories; 21g fat; 9g saturated fat; 63mg cholesterol; 21g protein; 24g carbohydrate; 3g sugar; 3g fiber; 1,060mg sodium; 137mg calcium.
Mole Poblano, the (Relatively) Easy Way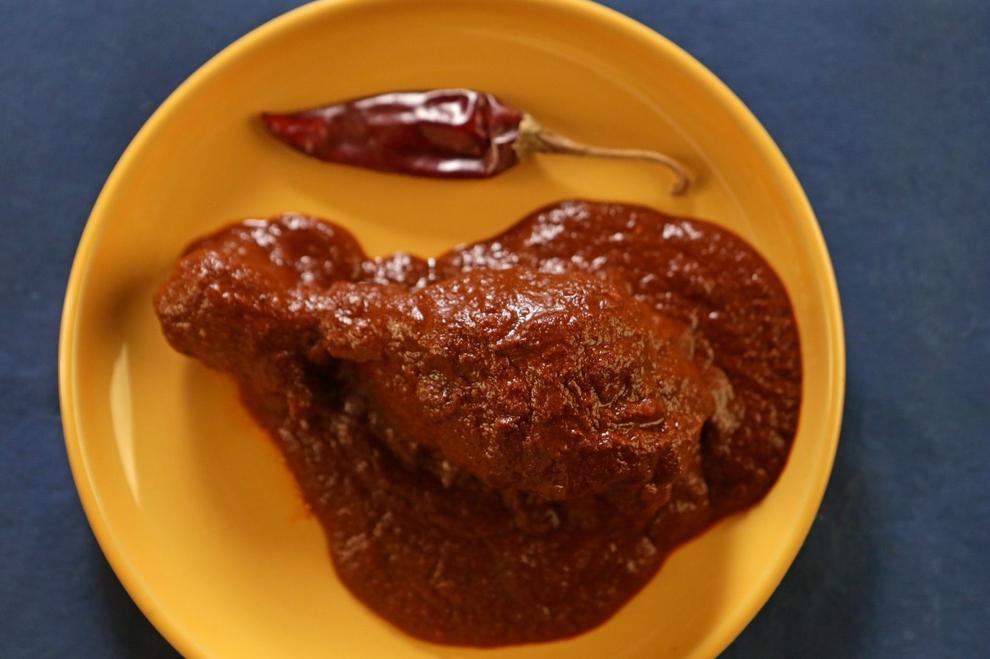 3 ounces dried ancho chiles, about 6 medium to medium-large
½ tablespoon sesame seeds
3 tablespoons blanched, slivered almonds
1 cup chopped white onion
2 to 3 cups chicken broth
2½ tablespoons lard or olive oil, or a combination
½ teaspoon salt, or to taste
2 tablespoons Mexican chocolate, finely chopped
Cooked chicken, turkey or pork
1. Heat a skillet over medium heat and toast the chiles for 20 to 30 seconds on both sides until they soften and become fragrant, but do not allow them to scorch. Remove and discard the stems and seeds, tear the chiles into small pieces, place them in a bowl and cover them with very hot water for 30 minutes. Drain and place in a food processor.
2. While the chiles are soaking, toast the sesame seeds in a skillet over medium heat until they just turn golden brown. Add to the food processor, along with the almonds, raisins, onion, cinnamon, oregano and ½ cup of the broth. Process the ingredients for 2 minutes, then transfer to a blender and blend for 2 minutes more, adding broth if necessary for the blender to operate. If the mixture is not totally smooth, put it through the fine blade of a food mill or a strainer to remove any bits of remaining chile skin.
3. Heat the lard or oil in a medium-sized pot over just-above-medium heat, add the mole paste and cook, stirring constantly, until most of the liquid has evaporated and it becomes shiny. Then, little by little, stir in the rest of the broth and add the sugar. At this point, the mixture should be thinner than you want the finished product to be. If necessary, add more broth. Simmer the mole until it is the consistency of a milk shake, about 15 minutes. Add the salt and Mexican chocolate and serve over cooked chicken, turkey or pork.
Per serving: 163 calories; 10g fat; 3g saturated fat; 5mg cholesterol; 4g protein; 19g carbohydrate; 7g sugar; 5g fiber; 513mg sodium; 39mg calcium.
Mole Poblano, the Hard Way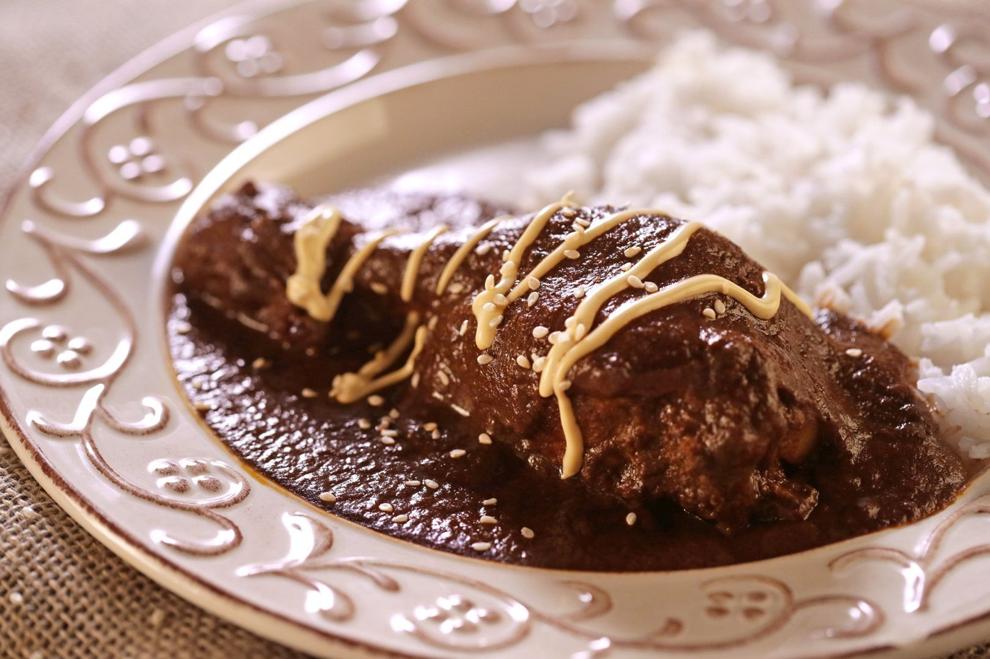 20 dried pasilla negro chiles
4 dried puya chiles, optional, see note
1½ cups corn oil, divided
6 cloves garlic, peeled, divided
¼ teaspoon coriander seeds
2 tablespoons pepitas (pumpkin seeds)
¾ teaspoon black peppercorns
½ cup sesame seeds, toasted, divided
¼ bolillo roll, sliced crosswise in 4 slices
¼ cup shelled raw peanuts
1/3 cup plus 1 tablespoon blanched almonds
Leaves from 1 sprig thyme
2 tablespoons salt, divided
2 tablets Mexican chocolate, or 6 ounces dark chocolate, chopped
½ to 1 cup granulated sugar, according to taste
2 whole chickens, cut into serving pieces, or 6 pounds chicken parts
1 medium onion, peeled and cut into quarters
¾ cup Mexican crema for garnish
Note: To make a milder version, omit the puya chiles. The chiles, Mexican chocolate and crema (a type of sour cream) are available in Mexican and Latin markets.
1. The day before making the mole, remove the stems and seeds from the chiles; rinse the chiles and pat dry. Reserve ¾ teaspoon of the seeds and set aside. Heat ½ cup oil in a large skillet, add the chiles (in batches if necessary) and fry until glossy, about 4 minutes. Drain and place in a Dutch oven. Cover with 10 cups hot water, add the vinegar and let stand overnight.
2. The next day (or several hours later), drain the chiles and reserve the soaking liquid. Working in batches, place the drained chiles in a blender. Add enough soaking liquid to blend them smoothly. Repeat with the remaining chiles and set the mixture aside. This makes about 8 cups.
3. Cut the tomatoes in half lengthwise. Do not peel them before or after roasting. Slice ½ small onion crosswise into 1-inch-thick pieces. Roast the tomatoes, sliced onion and 2 cloves of garlic in an ungreased skillet over medium-high heat until spotted with brown. Set aside.
4. Add the coriander seeds, anise seeds, pepitas, reserved chile seeds, peppercorns, cloves, ¼ cup plus 2 tablespoons of the sesame seeds and cinnamon stick to the skillet and roast just until fragrant, about 1 minute. Transfer to another bowl.
5. Add ½ cup oil to the skillet. When the oil is hot, fry the tortilla, then the bolillo slices, until the tortilla is crisp and the bolillo slices are golden. Remove and drain on a paper towel. Fry the plantain slices until golden and softened. Remove with a slotted spoon. Set aside.
6. Fry the peanuts, almonds and raisins for about 1 minute until almonds and peanuts are well-browned. Drain on a paper towel. Fry the seeds and spices toasted in step 4 for 30 seconds. Strain them through a sieve, discarding the oil.
7. Heat the remaining ½ cup oil in a Dutch oven. Add the puréed chile mixture and enough of the reserved soaking liquid to keep the puréed mixture from erupting like a volcano when it simmers. Simmer for 10 to 15 minutes, stirring often.
8. Add the fried cinnamon stick to the puréed chile mixture. In a blender, combine the rest of the spices, seeds, nuts and raisins. Grind with enough chile soaking liquid to purée. Add to the chile mixture.
9. Grind the reserved roasted tomatoes, onions and garlic cloves, the thyme leaves and the parsley sprig in the blender with enough chile soaking liquid to purée, then add to the Dutch oven.
10. Crumble the fried tortilla into small pieces. Place the bolillo slices, tortilla pieces and plantain slices in the blender with 1 tablespoon of the salt. Add enough soaking liquid to blend. Add this to the Dutch oven. Add the chopped chocolate and stir until dissolved. Add sugar to taste.
11. Stir constantly over medium heat until the sauce thickens to the desired consistency and becomes very dark. Strain the sauce through a fine sieve, in batches if necessary, and return to a clean pot. Failure to strain the sauce will result in an unpleasant texture filled with flecks of chile skin. Place the sauce over low heat. Discard remaining chile soaking liquid. Makes 10 cups of sauce.
12. Wash the chicken pieces and place them in a large Dutch oven or stockpot. Add water to cover. Add the medium onion quarters, bay leaves, remaining 4 garlic cloves and remaining tablespoon salt. Bring to a boil, then turn down the heat and simmer for 20 minutes. Remove the chicken from the pot. Strain the stock and set aside.
13. Place the chicken pieces into the pot with the mole sauce or, if there is not room, put the chicken in a large pot and pour in the sauce. Bring the sauce to a simmer and continue to cook until cooked through, an additional 15 to 20 minutes, adding stock as needed to thin the sauce. Reserve remaining stock for another use.
14. To serve, place a serving of chicken on each plate and cover generously with mole sauce. Sprinkle with the remaining 2 tablespoons of sesame seeds. Drizzle crema on the chicken and around the plate. Serve with Mexican or white rice. Freeze leftover mole in an airtight container.
Per serving: 881 calories; 61g fat; 14g saturated fat; 115mg cholesterol; 40g protein; 50g carbohydrate; 26g sugar; 12g fiber; 1,298mg sodium; 104mg calcium.
Recipe adapted from one by Jaime Martin del Campo and Ramiro Arvizu in the Los Angeles Times
Pork Tamales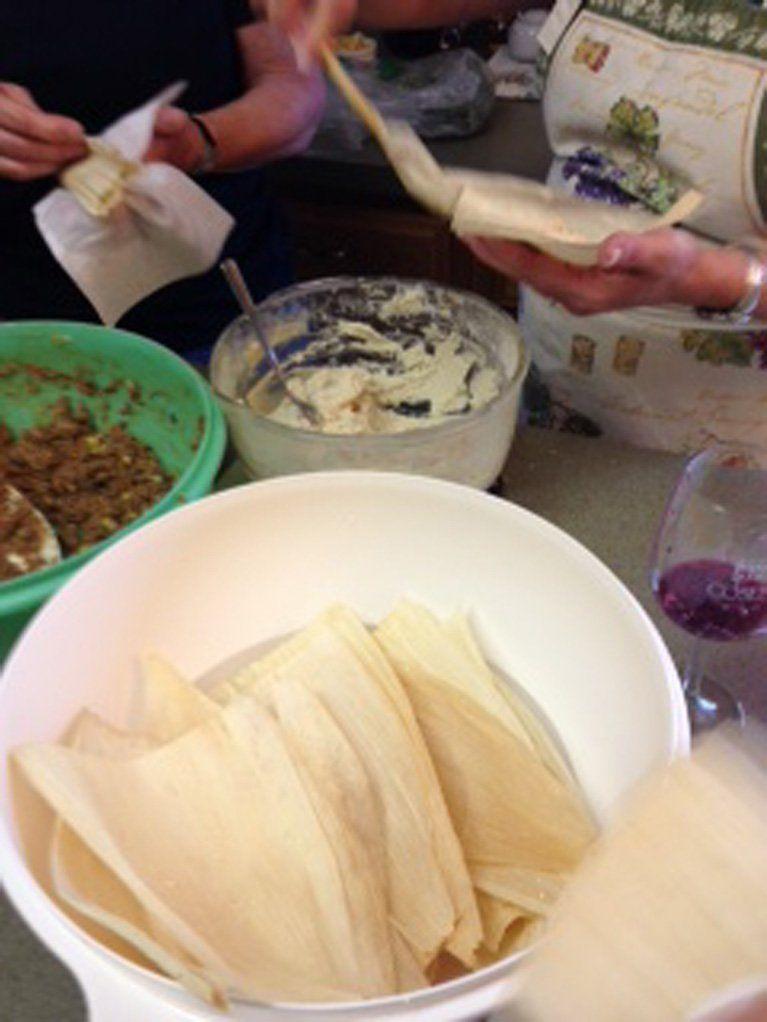 Yield: 36 to 48 tamales (yield depends on the size of the cornhusk wrappers)
3 to 4 pounds boneless pork shoulder
1 medium yellow onion peeled and chopped in a ¼-inch dice
3 large garlic cloves, peeled and roughly chopped
½ cup chopped Anaheim chiles or other chile of choice
1 teaspoon medium grind black pepper
1 teaspoon Mexican or regular oregano
¼ to ½ teaspoon cayenne pepper to taste (optional)
¼ cup freshly squeezed lime juice
2 teaspoons granulated sugar or 1 tablespoon honey
¼ cup Hendrickson's vinegar and oil dressing, shaken well
6 cups masa harina, divided
5 cups cooking liquid from pork shoulder, divided
1 ½ teaspoons baking powder
1 ½ teaspoons kosher salt or to taste
Notes: You will need an 8-quart or larger pot with a lid and a steamer basket to cook the tamales. Gremmelsbacher fills her 8-quart steamer basket twice for this recipe.
• Masa harina is available at better grocery stores and at international food stores.
1. One to two days before making the tamales, prepare the meat filling. Trim visible fat and large fat deposits from the pork shoulder. Leave the interior fat for flavoring. Carefully slip a knife under the silverskin and remove. If you can't remove it without damaging the meat, be sure to remove after it cooks.
2. Cut the shoulder into 4- or 5-inch chunks and place in a large slow cooker. Add chopped onions, garlic and chilies. Add salt, pepper, spices, lime juice, sugar or honey and salad dressing. Pour chicken stock over the meat. Add enough water to totally cover all solid ingredients.
3. Cook on low for 8 hours. Uncover and allow to cool for 10 to 15 minutes. Remove chunks of pork to a bowl. Using 2 forks shred the meat and place in a shallow covered container. Ladle some juice from the crockpot over the meat to keep it moist.
4. Reserve the pork cooking liquid. Remove any chunks of onions and chiles with a slotted spoon and add to shredded pork. Cover pork and refrigerate. The cooking liquid will be used to prepare the masa for tamales. Cover cooking liquid and refrigerate
5. One to 2 hours before assembly, remove cornhusks from packages. Choose husks of similar larger sizes and discard small or misshapen husks. Immerse husks in warm water to soften for 1 to 2 hours. Don't neglect this soaking time.
6. No more than 1 hour before assembly and cooking, prepare the masa. Measure 3 cups of masa harina into a large mixing bowl. Stir in 2 cups reserved pork cooking liquid and blend in with a large balloon whisk or wooden spoon.
7. Place shortening in a medium-sized mixing bowl and beat with an electric mixer on high until it is light and fluffy. Add to masa in the large mixing bowl in 2 or 3 additions, stirring with a wooden spoon or large balloon whisk to mix.
8. Add baking powder and salt to remaining 3 cups reserved dry masa harina and blend. Stir into the mixing bowl in 3 additions, alternating with pork cooking liquid as needed until the masa is the consistency of firm mashed potatoes.
9. Taste and season with salt if needed. You may add cumin, cayenne, pepper and chili powder if desired.
10. Store one-half of the prepared masa covered in the refrigerator until ready to use so it doesn't dry out during assembly.
11. To assemble tamales: Remove a soaked cornhusk from the water and pat dry with a paper towel. Hold the widest part of the cornhusk toward your fingertips with the bottom at your wrist. Spread about 2 tablespoons of masa in the center on the cornhusk in an even layer leaving about 1 ¾ inch at the bottom and ½-inch to 1-inch on either side.
12. Spoon 2- to 3-teaspoons of meat mixture in the center of the masa strip. Fold lengthwise so the masa encases the meat filling at the sides, top and bottom. It should look like a cylinder.
13. Twist the shaped bottom of the cornhusk up to the masa. Leave the top open. Repeat until all the masa and meat have been used. If needed, tie the husks with kitchen twine.
14. Tilt steamer basket on its side and layer in the tamales on top of one another as completed with folded end on the bottom.
15. To steam the tamales, place steamer basket in pot and add water just to the bottom of the basket. If possible, lean tamales in toward the center of the basket. Try not to block steamer holes on the sides as steam comes in and cooks from the sides.
16. Bring the water to a boil over medium heat, then cover and reduce the heat to a simmer. Important: Check the water level every 15 minutes and add more water as needed to maintain level. Steam for 1-1 ½ hours until the dough is firm and pulls away from the husk easily.
Per serving: 175 calories; 11g fat; 3g saturated fat; 22mg cholesterol; 8g protein; 12g carbohydrate; 1g sugar; 2g fiber; 255mg sodium; 44mg calcium.
Ross House Tacos with Mexican Meat, Pico de Gallo and Fajita Blend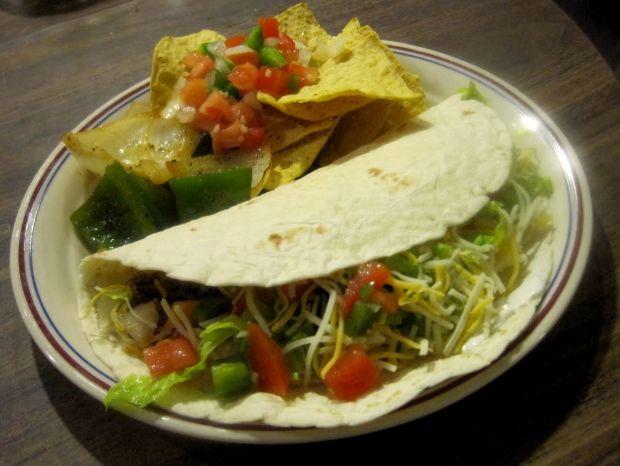 Ross House Tacos with Mexican Meat, Pico de Gallo and Fajita Blend
1 tablespoon minced garlic, jarred or fresh
1 medium white onion, cut in a ¼-inch dice
2/3 cup green pepper, seeded and cut in a ¼-inch dice
1 tablespoon ground cumin
1 tablespoon chili powder
1 teaspoon ground black pepper
½ cup of beer (wheat- or Hefeweizen-style beer)
1 to 2 teaspoons dark molasses to taste
1 medium onion, quartered, roughly separated
1 medium green pepper quartered and cut in chunks
1 to 2 teaspoons olive oil
3 tomatoes cut in ¼-inch dice
½ onion cut in ¼-inch dice
6 flour or corn tortillas
½ cup finely shredded cheese
1 cup finely chopped lettuce
1. Pour olive oil into an 8- to 10-inch skillet, swirl and place over medium high heat. Add ground turkey and stir to break up the meat and cover the bottom of the pan. Add diced tomatoes, green peppers, onions and lime juice. Brown meat thoroughly, using a spatula to break chunks into a fine meat mix. Cook with vegetables until the peppers and onions are soft and the tomatoes blend in with the meat.
2. Add minced garlic and stir to blend.
3. In a small bowl, stir cumin, chili powder, paprika, salt and pepper together. Sprinkle evenly over cooked meat and vegetables. Add beer and molasses. Stir well to blend and allow the juices to come to a boil. Reduce heat and cook for 5 to 10 minutes longer.
4. Remove meat to a bowl and set aside. Do not rinse the pan.
5. Make the Fajita Blend: Toss onions and peppers into the hot skillet the meat was cooked in and toss to coat with pan juices. Add olive oil if needed. Char peppers and onions, turning them quickly. The onions and peppers should be in rough chunks. Allow to soften a little and char on the edges.
6. Make Pico De Gallo. Mix tomatoes, onions, minced garlic, lime juice and salt in a medium bowl.
7. To assemble tacos, spread meat mix down the center of a tortilla. Spread the sides of the tortilla with Greek yogurt. Add pico de gallo, shredded lettuce and top with cheese. Fold over taco.
8. Plate with a serving of Fajita Blend, pico de gallo and tortilla chips on the side.
Per serving: 481 calories; 21g fat; 7g saturated fat; 65mg cholesterol; 26g protein; 49g carbohydrate; 10g sugar; 5g fiber; 721mg sodium; 215mg calcium.
Zacatecas-Style Green Mole With Chicken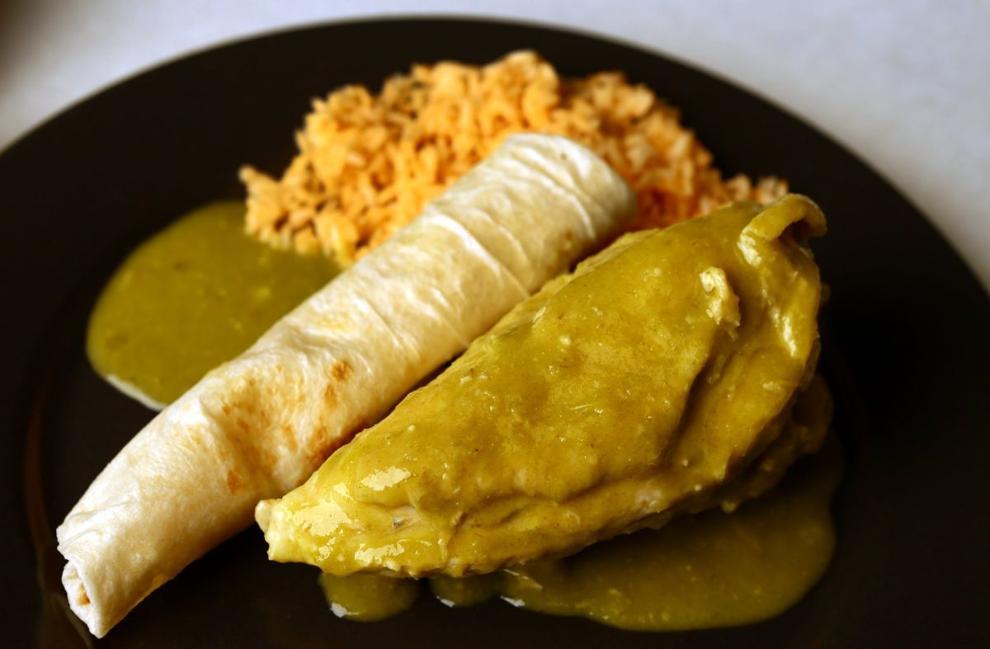 1 (3 to 4-pound) whole chicken, cut into 8 pieces
2 tablespoons kosher salt
1 teaspoon whole black peppercorns
1 large yellow onions, chopped
8 ounces tomatillos, preferably fresh, peeled and chopped
2 jalapeños, stemmed and chopped
2 teaspoons kosher salt, plus more to taste
2 (8-inch) flour tortillas, toasted, plus more for serving
2 tablespoons canola or corn oil
1. To cook the chicken: Place chicken, cilantro stems, 2 tablespoons kosher salt, peppercorns, whole (or crushed) garlic, bay leaf and 12 cups water in a 6-quart saucepan and bring to a boil; reduce to medium low and simmer, covered and stirring occasionally, until chicken is tender, about 30 minutes.
2. Remove chicken from saucepan and strain liquid through a fine strainer; reserve 4 cups and save remaining liquid for another use (it makes a delicious broth). Set chicken and liquid aside.
3. To make the sauce: Heat tomatillos and jalapeños in a saucepan over medium heat and cook, stirring occasionally, until darkened and thick, about 10 minutes. Transfer to a blender with cilantro leaves, 2 teaspoons kosher salt, chopped garlic, tortillas and 1 cup of the reserved cooking liquid. Puree.
4. Heat oil in a 6-quart saucepan over medium-high heat; add tomatillo sauce and fry, stirring constantly, until it thickens into a paste, about 5 minutes. Whisk in remaining 3 cups cooking liquid and bring to a boil; reduce heat to medium and cook, stirring, until reduced and thickened, about 30 minutes.
5. Add chicken pieces and cook until heated through, about 10 minutes. Serve with Mexican rice and tortillas.
Per serving: 527 calories; 30g fat; 7g saturated fat; 131mg cholesterol; 44g protein; 17g carbohydrate; 4g sugar; 2g fiber; 1,725mg sodium; 64mg calcium.
Recipe by Saveur magazine