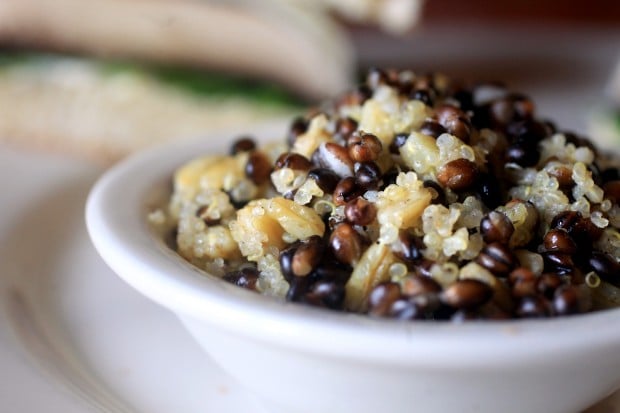 Q: Would the Bottleworks give up the recipe for the delicious grain mixture they serve as a side?
— Megan Lechner, St. Louis
A: Schlafly Bottleworks makes its home in Maplewood and is the newer of the two Schlafly breweries. Kitchen manager Matt Bessler, who started at the original Schlafly Tap Room, describes the Bottleworks' menu as "American eclectic" — everything from a vegetarian curry to grass-fed beef, pork and bison.
The customers are just as diverse, he says. "You're just as likely to see someone in a business suit eating a turkey sandwich as a hippie in a T-shirt cutting into a steak."
Much of the restaurant's vegetables, greens and herbs are grown next door in the Gardenworks. This year, two full-time gardeners are experimenting with plants and growing techniques to extend the growing season.
The Bottleworks serves its Three-Grain Blend warm alongside a grilled portobello mushroom sandwich and cold with spring greens dressed with a sun-dried tomato ranch dressing and topped with baked chicken.
The recipe originated with general manager Scott Smelser, who created it when the brewery-restaurant opened in 2003. "We wanted an alternative to the wild rice blends that every restaurant has," he says. "At the time, we served a quinoa cake, a kamut stir-fry and a barley stew, and so it was natural to combine the three. Today, those dishes are gone and the Three-Grain Blend remains."
To best re-create the Bottleworks' hearty Three-Grain Blend, Bessler recommends choosing a lower-salt vegetable broth without MSG. "The ingredient list should start off with real vegetables." After that, he says, don't overcook the grains. "You don't want to destroy the slightly chewy texture."
Special Request is written by Kirkwood resident Alanna Kellogg, author of the online recipe column KitchenParade.com and "veggie evangelist" at the food blog about vegetables, A Veggie Venture.