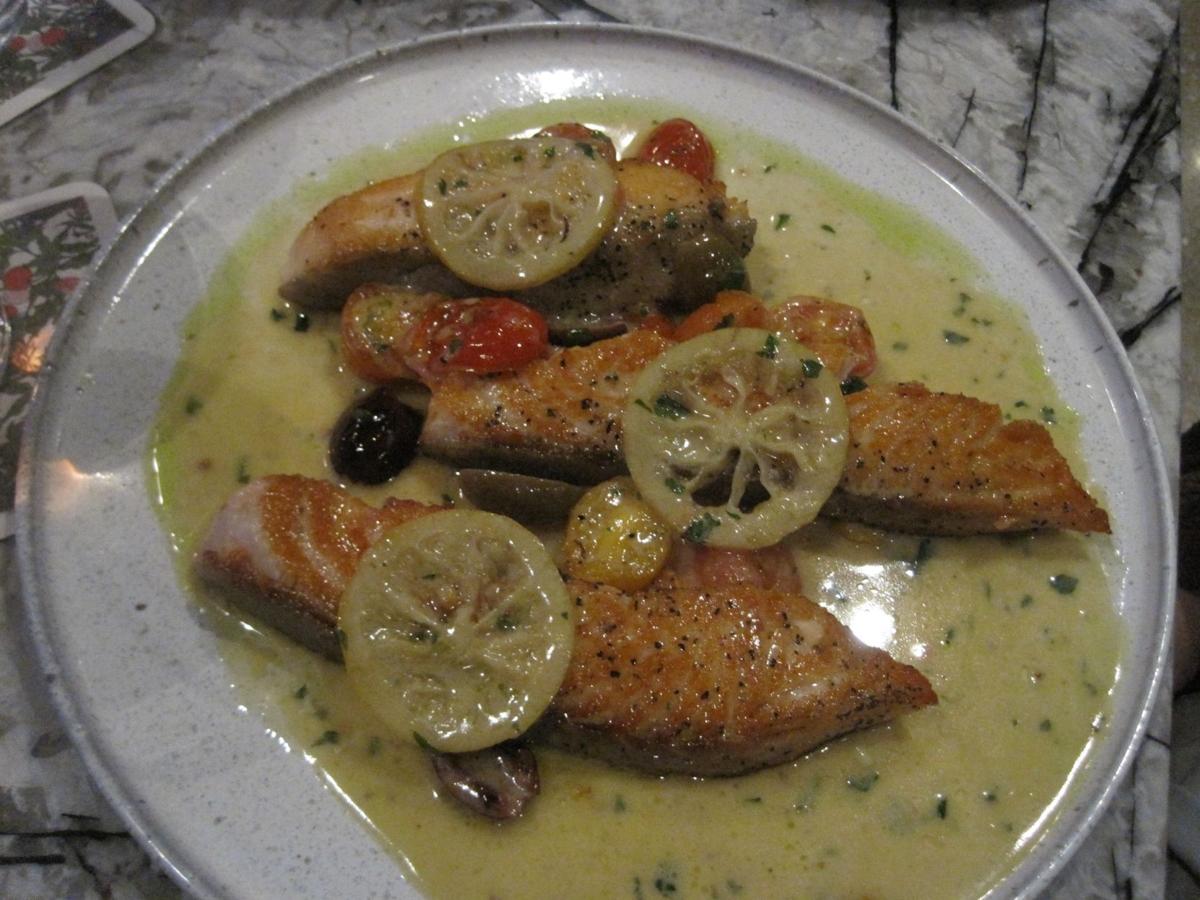 Q • I recently stayed at Union Station and ate the Train Shed restaurant. I had the Tuscan Style Salmon Plate, which included roasted olive, grape tomato, charred lemon, citrus butter and basil oil. The sauce on this salmon was delicious. Please see if they will share the recipe. — Maureen Guffey, St. Charles
A • The Tuscan-style salmon has been a customer favorite since the Train Shed restaurant first opened in the fall of 2019. The salmon, flaky and tender, pairs well with the meaty grape tomatoes and fine-textured olives, briny and sweet. The buttery lemon cream sauce with fresh parsley adds a bright touch. Its charred lemon slices and swirl of basil oil deliver aromatics and flavor to the dish as well.
Yield: 1 restaurant-sized serving; easily serves 2
Executive chef Patrick Russell was happy to share both the recipe and his tips for best results at home. He cross-cuts skinless, boneless salmon into small fillets with the grain, on the bias, to maximize flavors and textures. To minimize kitchen clean-up, home cooks may use a nonreactive skillet for both the salmon and the sauce. It's elegant enough for company or a date-night dish with advantage of a weeknight prep schedule and cook time.
The Train Shed restaurant at Union Station remains a special place for a date night getaway as well as an equally entertaining excursion with family and friends. The lunch and dinner menu includes a wide selection of starters, shareable plates, burgers, pizzas and interesting entrees.
"We have everything from a USDA prime New York strip on the menu that's a really good value to appetizers to share. Our burger is really popular, too, topped with pub cheese, smoked butter and spicy and sweet pickled onions. If someone is more of a basic burger person, we make it with American cheese and pickles," Russell says.
"Our pizzas are solid," Russell says. "We have a classic Pizza Margherita as well as a pizza with goat cheese, roasted garlic and arugula." The Train Shed even offers a Pho pizza with hoisin, cheese, braised beef, basil and Sriracha for the adventurous diner. The restaurant offers delivery as well.
Open-air seating on the Train Shed patio has been quite popular for drinks, food and fire shows. "These past few weeks we've had people sitting out on 60-degree days, even 50-degree days. Our fire shows on the lake run every hour and some half-hours from 1 p.m. to 9 p.m. on Friday, Saturday and Sunday. Monday through Thursday, the shows run from 5 p.m. to 9 p.m. on the hour."
Other outdoor activities at Union Station include rides on the Wheel, walks on the plaza and miniature golf. For the wellbeing and health of workers and guests, Union Station posted a list of Covid protocols for all activities and facilities, which can be found here.
"We're trying really hard to create consistently good food and great experiences," Russell says. "We want to make sure our guests come in and have a great time, whether it be from an overnight staycation at the hotel, or doing a little bit of everything evening, we want it to be a memorable trip."
---
Would you like to request a recipe from a restaurant that is still open in the St. Louis area? Send your request along with your full name and the city you live in to reciperequest@post-dispatch.com.
45 recipes from some of St. Louis' favorite restaurants