When Frank Lloyd Wright visited St. Louis in 1939 and got a gander of the architecture downtown during an automobile tour, he wasn't that impressed. And as he tootled by, the words in his head came right out of his mouth.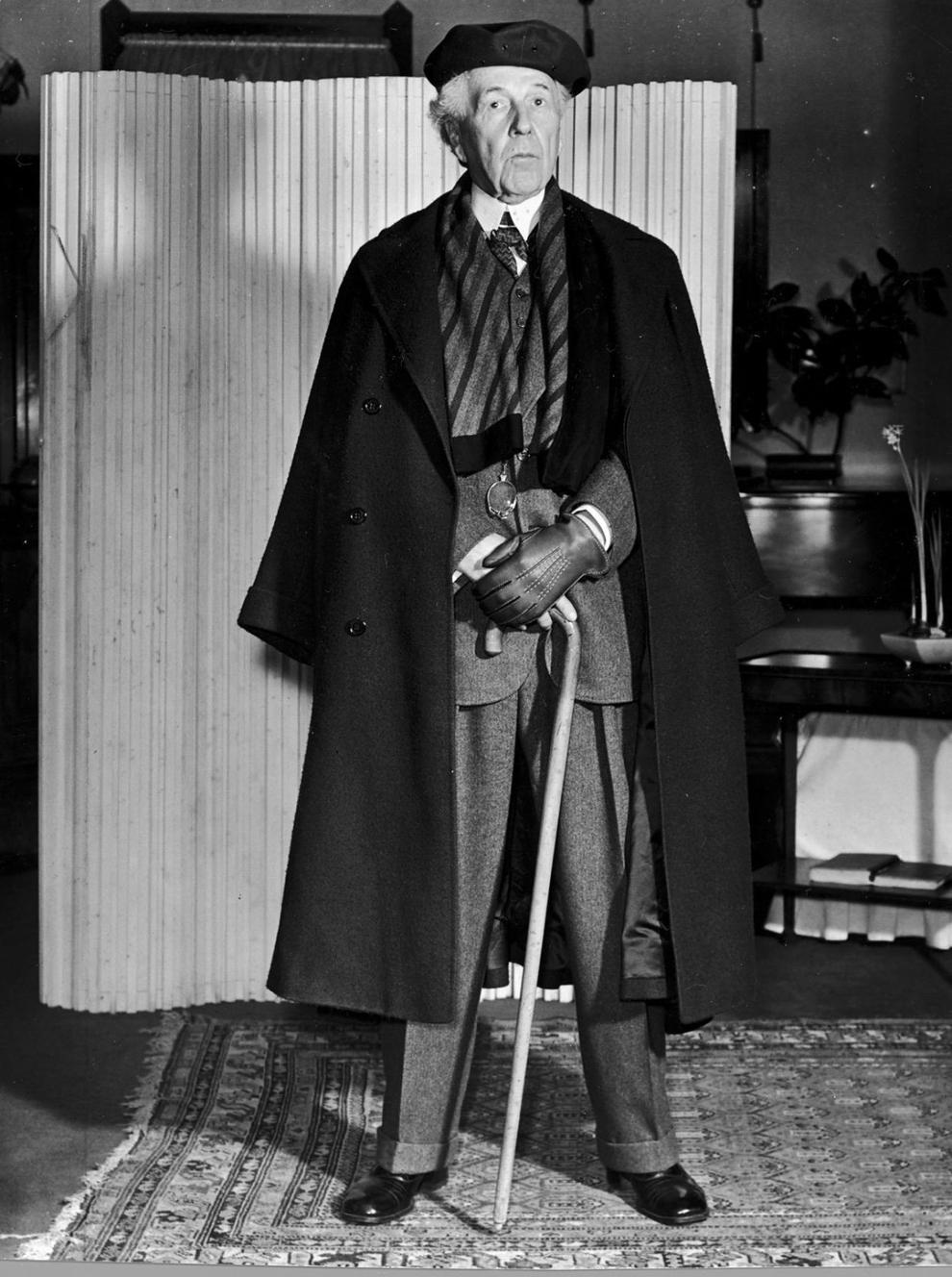 Of the Soldiers Memorial: "... a deflowered classic, a Greek thing run through a modernizing mill."
Of the federal courts building, now known as the Carnahan Courthouse: "... only a pile of innocuous desuetude."
The Civil Courts Building, the one with a Greek temple on top: "I neither like it, nor dislike it. I deplore it."
He did like Union Station, where he had arrived by train, and he had glowing words for the Wainwright Building. Wright, 71 at the time of his St. Louis visit, had worked for Louis Sullivan and Dankmar Adler when the building, one of the world's first skyscrapers, was designed. He had even visited St. Louis during the 1904 World's Fair and was impressed by the Vienna Secessionists who had work on display.
Still, after that cringe-inducing auto tour, the newspapers here had a heyday. The architects spat back.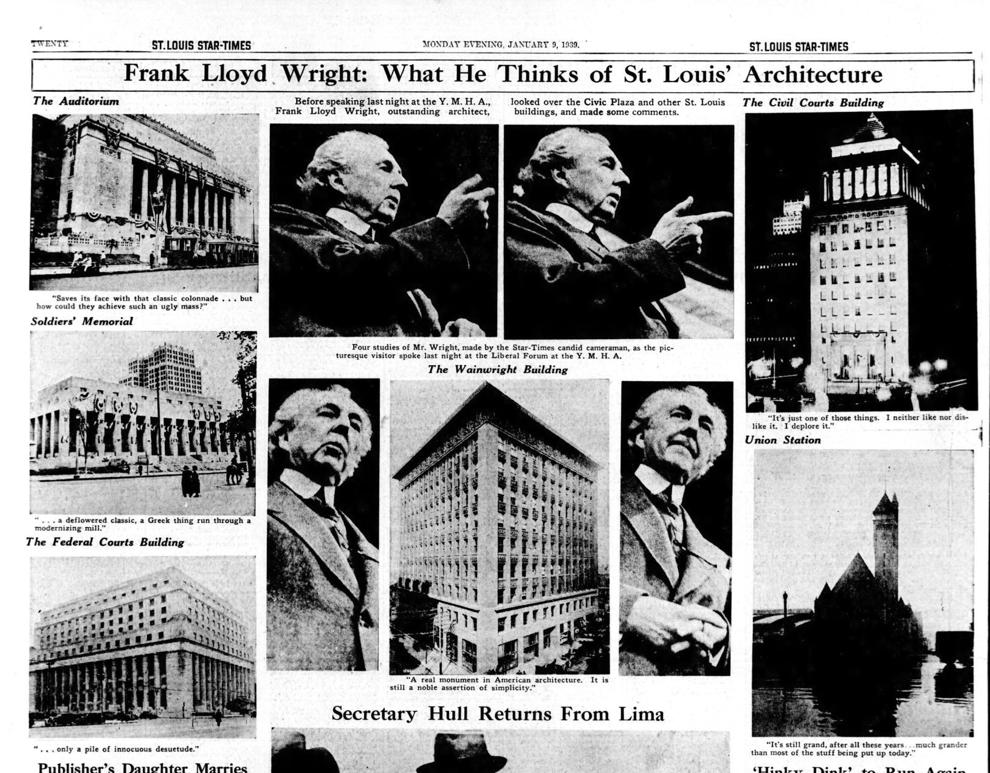 "Mr. Wright has made a contribution to architecture in this country and a contribution which will no doubt (give) him a place of some importance in the history of architecture of this century when it may be written," replied Benedict Farrar, then the president of the St. Louis Chapter of the American Institute of Architects. "But that the historian will take Mr. Wright's own evaluation of himself and place him first and everyone else nowhere is hardly within the realm of possibility."
Time may heal all wounds, and Wright, who died at age 91, would have been 150 Thursday.
And, despite Farrar's predictions and Wright's temperament, the American Institute of Architects in 1991 declared him "the greatest American architect of all time."
Michelle Swatek, the present-day executive director of the St. Louis chapter of the AIA, is well aware of Wright's difficult personality. But she can't deny his influence, especially among nonarchitects. The chapter sells Wright books, scarves, a mousepad and even a bar of soap called "The Wright Suds" at its gift shop, 911 Washington Avenue. A bust of Wright watches over a store display.
"He has become a cult figure," she said. "He had a distinct American style, and for that, we should always be thankful. If he opens the for others door to learn about architects and architecture, I think that contribution is almost as lasting as his architecture."
Always a perfectionist, Wright strove to design his buildings for the pieces of land they sat on and believed pieces of architecture must relate to one another as parts of nature do. His work, characterized by clean lines and open spaces, changed the way people felt their homes should look and function. His legacy endures in the St. Louis area, giving us something to celebrate.
There are five Wright-designed buildings in Missouri. In Kansas City, he designed two homes and a church. In the St. Louis area, he designed a concrete block home in Town and Country for Bette and Theodore Pappas. Bette Pappas, 91, still lives in the home.
The Frank Lloyd Wright house in Ebsworth Park in Kirkwood was the private home of Ruth and Russell Kraus. It is now open as a house museum and is run by a nonprofit group and St. Louis County Parks.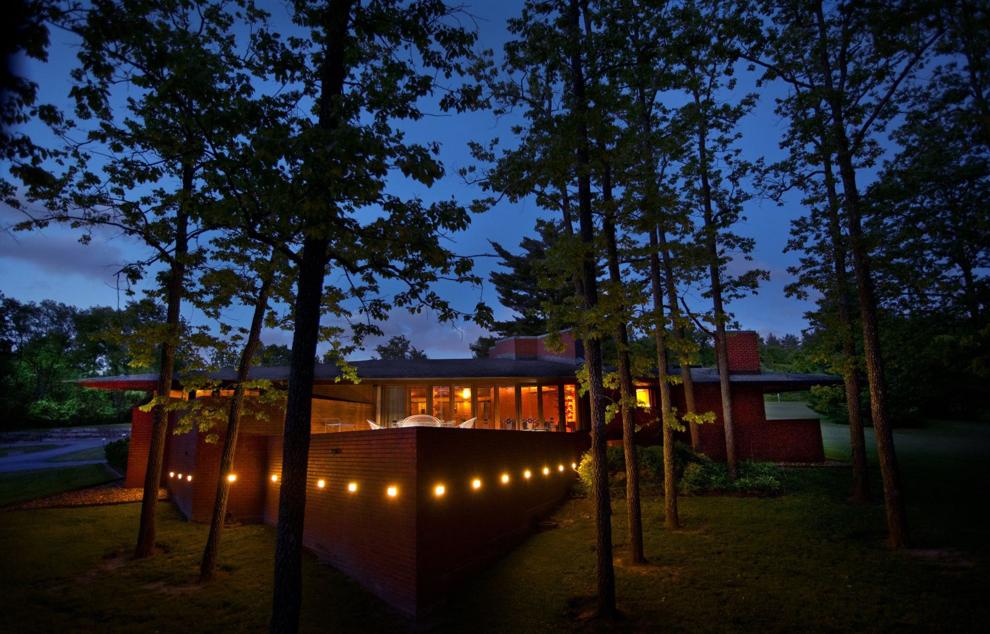 "Wright had a broad philosophy that everybody should live in a beautiful house, not just wealthy people," said Joanne Kohn, who was instrumental in acquiring the home for the parks system and opening it to the public.
The house's supporters celebrate Wright's birthday Sunday at the home with a $150-ticket benefit that will feature an exhibit of classic cars, a nod to Wright's own auto collection.
Kohn said Wright's criticism of downtown's architecture stems from his disdain of picking and choosing bits from different styles. "He wanted to create an American style that represented people living in a democracy." The Kraus and Pappas houses are both known as functional, affordable Usonian homes, a play on the U.S.A. acronym. The staff has a simple goal at the house museum: "We don't want it to be a museum where they leave and they don't talk about it. We want them to open their eyes to architecture."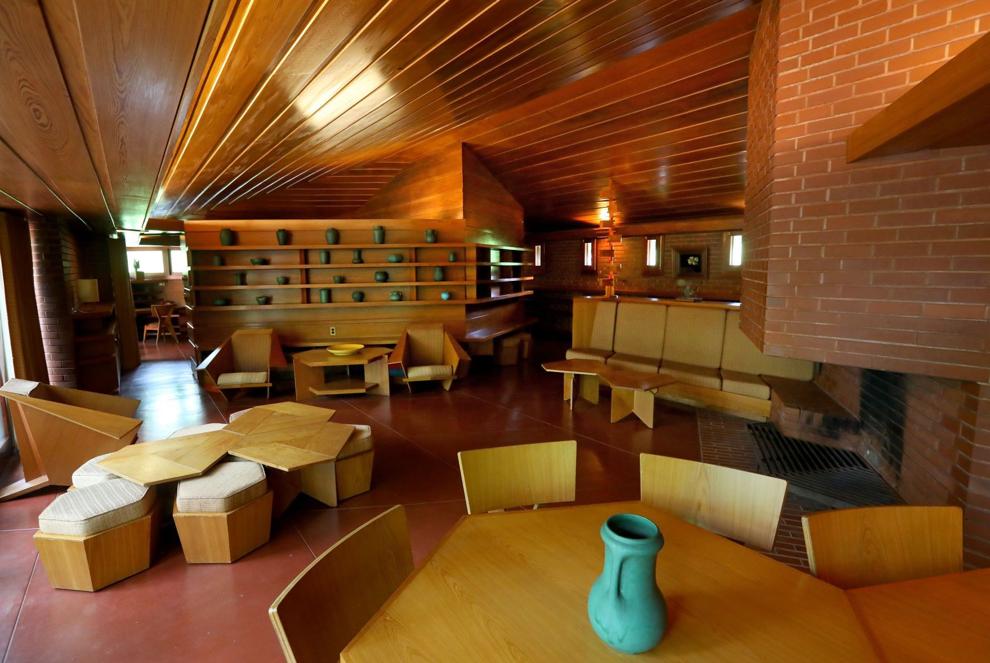 Today, real estate listings here still boast about "Frank Lloyd Wright style" — some with more of it than others. Architects who studied under or worked for Wright left their mark in the St. Louis area, some designing structures with distinct Wright elements.
Walter Burley Griffin worked for Wright in his Oak Park studios. Although Griffin is known as the Frank Lloyd Wright of Australia, he designed several homes and buildings in America, including a private home on historic St. Louis Street in Edwardsville.
In 1932, University City High School graduate William Adair Bernoudy spent only one year at Washington University before he became a charter apprentice at Taliesin, Wright's Wisconsin home and studio.
Bernoudy designed several private homes in the St. Louis area, including the Ladue home of real estate agent Ted Wight, who specializes in selling modern homes. Bernoudy himself and his wife, Gertrude, even lived in what is now Wight's home. A cantilevered overhang, Asian-inspired screens and tight hallways opening to bigger living spaces are just a few Wright characteristics in his house, Wight said.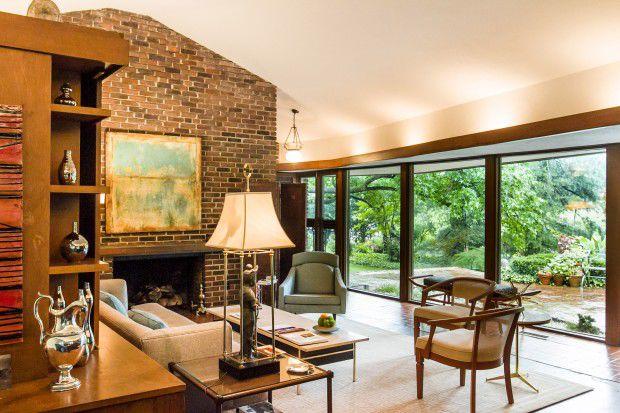 Wight says there's a growing appreciation among customers for modern homes that are architecturally interesting. "Some people want to buy a house, but not just a house," he said. "They want a house with a pedigree." Bernoudy and modernist architects such as Isadore Shank and Harris Armstrong have supplied them. About three or four such homes come on the market a year, Wight says, though some have been torn down.
Bernoudy not only learned from Wright, he knew how to handle him.
He escorted Wright during the infamous 1939 visit and shrugged off his former boss's comments. "Bernoudy collected the newspaper accounts and sent them to Wright along with a warm letter of thanks for the visit," according to a book about Bernoudy written by Osmund Overby.
Maybe that helped. In 1949, Wright came back to St. Louis, speaking at Washington University.
But his remarks on architecture were a little more sweeping.
"We now have 57 varieties covering the world's greatest collection of trash. And if we add another variety, or even 57 more, no one would notice it. But if we offer something with rhyme and reason, based on common sense, it comes as a great shock."
But by then, people accepted what he had to say and learned from him.
Said W.D. Crowell, a St. Louis architect who designed the Soldiers Memorial and the federal building Wright had criticized: "Frank Lloyd Wright is one of those necessary evils. He rounds out the world."
The Frank Lloyd Wright House in Ebsworth Park
Also known as the Ruth and Russell Kraus House, Russell Kraus first got in touch with the famous architect in 1948 after reading an article in House Beautiful about a Wright-designed home. "Now I feel like a man who suddenly holds in his embrace the woman who for years he could only worship from afar," Kraus wrote about the idea of working with Wright. The architect was accommodating in making changes in the design for the couple, and in 1956, the couple finally moved into their home. The floor plan is two parallelograms laid one atop the other, which results in only three right angles in the structure itself — window frames excluded. The concrete floor is stamped in a parallelogram pattern, and even the bed in the master bedroom is shaped like a parallelogram. "When groups walk in here, you kind of let them go in first, then you hear people go, ohhh!" said Kay Dusenbery, the home's board chairwoman. The bed in the guest bedroom, which the Krauses used every day, is shaped like a hexagon.
Russell Kraus was an artist who had a studio at one end of the house — the point of one parallelogram forms a terrace off the studio — and he designed and built the home's Wright-inspired stained glass windows. He even built furniture or had it built from Wright designs, including a set of angular, cushioned wooden chairs that look like origami. Are the chairs comfortable? "No," Kohn said. In fact, when the Krauses lived here, they moved a recliner into the main living space, she said.
In 2015, the house released a book, "The Frank Lloyd Wright House in Ebsworth Park," by Jane King Hession.
Where 120 North Ballas Road, Kirkwood • How much $10, $5 for children 12 and under, reservations required, closed Mondays and Tuesdays • More info ebsworthpark.org, tours@ebsworthpark.org, 314-822-8359
Theodore and Bette Pappas House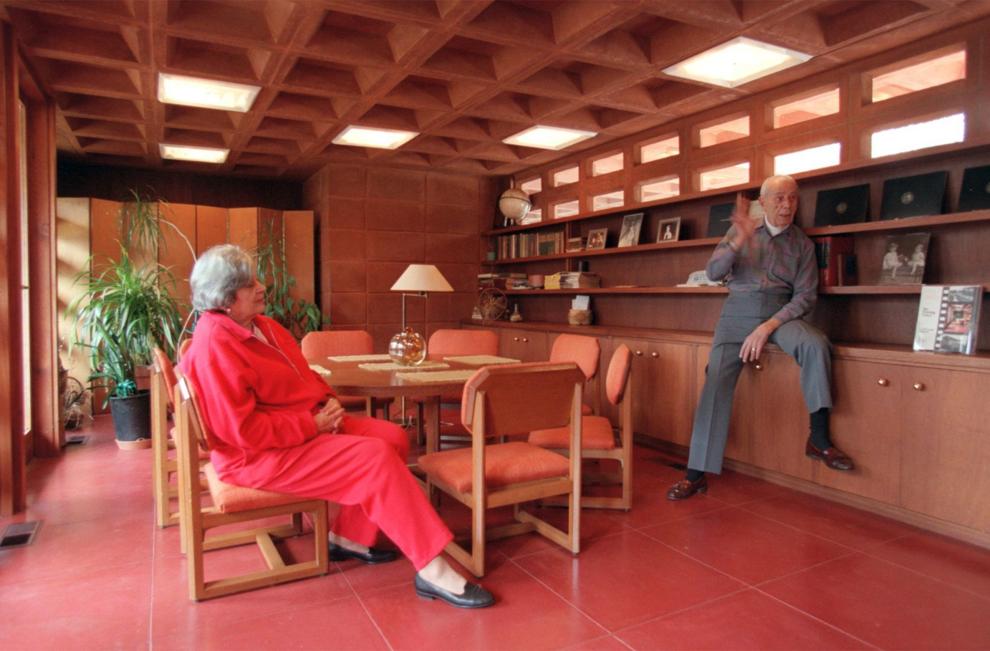 Bette Pappas detailed the story of their concrete block home on nearly four acres in Town and Country in a book published in 1985.
"It is difficult to put into words how we feel and what we want," Theodore Pappas wrote in a 1954 letter to Wright asking him to consider designing the home, "but our faith in you and satisfaction in seeing what you have created is so great that I am sure if you did accept our offer it would be exactly what we wanted."
Wright died in 1959, the year before the Pappas family broke ground. They acted as their own general contractors and built the home with custom-molded concrete blocks strengthened with metal bars. The design and building process took 10 years, and the couple raised four children in the home.
Theodore Pappas died in 2004, and Bette Pappas, 91, still lives in the home, though she was not able to be interviewed for this story, a daughter said.
"I like to keep things as simple and plain as I can, and this house provides those things," Bette Pappas said in her uncluttered living room in a 2001 interview with the Post-Dispatch. "Everything I need is here. It's rather simple, but it's very nice in that you don't have to think about all of those things."
Dana-Thomas House in Springfield, Ill.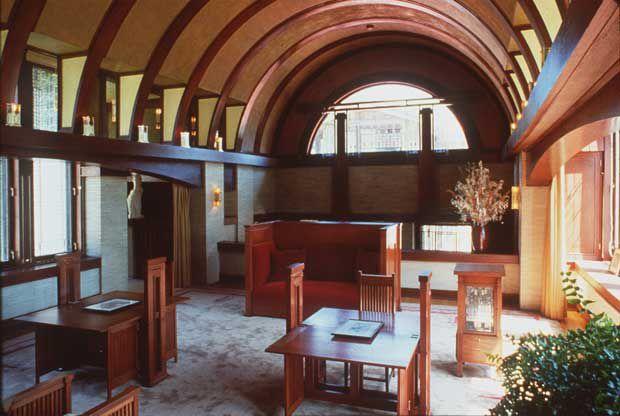 Wright designed this Prairie School house in 1902 for socialite Susan Lawrence Dana. The 12,000-square-foot home has 35 rooms, 16 level changes inside, and boasts that it has the largest collection of site-specific Wright-designed art glass and furniture. The art glass takes its inspiration from butterflies and sumac plants, which grow on the prairie.
It's now run by the Illinois State Historic Preservation Agency and open for tours.
Where 301 East Lawrence Avenue, Springfield, Ill. • How much Suggested donation of $10 for adults, $5 for children and $15 for families • More info dana-thomas.org, 217-782-6776
Community Christian Church in Kansas City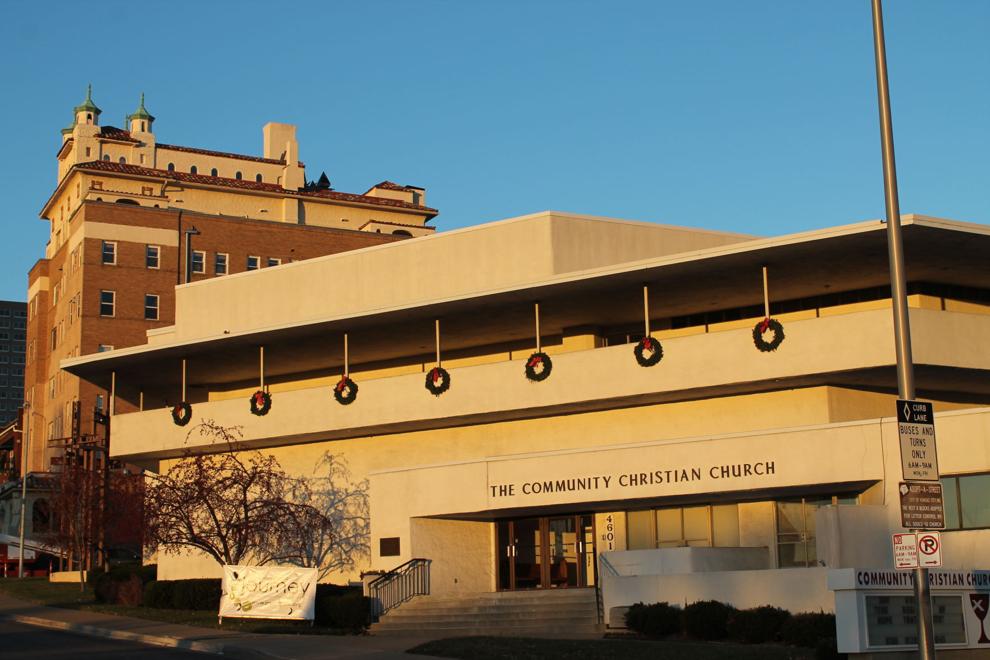 This building, the only Wright-designed church in Missouri, was designed in 1940 and dedicated in 1942, according to the church. The city at first refused to grant a building permit because officials believed the design was too radical and wouldn't meet code. The rhombus-shaped design, made of pressure-sprayed concrete on corrugated steel, included a tower of lights (which were not installed until 1994) and a green copper dome. The church is open for tours.
St. Louis Art Museum pieces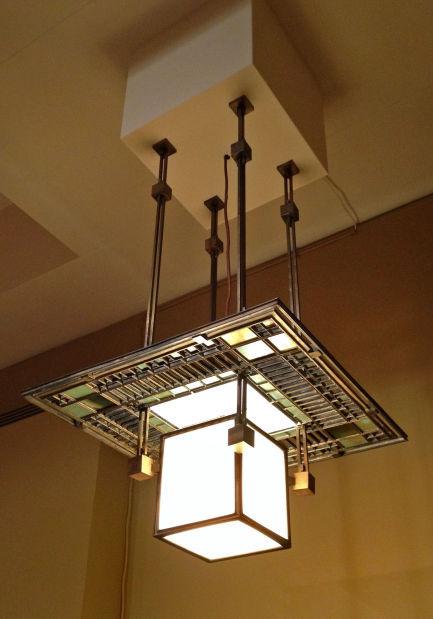 The St. Louis Art Museum has several Wright-designed pieces on view, including a chandelier, dining room chair and ventilator grille. The museum also has a couple other Wright-designed chairs, but there are no plans to put them on view anytime soon. The straight-backed dining room chair came from the Ward W. Willits House in Highland Park, Ill., and was originally part of a set of six dining room chairs. The circular ventilator grille came from the Francis Apartments in Chicago, an early Wright design from 1895 that was demolished in 1971. The chandelier came from the Francis W. Little house in Peoria, Ill. In 2013, the museum spent $825,000 for the piece, the most it spent on a purchase that year.
Louis Sullivan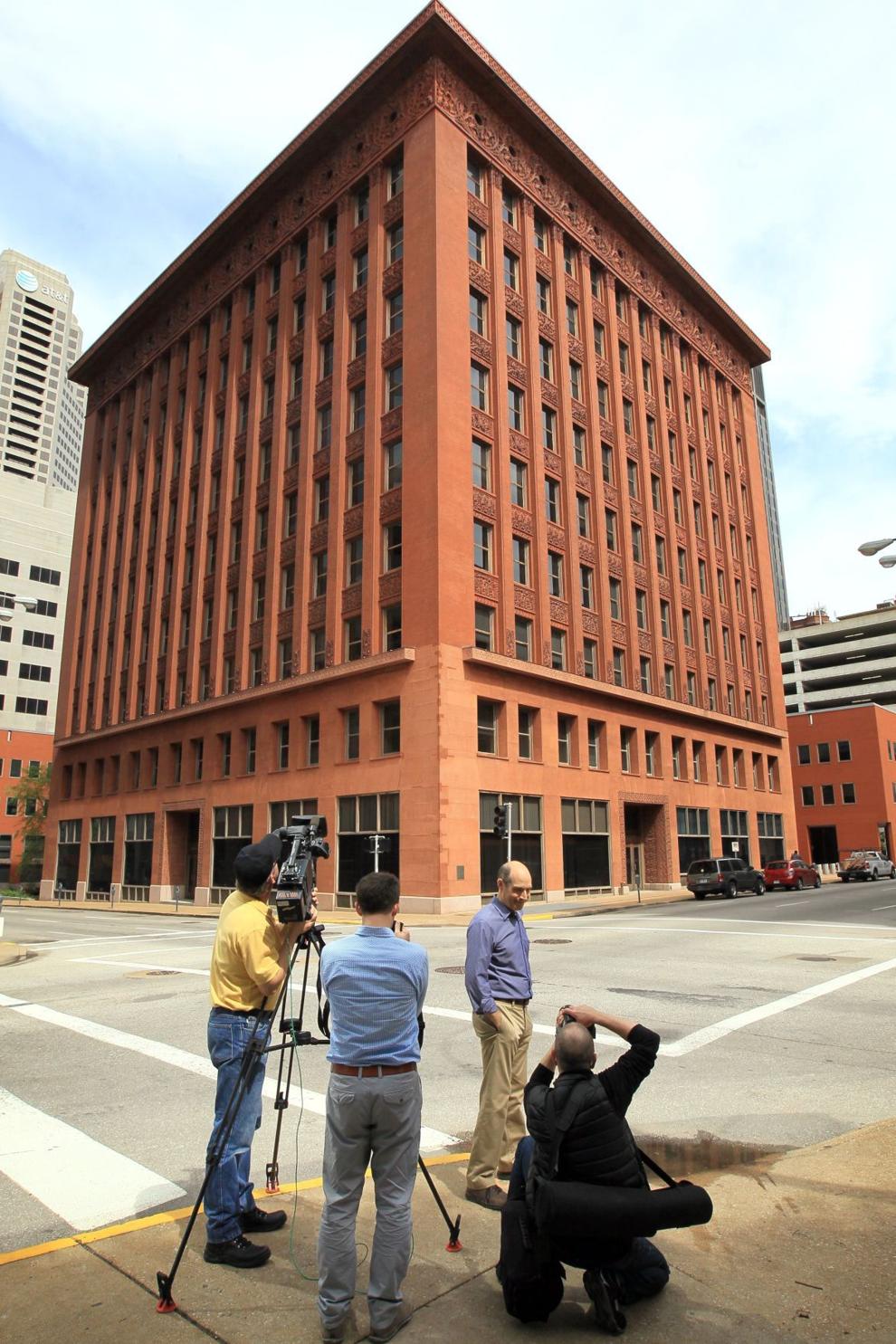 Wright apprenticed in the Adler and Sullivan firm in Chicago for six years at the beginning of his career. The firm designed the Wainwright building at Seventh and Chestnut streets, which marked the beginning of modern skyscraper design and the first successful use of steel frame construction. Wright called the building "the very first human expression of a tall steel office-building as architecture." It was built for the St. Louis Brewer's Association and now houses state offices.
Another Adler and Sullivan building, at 705 Olive Street, is being renovated to become a boutique Marriott Hotel.
Sullivan also designed the Wainwright tomb in Bellefontaine Cemetery, a cube with a dome on top that's been called the Taj Mahal of St. Louis. The City Museum has several pieces of Sullivan-designed building ornamentation on display, including its newest addition, a staircase from the Chicago Stock Exchange. Southern Illinois University at Edwardsville displays many pieces in the Louis Sullivan Lounge of the second floor of Lovejoy Library. The ornaments are known for their ornate and geometrical foliage-based designs.
William Bernoudy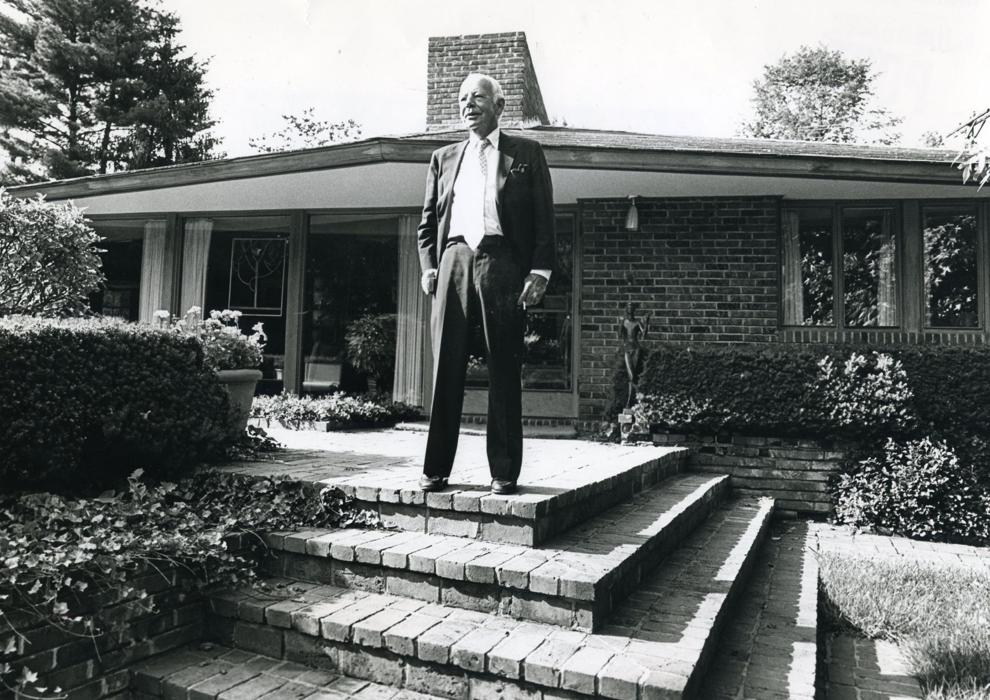 Bernoudy was referred to in the catalog of a 2015 exhibit at the St. Louis Art Museum as "the go-to architect for elegant modern homes in St. Louis and beyond." That exhibit pictured the pavilion and pool he designed in 1948 for Joseph and Louise Pulitzer. Bernoudy flunked out of his first year at Washington University but went on to study under Wright for three years as a charter apprentice in the Taliesin Fellowship Wright started in 1932. Architect Gyo Obata wrote that he believed Bernoudy learned several principles from Wright, including an understanding of sites and materials and how each area relates to the whole. Bernoudy designed several private homes in the St. Louis area, as well as the Thomas Jefferson School gym, Temple Emanuel in Creve Coeur, and the serpentine wall and arched entrance of the St. Louis Zoo.
Walter Burley Griffin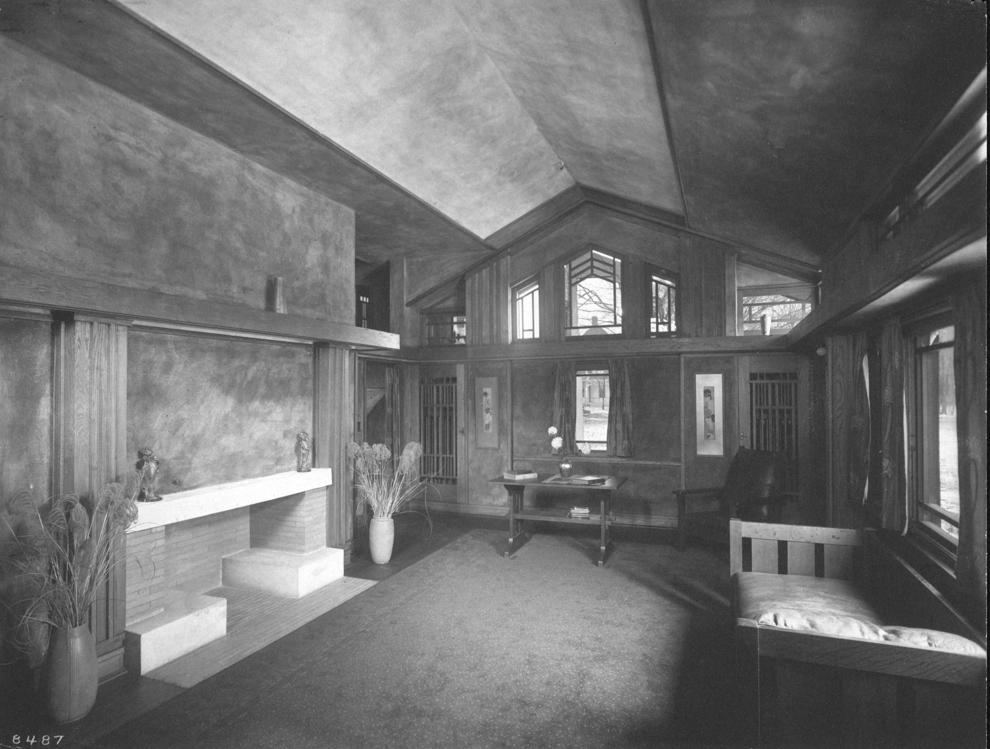 Walter Burley Griffin worked for Wright from 1901 to 1906 in the Oak Park studio in Chicago before establishing his own practice. In 1906, he designed a home at 705 St. Louis Street in Edwardsville for his older brother, Ralph. The split-level, symmetrical Ralph Griffin House is now the private residence of Rich Berry and Mary Mioux Berry and one of the subjects of a forthcoming book by the St. Louis-based Walter Burley Griffin Society.
"Walter, in our estimation, is greatly underappreciated because he gained his fame in Australia while Frank Lloyd Wright gained his in the United States," said Peter Burley Griffin, president of the society and a great-nephew of the architect. "He's the Frank Lloyd Wright of Australia."
Walter Burley Griffin moved to Australia in 1914, where he won an international competition to design the capital city of Canberra. He and his wife, Marion Mahony Griffin, who also worked for Wright, went on to design other buildings in Australia, including the Capital Theatre in Melbourne.
Next week's At Home story features a tour of the Griffin house with owners Rich Berry and Mary Mioux Berry.
Happy 150th birthday, Frank Lloyd Wright! His legacy endures in St. Louis
With the 150th anniversary of the birth of American architect Frank Lloyd Wright upon us, take a look at some of the buildings and homes in the area he built, had an opinion of, or influenced.