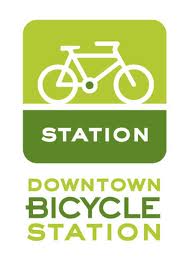 The "soft opening" of the Downtown Bicycle Station, 1011 Locust Street, went so well that Trailnet folks won't need to post another vigil at Park Avenue Coffee, 417 North 10th Street, on Friday as planned.
"Enough people came in to pick up their key fobs (security cards) that we don't have to be there (Friday)," said Emily Luton, TravelGreen coordinator for Trailnet, one of the sponsors.
During next Thursday's official opening Trailnet staff, including executive director Ann Rivers Mack, will lead a bicycle ride around downtown. Urban Shark bicycle company, 1009 Locust Street, will also open Thursday and help oversee the running of the bike station.
About 100 people and corporations have signed up for  memberships, so about 80 memberships are still available. 
For the next week, hours are from 7 a.m. to 7 p.m. After the official opening next Thursday, hours will be from 4 a.m. to midnight.
Memberships • $150 for a year; $20 for a month; $5 for day passes. Sign up before the grand opening and get an extra month free and the $20 application fee will be waived. The fee is also waived for members of Trailnet and the Downtown Partnership. Corporate memberships are $1,000 for 10 members. More than 100 members have already signed up.