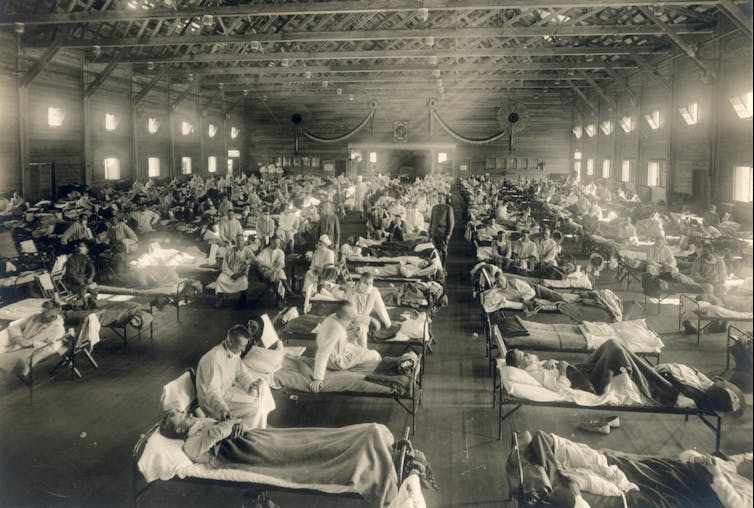 Near the end of the First World War, a deadly flu raced across the globe. The influenza pandemic became the most severe pandemic in recent history, infecting about one-third of the world's population between 1918 and 1920 and killing between 50 and 100 million people. It was caused by an H1N1 virus that originated in birds and mutated to infect humans.
Now a century later the world is amidst another global pandemic caused by a zoonotic disease that "jumped" from wildlife to people, a novel coronavirus known as SARS-CoV-2. While we do not want in any way to diminish the hundreds of thousands of personal tragedies caused by this virus, we see reasons to be optimistic. If managed competently, this fight may turn out differently, resulting in lower rates of infection and mortality and, possibly, fewer deaths.
We are part of a team of social scientists that span the fields of epidemiology, geography, history, urban planning and Asian studies who have studied how the influenza pandemic played out in Asia, an understudied region where the largest number of people died. There have been vast advancements in communications, science and medicine over the past 100 years, which may create a better outcome in today's pandemic.
This article was updated to change references to the 1918 pandemic to the influenza pandemic.
You're smart and curious about the world. So are The Conversation's authors and editors. You can get our highlights each weekend.

Research reported here was based in part on data collected with support from the National Institute on Drug Abuse of the National Institutes of Health under award number R21DA025917. The content is solely the responsibility of the authors and does not necessarily represent the official views of the National Institutes of Health.
Eva Kassens-Noor does not work for, consult, own shares in or receive funding from any company or organization that would benefit from this article, and has disclosed no relevant affiliations beyond their academic appointment.