ST. LOUIS — The number of vaccine doses going to the St. Louis region will increase next week, state officials announced Wednesday, a day after area government and health leaders complained that Missouri's most-populated region was being shortchanged.
For the week of Feb. 15, the region — made up of St. Louis, St. Louis County and 10 other eastern Missouri counties — is slated to receive 33,200 first doses, approximately doubling what it had received the week prior.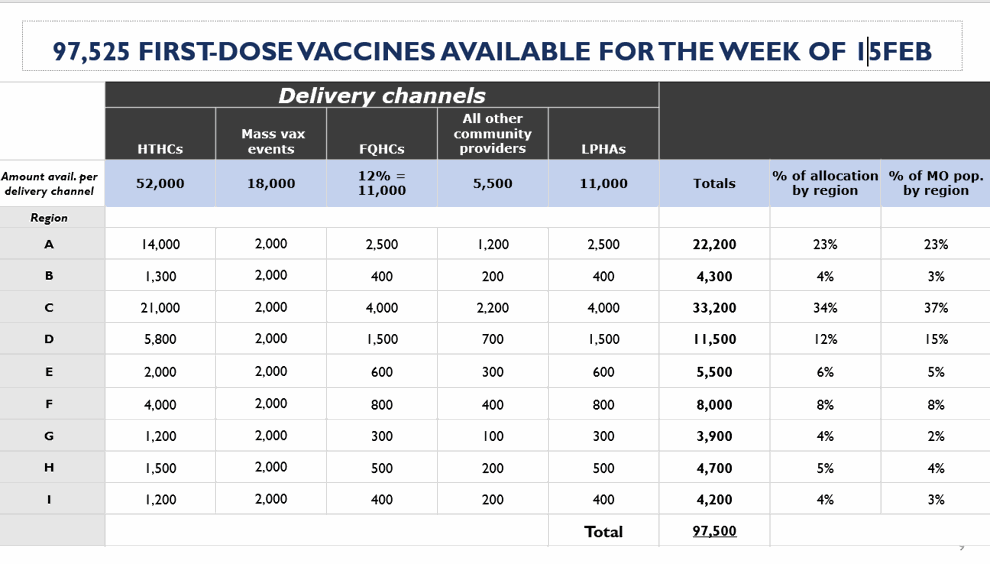 The allocations were revealed Wednesday during on online presentation by state officials for reporters.
The distribution of vaccine doses across the state's nine regions will mirror each region's population, state officials said.
Government and hospital leaders had complained the St. Louis region, with approximately 2.2 million people, represented 37% of the state's population, but was getting only about 17% of the state's allocation of vaccine. The St. Louis region is made up of the city of St. Louis and Franklin, Jefferson, Lincoln, Perry, Pike, St. Charles, St. Francois, St. Louis, Ste. Genevieve, Warren and Washington counties.
Adam Crumbliss, director of the public health division within the Missouri Department of Health and Senior Services, said it's not always possible each week to distribute new doses equitably.
"We recognize it's an ebb and flow. Every week we are going to see numbers grow and fade in each region, but our commitment and our expectation is that we will work towards achieving that regional balance," Crumbliss said.
"Our objective is to get to a good sense of parity across all the regions," he added.
State officials plan to distribute 97,525 first doses of the two-dose vaccines across Missouri next week. The plan shows 33,200 — or 34% of the doses — will go to the St. Louis region.
Hospital systems in the region will get 21,000 doses — higher than the 15,600 weekly allotment they had been receiving.
Amounts to other vaccinators in the region appear to be increasing as well: 4,000 doses will go local public health departments, 4,000 will go federally qualified health centers that serve the uninsured or those on Medicaid, and another 2,200 will go toward other community providers.
Each region also hosts a mass vaccination event each week, which accounts for another 2,000 doses.
Dr. Alex Garza, head of the St. Louis Metropolitan Pandemic Task Force, said he was thankful state officials acted on his and others' concerns.
"If this is true, then it helps get us closer to the amount of vaccine that we should be appropriately receiving given our population size," Garza said Wednesday. "This will go a long way to help save lives in the region."
Missouri Gov. Mike Parson, in a virtual meeting with several mayors Wednesday, defended the state's distribution plan so far.
"We're trying to do the best we can for everybody, and it's an impossible balancing act," Parson said.
The percentage of those who have received their first dose varies widely by county, from as high as 18% in Shelby County to as low as 3% in Reynolds County, state data shows. St. Louis is at 6.5% and St. Louis County is around 8%. Statewide, 9% of residents have received their first dose.
Crumbliss said he's been asked by some county officials if they can expand who is eligible for the vaccine because they are already close to vaccinating all their residents who currently qualify, including all those older than 65 or with certain underlying health conditions.
"The answer is still, 'no,'" Crumbliss said. "We have to move as a state, as a whole entity through those tier processes."
State officials touted data that shows 30% of those older than 85 have received at least one dose; as well as more than 18% of those between 75 and 84, and more than 20% of those between the ages of 65 and 74.
The locations were chosen by federal officials "because of their accessibility for many Missouri communities," said Dr. Randall Williams, director of the Missouri health department.
The pharmacies are expected to begin vaccinations on Friday, Williams said. Eligible residents must make an appointment first through the stores' websites.
Another 21 Health Mart locations will also soon begin administering vaccine as part of the federal program. No date was given.
Together, the 102 Missouri retail pharmacies are scheduled to receive a total of more than 18,000 doses per week, according to the press release, which will be in addition to the more than 97,000 doses a week the state is already receiving.
A similar federal program that involves sending doses to some federally qualified health centers could begin as early as next week, said Robert Knodell, the governor's chief of staff.
Meanwhile, Illinois residents younger than 65 with pre-existing medical conditions will be eligible to receive COVID-19 vaccinations later this month, Gov. J.B. Pritzker announced Wednesday.
The Phase 1B distribution plan on Feb. 25 will follow Centers for Disease Control and Prevention guidelines and allow for vaccinating pregnant women and people with diabetes, heart disease, cancer, sickle cell disease and other conditions including obesity.
Missouri officials also celebrated the continued decline of coronavirus cases in the state. Wednesday saw 876 new cases, bringing down the weekly average of new cases to levels not seen since early July.
However, the case count does not include a large number of cases from antigen tests, which have become increasingly popular — making up about a third of all diagnostic tests for COVID-19 over the past month. Antigen tests provide results in about 15 minutes.
Missouri health officials announced Wednesday that they are incorporating antigen tests results into statewide data made available on the public online dashboard, but the counts will be shown separately from other test results and only provided as weekly averages.
Several states, including Illinois, report the combined totals each day.
According to the new data, over the past seven days, the state has recorded 6,223 cases and 2,966 cases from antigen tests in the past seven days — an average of 889 and 424 cases per day respectively.
In the last seven days, Missouri has had fourth lowest rate of new COVID-19 cases in the country, with 14.6 cases per 100,000 people. With antigen cases included, that moves the state to the 12th lowest with 20.8 cases per 100,000 people.
Hospitalizations for COVID-19 also continue to decrease across the state since the start of the year. In the St. Louis area, hospital systems reported on Wednesday that the seven-day average of those hospitalized with COVID-19 dropped from 421 to 409.
Jack Suntrup of the Post-Dispatch and contributed to this report, as did The Associated Press.
Photos: First responders vaccinated at SLU Hospital
First responders vaccinated at SLU Hospital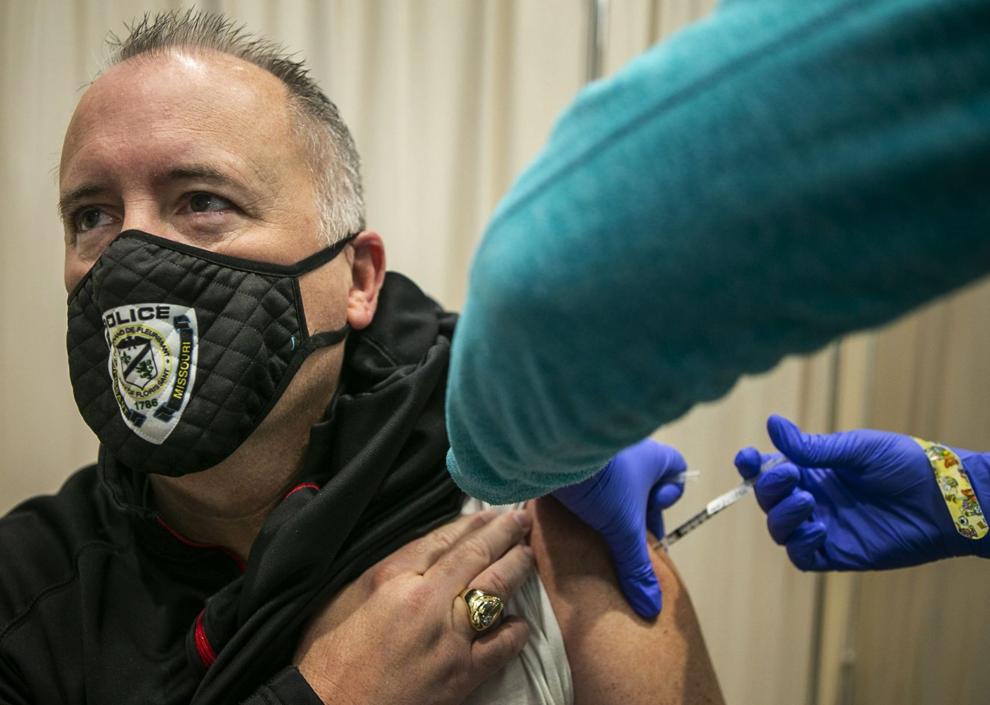 First responders vaccinated at SLU Hospital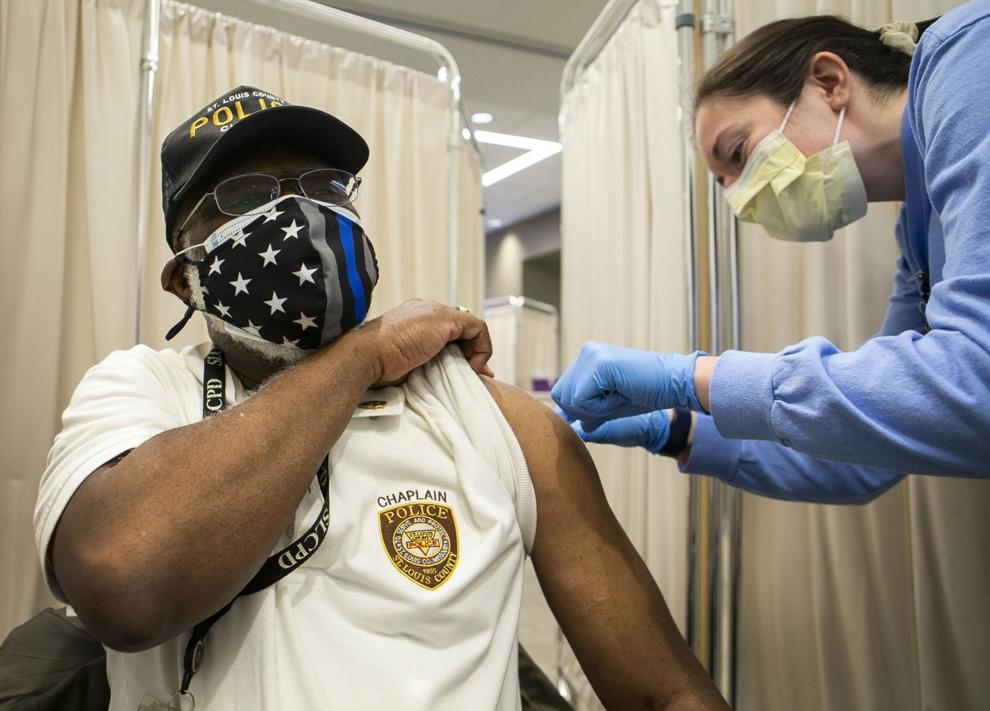 First responders vaccinated at SLU Hospital
First responders vaccinated at SLU Hospital
First responders vaccinated at SLU Hospital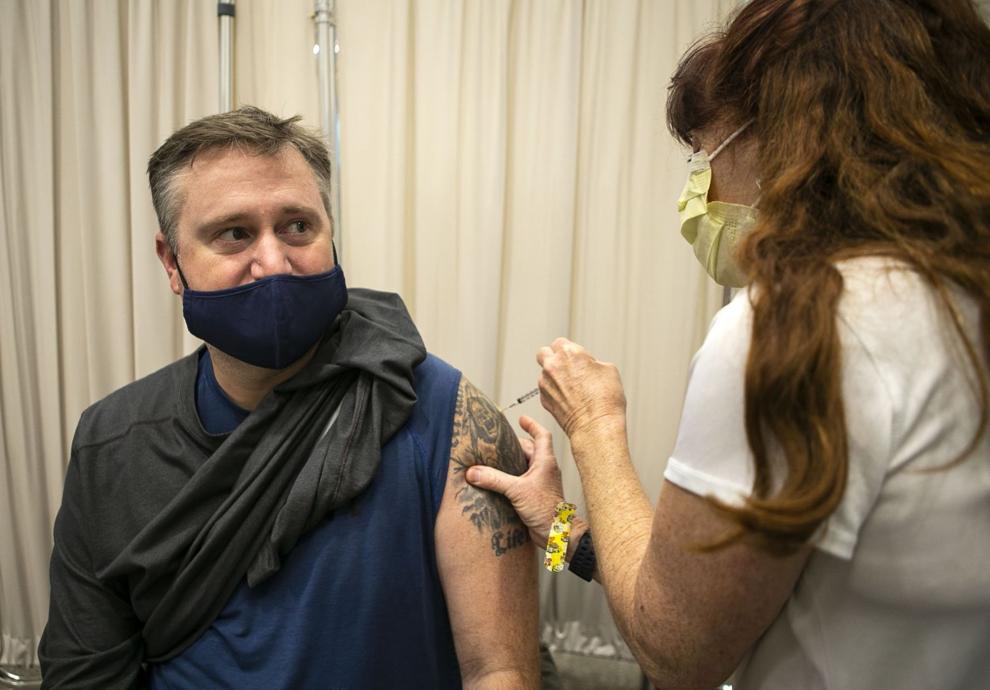 First responders vaccinated at SLU Hospital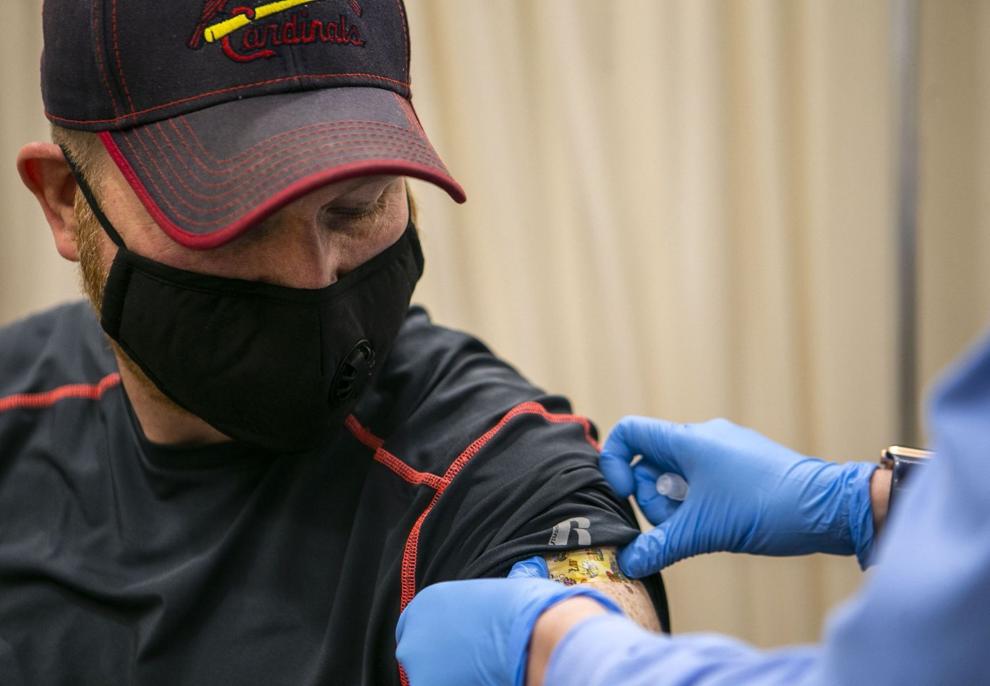 First responders vaccinated at SLU Hospital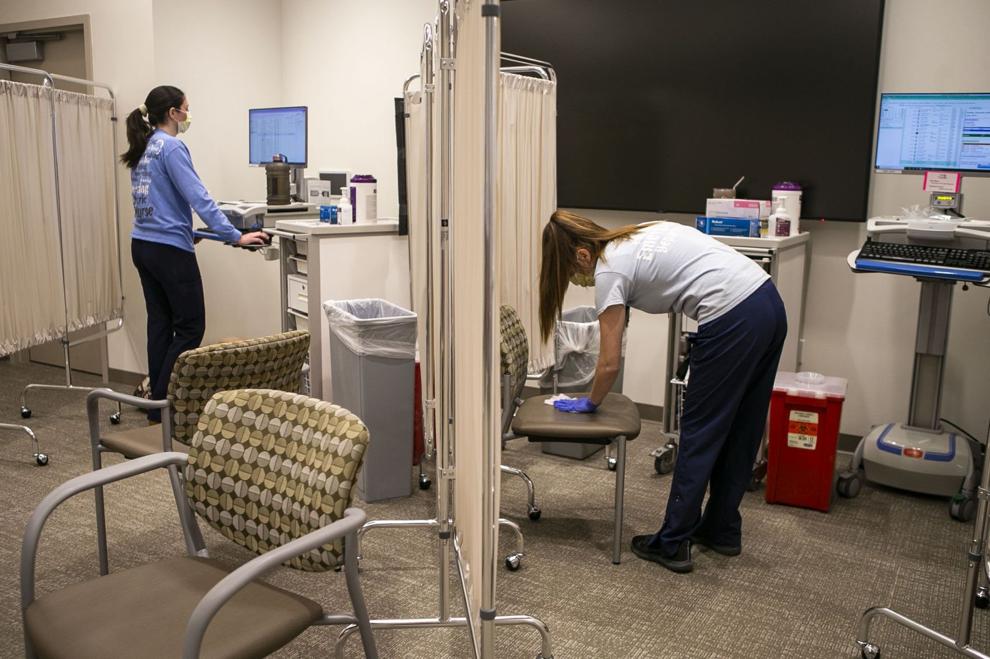 First responders vaccinated at SLU Hospital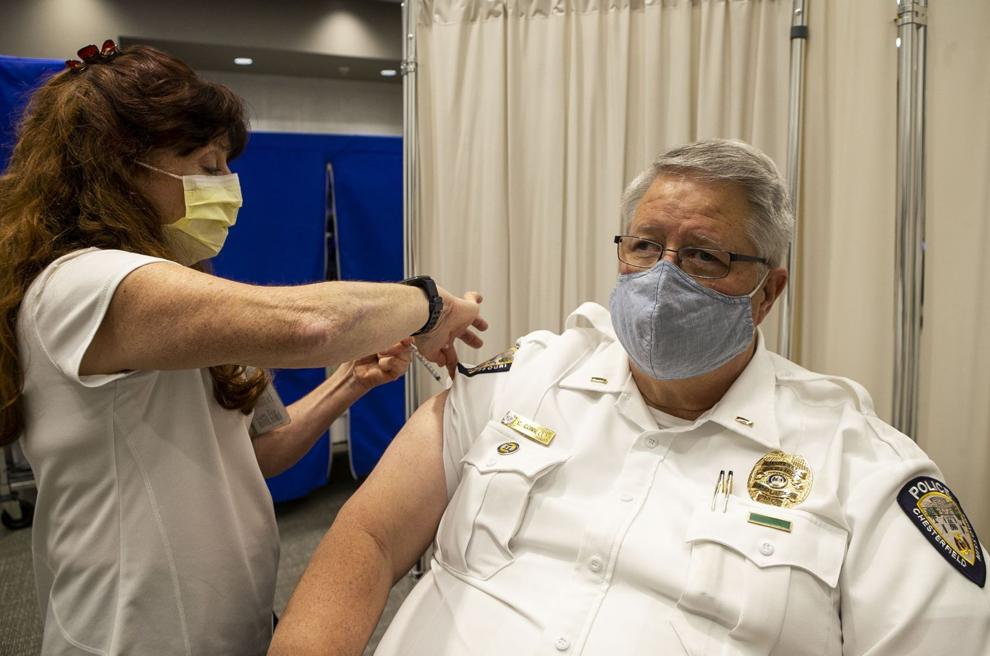 First responders vaccinated at SLU Hospital