CHESTERFIELD — Brittany Miller remembers the panicked feeling of taking her husband, Josh, to St. Luke's Hospital with a severe case of COVID-19 three months ago.
"I couldn't kiss him, because we didn't know what was wrong," she said. "I wasn't allowed in the hospital, so I just had to squeeze his knee hard and tell him I loved him, then drive away like I was dropping him off at the airport. It was terrifying."
Josh Miller, 29, an account adviser for the food delivery app GrubHub, and Brittany, 24, have been married about one year. They moved to St. Louis County from Arizona to be close to family just two days before Josh was hospitalized.
Josh has no known preexisting conditions that put him at higher risk for COVID-19 complications. Still, he was in respiratory failure when he entered St. Luke's and needed some of the most intensive care available to COVID-19 patients.
He remained hospitalized for more than three months until he was released Friday afternoon amid a celebration from hospital staff, some of whom he now considers family.
Josh doesn't remember much from late November through most of January. He was heavily sedated, but Brittany said she won't forget those weeks.
"I told my mom I was too afraid to go anywhere or unpack boxes at first because, 'What if the hospital called?'" she said.
St. Luke's cardiothoracic surgeon Jeremy Leidenfrost led Josh's care team, and he quickly realized a breathing tube wouldn't be enough to keep Josh alive.
Within a day, hospital staff put him on extracorporeal membrane oxygenation, or ECMO, a technique that siphons blood out of a patient, oxygenizes it and pumps it back into the body, essentially replicating lung functions to give them time to heal.
ECMO is challenging to manage and the risk of complications are high. At first, two nurses and a specialist stayed with Josh around the clock. Leidenfrost said Josh had about a 50% chance of survival, Brittany recalled.
Then came a series of scares. There were worries of an infection in Josh's windpipe, and around Christmas, both lungs collapsed.
"The hospital called me when it got really bad, and I went into his room in full PPE and would just spend hours next to his bed talking to him. He was sometimes lucid," Brittany said.
At one point, she hand-painted a sign with the message: "Always growing tomatoes," a reference to their early courtship.
Josh and Brittany met about six years ago in culinary school in Arizona. Their relationship started after they spent four hours talking one day after Spanish class.
"Believe it or not I got pulled over on my way home after that night," Brittany said. "I was so enamored I forgot to turn my headlights on."
Early in their relationship, Josh read her a poem titled "Tomatoes," by Shane Koyczan. He said the poem speaks to the depth of finding new love.
Growing tomatoes, Josh would say, is like caring for their relationship — it needs care and attention.
When the couple married last year, their wedding had a subtle tomato theme as a nod to the poem.
"There were even some tomatoes in my bouquet," Brittany said on Friday, laughing.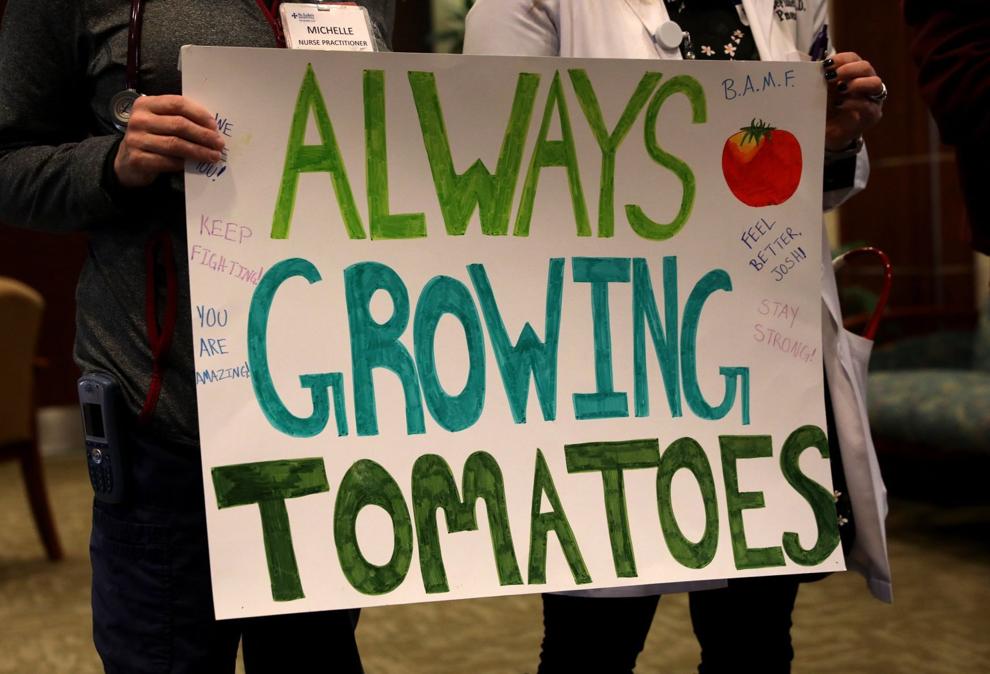 When Josh's lungs stopped functioning, Leidenfrost said the best option was a lung transplant.
The doctor called around the country trying to find a lung, but he was denied by four different centers because of Josh's condition and a national shortage, Leidenfrost told the Post-Dispatch on Friday.
"His only option from there was to recover," the doctor said.
Most patients who get better on ECMO do so within two weeks, Leidenfrost said. After that, the chances of survival plummet.
Josh would remain on the machine for 60 days.
"It was incredible," Leidenfrost said. "We'd made a decision that he is 29 years old and we're not going to give up on him."
Leidenfrost ordered a special bed that can be positioned close to standing to improve Josh's chances of recovery.
In time, Josh's lungs started to show improvement and began functioning again. He completed intense physical therapy to regain his strength. And this week, he was finally strong enough to leave the intensive care unit.
On Friday afternoon, Josh was ushered out of St. Luke's, near where Brittany had dropped him off 90 days earlier, as the song "Celebration" by Kool & The Gang played. Hospital staff lined the hallway, cheering him on and waving posters covered in tomatoes.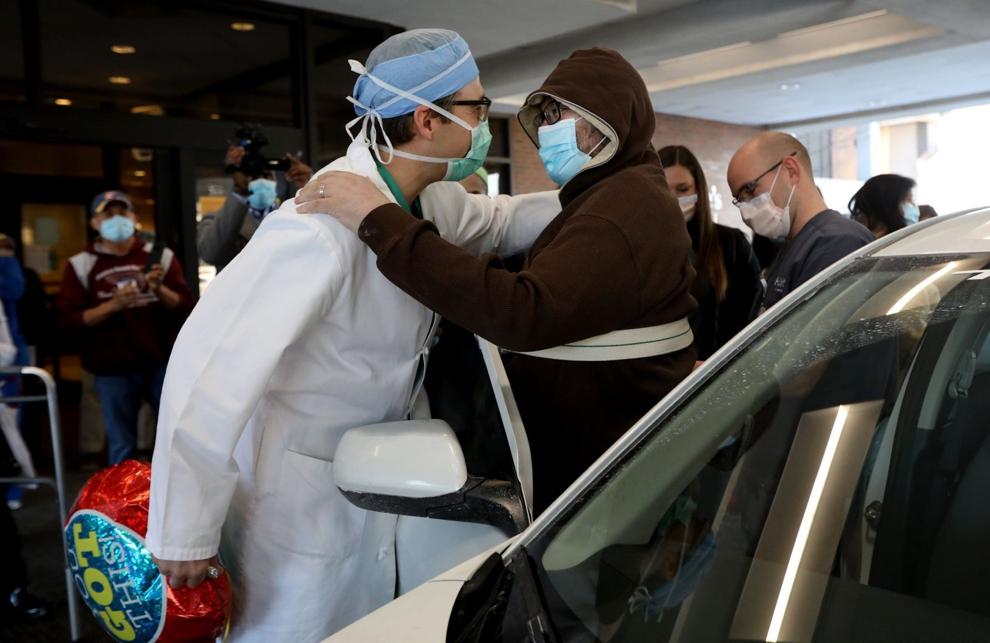 As Josh headed to the family's car, Leidenfrost gave him a hug.
"You've got my number," he told him and turned to Brittany. "Take good care of him."
In an interview with the Post-Dispatch, Josh gave special credit to his wife and Leidenfrost, along with ICU nurse Dalton Jones, who he said put pressure on a neck wound for four hours straight during one of his scares, and ICU nurse Craig Snyder, who pushed him and inspired him through physical therapy.
"Dr. Leidenfrost and the nurses saved my life," he said. "They didn't give up on me, and I think their determination that I would get better is the reason I did."
Josh returned Friday afternoon to the home in which he had spent just a few hours before his hospitalization. He will now require months of physical therapy to fully recover.
"I want people to hear this story to go get vaccinated," he said Friday. "Prevent this from happening to someone else. The risk is real."
Staff cheers as COVID-19 survivor Joshua Miller discharged from St. Luke's Hospital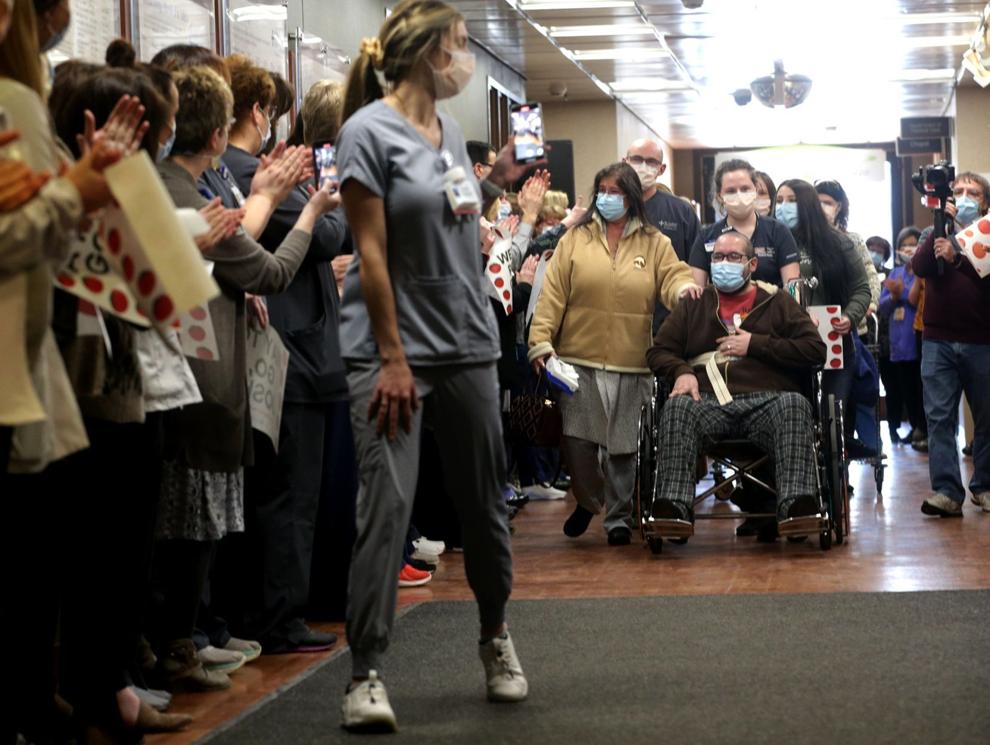 Staff cheers as COVID-19 survivor Joshua Miller discharged from St. Luke's Hospital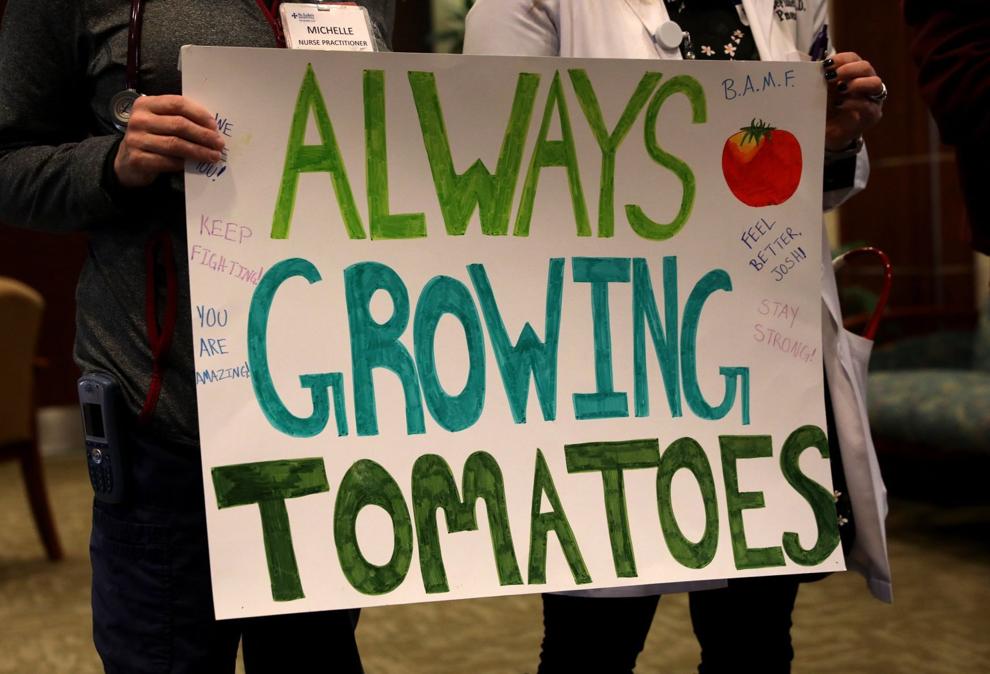 Staff cheers as COVID-19 survivor Joshua Miller discharged from St. Luke's Hospital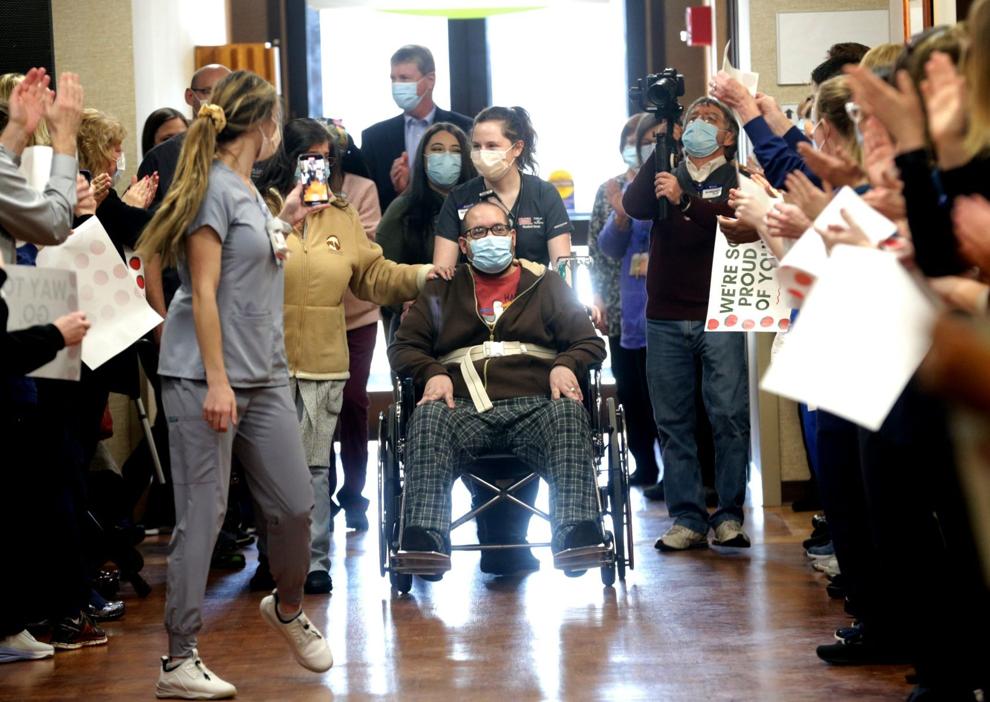 Staff cheers as COVID-19 survivor Joshua Miller discharged from St. Luke's Hospital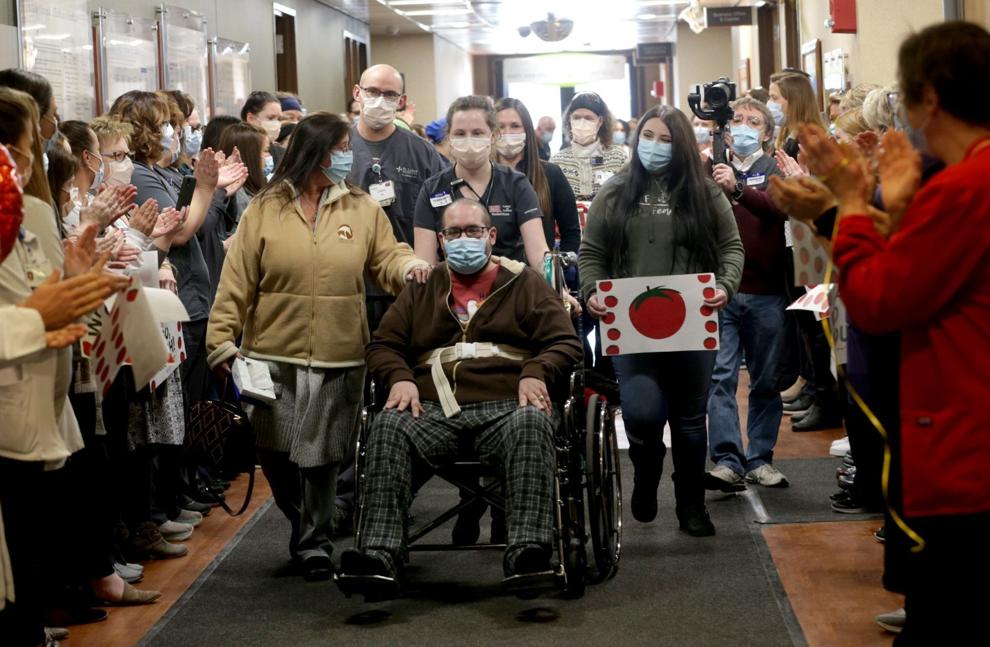 Staff cheers COVID-19 survivor Josh Miller's discharge from St. Luke's Hospital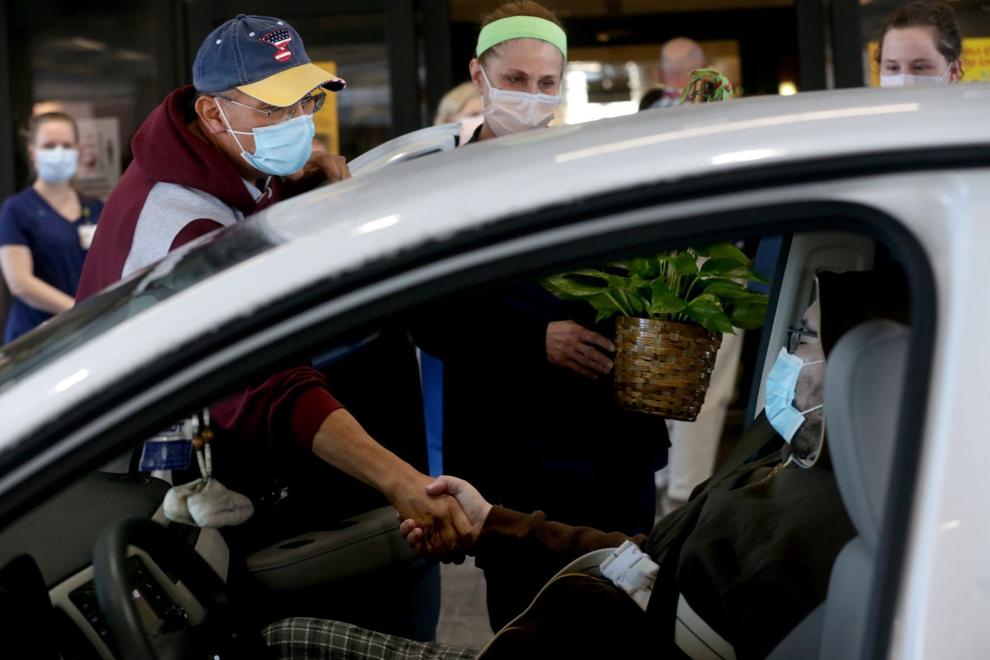 Staff cheers as COVID-19 survivor Joshua Miller discharged from St. Luke's Hospital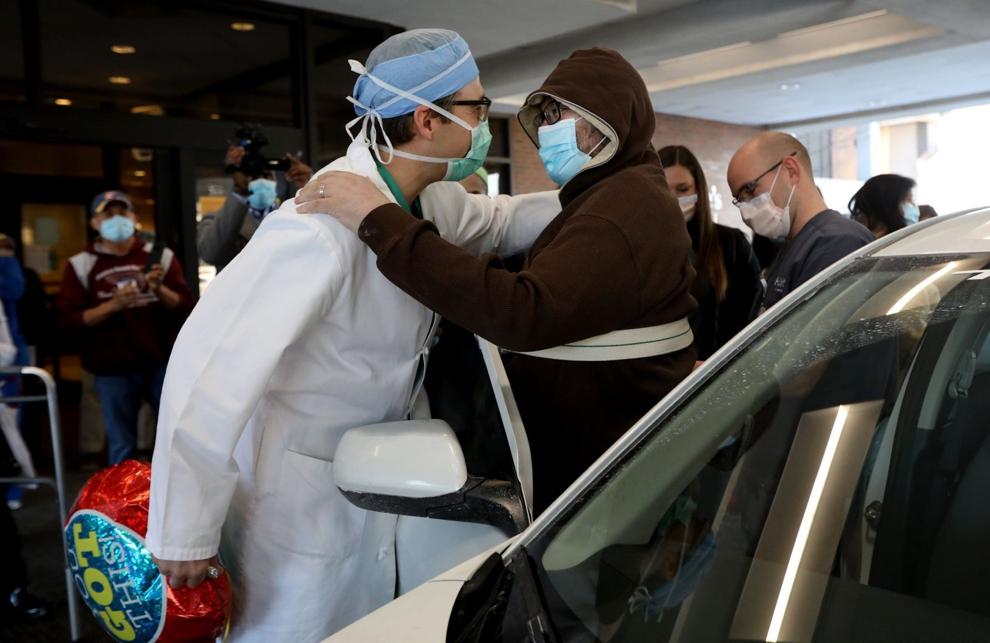 Staff cheers as COVID-19 survivor Joshua Miller discharged from St. Luke's Hospital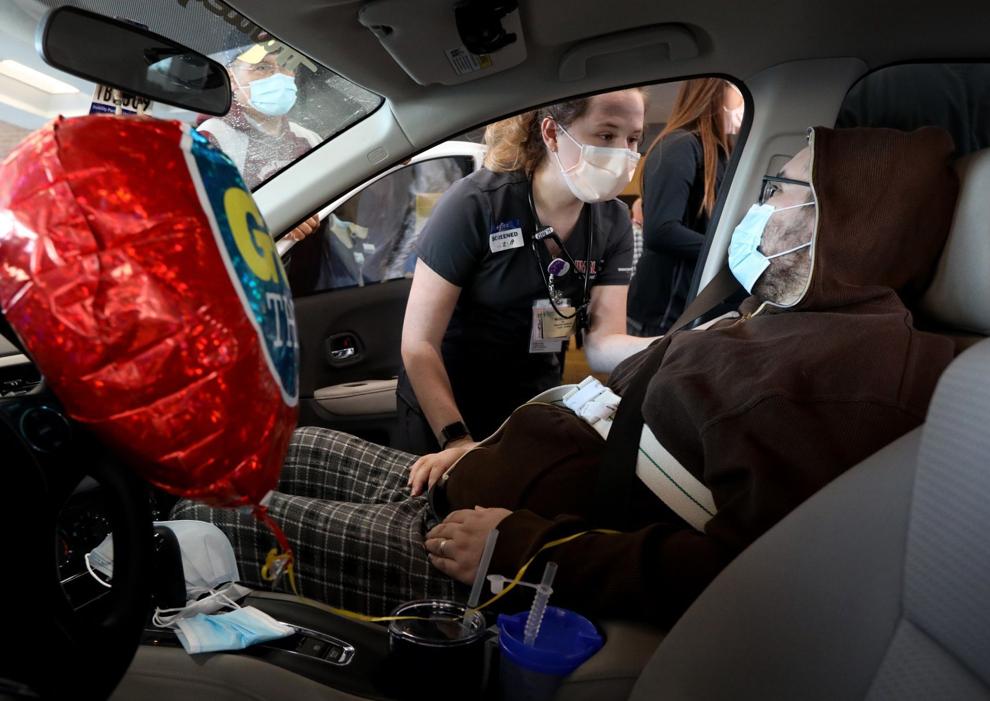 Staff cheers as COVID-19 survivor Joshua Miller discharged from St. Luke's Hospital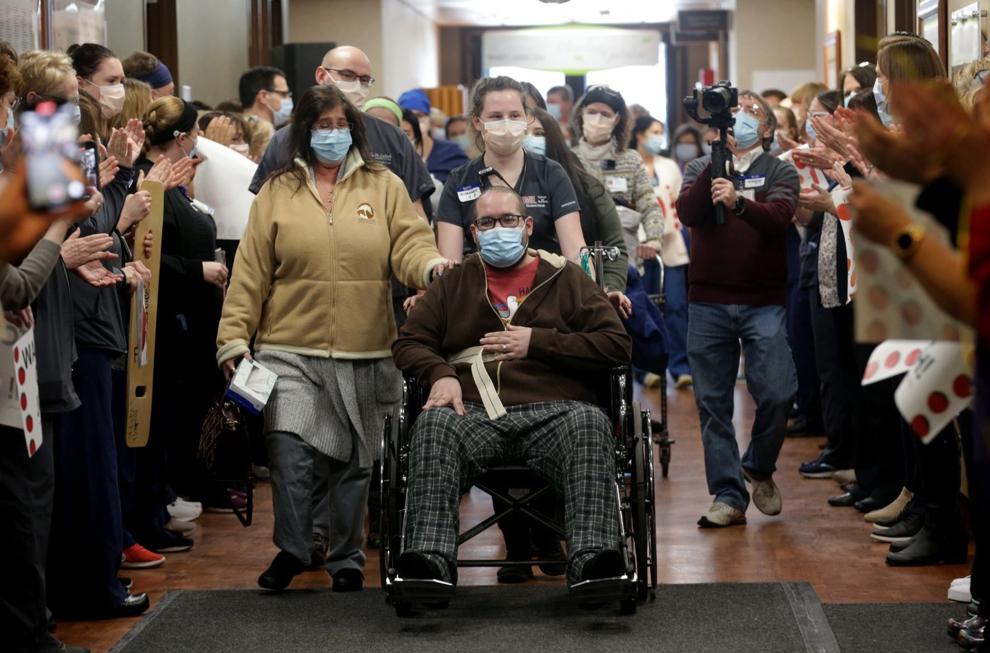 Staff cheers as COVID-19 survivor Joshua Miller discharged from St. Luke's Hospital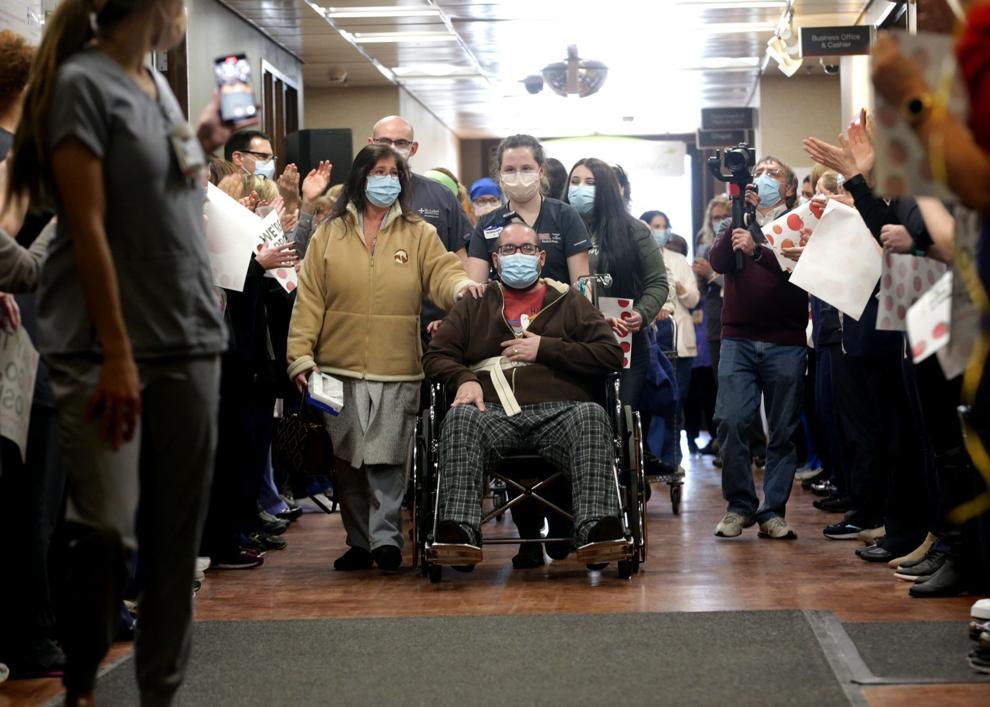 Staff cheers COVID-19 survivor Josh Miller's discharge from St. Luke's Hospital