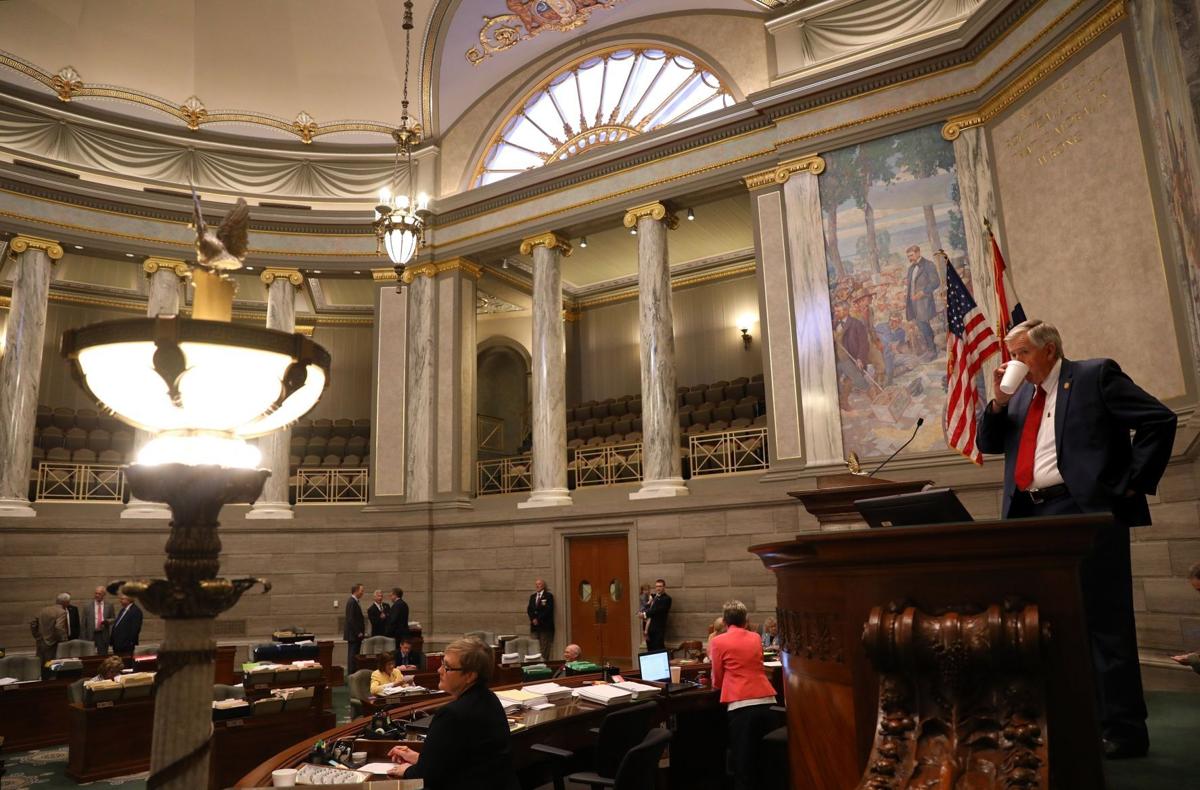 JEFFERSON CITY — The Missouri Senate has postponed a special legislative session focused on limiting COVID-19-related lawsuits after a COVID-19 outbreak within its ranks.
Senate Majority Leader Caleb Rowden announced on Twitter Monday that "due to a number of positive COVID-19 cases among members and staff," the upper chamber would postpone the special legislative session until after Thanksgiving.
Officials didn't respond to questions about the extent of the outbreak. Rowden's announcement followed a Senate GOP retreat last week at Big Cedar Lodge near Branson.
The infections are a reminder of COVID-19's widespread toll in Missouri, as hospitalizations reach successive record highs and a patchwork of county regulations determine safety precautions such as whether one is required to wear a mask in public.
The state reported 2,525 hospitalizations on Thursday, the latest day for which figures were available — a 55% increase since Nov. 1, when 1,632 people were hospitalized, and a 183% increase since Aug. 1, when 891 people were hospitalized.
Rowden, R-Columbia, said, "This decision was not made lightly and, although disruptive, is in the best interest of protecting members, staff, and the public."
Rep. Rudy Veit, R-Jefferson City, told the Post-Dispatch Monday that the virus also has affected some members of the House.
Incoming House Speaker Rob Vescovo, R-Arnold, announced Monday afternoon that "out of an abundance of caution," the House would postpone a two-week bus tour, set to begin Nov. 30, for new legislators. The tour was to feature a "masks optional" bus.
Parson left an event in Callaway County Monday without taking questions from reporters.
The governor attended the retreat Wednesday morning. His staff posted pictures of a maskless Parson speaking to a mostly maskless Senate GOP caucus during an indoor meeting.
Met with the Senate Republican Caucus this morning to share my vision for the next legislative session.

We will continue to focus on workforce development, infrastructure, combatting COVID-19, economic recovery, and public safety. We are working to move #MissouriForward! pic.twitter.com/f557cvHgvI

— Governor Mike Parson (@GovParsonMO) November 11, 2020
Senate President Pro Tem Dave Schatz, R-Sullivan, told the Post-Dispatch on Saturday that "I don't know that anybody that was there had any symptoms of COVID, so, but I would say, you know, there's potentially somebody that was there that might have it now."
Sen. Jill Schupp, D-Creve Coeur, said Democrats met the Thursday after the Nov. 3 election, in a large committee room where members were spaced from each other and masked.
"Gatherings where people are in close proximity, indoors, in a room, unmasked are irresponsible," Schupp said.
Sen. Ed Emery, R-Lamar, told the Post-Dispatch on Saturday that his chief of staff had tested positive "a few days ago."
"He hasn't said anything to me about knowing where he might've gotten it," Emery said. "He's doing fine. Says he's fatigued.
"But other than that, I think he's doing well," Emery said. Asked if his aide was at the retreat in Branson, Emery said, "No, he would not have been, because I wasn't there."
Schatz said the retreat occurred last Tuesday, Wednesday and Thursday.
Schatz said at least one person with the Missouri Chamber of Commerce and Industry attended a dinner during the event along with representatives from other entities, he said. Dan Mehan, president of the chamber, did not respond to a request for comment.
The chamber has urged lawmakers to approve a bill that might ultimately exempt businesses, including nursing homes, from lawsuits related to COVID-19 outbreaks at their facilities.
"I think that's obviously something that they're interested in seeing across the finish line," Schatz said.
Sen. Mike Bernskoetter, R-Jefferson City, said avoiding further spread among senators, staff and lobbyists is "the right thing to do."
"Hopefully it will run its course with the people who are associated with the Senate," Bernskoetter said.
Following the retreat, senators returned to their districts and at least one participated in a large indoor event, which is against the federal Centers for Disease Control and Prevention guidance.
Sen. Cindy O'Laughlin, R-Shelbina, hosted hundreds of supporters of President Donald Trump in the Capitol Rotunda Saturday. Secretary of State Jay Ashcroft also spoke at the event.
Bernskoetter said it might be better to wait until the regular session that starts in early January.
"That may give us an opportunity to have a broader discussion about the issues," Bernskoetter said.