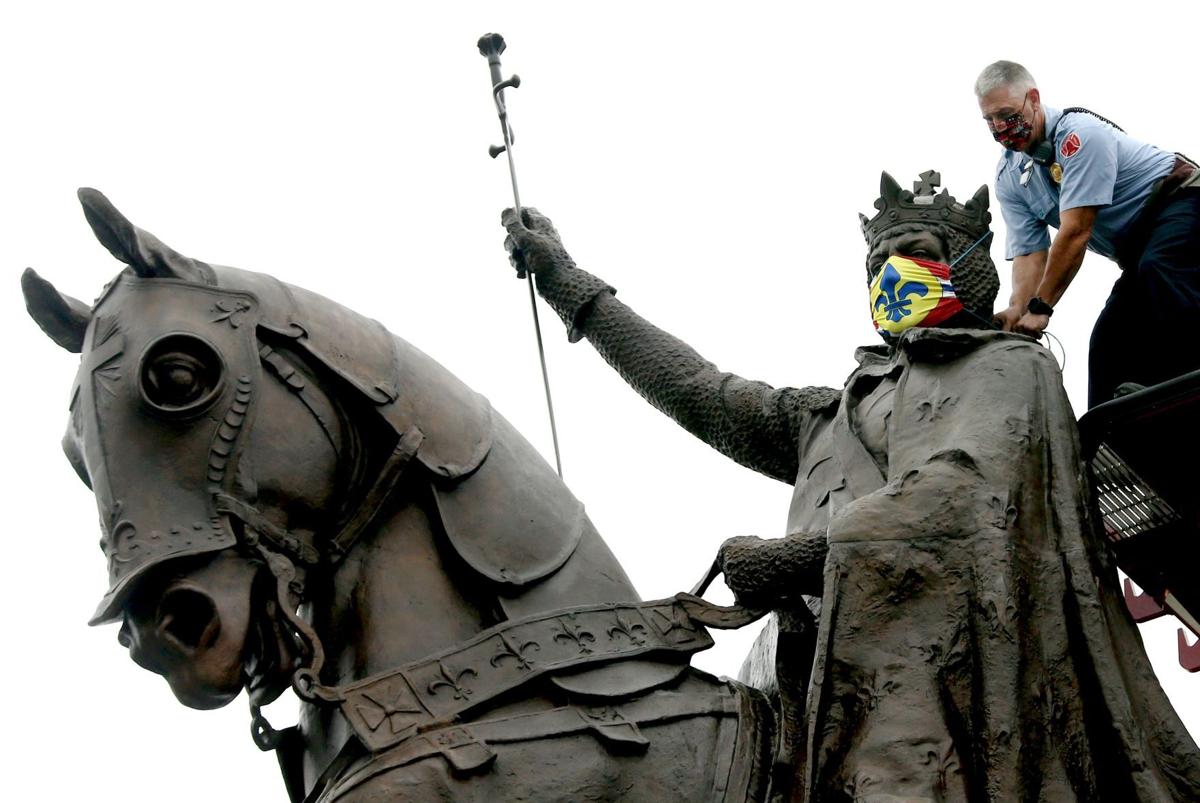 ST. LOUIS — New coronavirus cases among city residents have fallen precipitously over the past few weeks, a hopeful sign, officials say, that restrictions like masks and curfews can make a difference — even as virus numbers climb ever higher in outlying counties.
New virus cases in St. Charles and St. Clair counties, for instance, have stayed stubbornly high over the past month, and their totals have now surpassed St. Louis.
Health officials say the numbers suggest that strict orders on behavior in St. Louis, and, to some degree, St. Louis County, where daily cases also have dipped, have curbed the virus' spread. St. Louis and St. Louis County have instituted mask requirements, bar and restaurant curfews, and capacity limits, unlike some neighboring counties. At the same time, the rising caseloads also show the spread of the virus from denser urban areas into suburban and rural counties, a pattern seen nationwide.
It's too early to draw conclusions, officials said. But the drop in new city cases is encouraging.
"It's impressive, really, how far it's come down," said Dr. Alex Garza, who leads the St. Louis Metropolitan Pandemic Task Force.
Early in the pandemic, the virus' spread was most dramatic in densely populated urban areas, Garza said. Then shelter-in-place orders went into effect, and when they lifted, the city and county took steps like mandating masks, which "blunted" case growth, he said.
From mid-May to mid-June, St. Louis' seven-day average stayed below 20. In late June and early July, it rose sharply, peaking at 78 on July 12.
Over the next three weeks, the numbers plateaued, and then began to decline, and by Aug. 28, the seven-day average was down to 30.
Now virus cases are growing most quickly in Jefferson and Franklin counties — where officials have not ordered residents to wear masks in public — and outlying counties in the Metro East.
There, despite statewide mask orders, the Illinois Department of Public Health said on Friday that six of the seven counties in the Metro East are at "warning level" for COVID-19, meaning they have had an increase in two or more virus indicators.
The rise in new cases in Jefferson County has been especially pronounced: During the week that ended on July 11, the county tallied 162 cases. The following week, 251; then 300; and, for the week ending Sept. 5, 402.
On Sunday, Franklin County reported 1,311 total cases and Jefferson County tallied 3,406 cases. But the region's front-runners, after the 21,831 in St. Louis County, were St. Charles, at 6,657, and St. Clair, at 6,652.
'More work to be done'
Garza said the recent decline in St. Louis' case numbers is likely a combination of many precautions, from virtual schooling to limitations on restaurants, bars and social gatherings, and the city and county mask mandates.
On Aug. 28, the task force presented an analysis by SLU's College for Public Health and Social Justice that found mask mandates in the city and county, which took effect on July 3, stunted case growth there: As of late August, both jurisdictions had a 27% lower growth rate of cases than nearby counties without mask mandates.
The city's numbers are cause for cautious optimism, said Stephen Liang, an associate professor of medicine at Washington University School of Medicine, and an infectious diseases physician at Barnes-Jewish Hospital.
"I just want people to be cautious in interpreting it," Liang said. "It's promising, but … certainly now is not the time to declare victory."
Liang said that he would like to see the trend continue for another two to four weeks, and he would also like to see a lower positivity rate. The city's most recently reported positivity rate was 7%.
St. Louis Mayor Lyda Krewson said she was encouraged that the city's numbers have been "a bit better," but worried that regional hospitalizations are still stubbornly high.
Dr. Fredrick Echols, St. Louis' acting health director, said he is grateful that the city's daily case counts have been lower lately, and said he has appreciated the community's diligence with taking precautions to prevent spread. He also urged caution.
"We never know what's looming in the background," Echols said. "Especially with a holiday weekend just passed, it's likely that we may see an increase in the COVID-19 case counts over the next two to three weeks."
"We have to be really adamant about not getting content or complacent with where we are," Echols said. "We recognize there is more work to be done."
Daily updates on the latest news in the St. Louis business community.