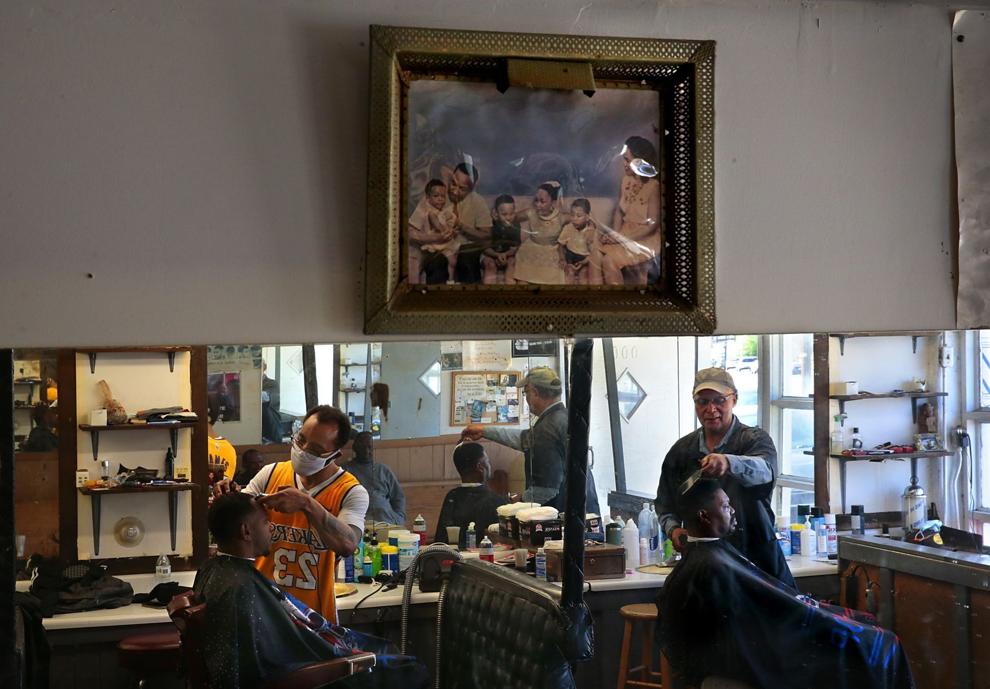 ST. LOUIS — Health agencies across the region, now with ample COVID-19 vaccine in hand, are finding some corners of the region difficult to reach.
In several neighborhoods, including in Wellston, Pagedale and north St. Louis, less than one-quarter of the residents have been vaccinated — half that of wealthier west St. Louis County suburbs.
Health officials said the disparity can be traced, in part, to long-standing gaps in access to medical care, the lack of transportation, and less convenient vaccination sites.
"There are certainly people who do automatically reject the idea of this particular vaccine," said Spring Schmidt, deputy director of the St. Louis County Department of Public Health. "But most people are just hesitant, and questioning … or they want it to be easier, and more available."
Residents gave multiple reasons: St. Louis resident Sharna Carter, 28, said she isn't around people much, and doesn't think she needs it.
Tiffany Jones, 31, from St. Louis, is worried about the flu-like side effects, and hasn't yet sat for the jab.
Pagedale resident Annie Benjamin, 55, said it took her a while, but she ultimately decided to because she has to go into people's homes as part of her job as a home health aide.
Karan Riley wants to get the vaccine. Her sister got COVID-19, and Riley knows she needs to get vaccinated. But she doesn't know where to go.
"My niece is looking into it for me," said Riley, 54, from St. Louis.
When health organizations here began vaccinating area residents last winter, supply could not keep up with demand. As more vaccine became available, the state opened mass vaccination sites, run with the help of the Missouri National Guard, to answer the overwhelming call. Residents drove hours to find doses, and waited in milelong lines.
The effort seems to be helping: As high-risk groups, like seniors, got vaccinated, COVID-19 case numbers started to fall in those same cohorts. And statewide cases have plateaued in recent weeks.
But the effort to vaccinate St. Louis-area residents is now shifting. The most eager and most able — those with the ability to sign up online, take time off of work and drive to regional clinics — have largely been vaccinated. The pace of vaccinations has since dropped by half: On Friday the state health department reported a seven-day average of about 25,000 doses administered, down from a peak of 50,000 on April 14. The national seven-day average declined to 2.1 million doses on May 1, from a height of almost 3.27 million on April 11.
For weeks, health departments have been reevaluating their strategies, moving toward more small events within communities and a redoubling of efforts to make doses as easy to find as possible.
On Wednesday, the Jefferson County Health Department, after struggling to fill appointments at its larger vaccination site in Festus, announced that it would close that location on June 15. The department will offer vaccinations at its office in High Ridge, and shift its efforts toward more pop-up clinics at businesses and other community locations.
On Thursday, Missouri Gov. Mike Parson's office announced that the Missouri National Guard would, over the course of May, scale back its involvement with mass vaccination sites. But targeted vaccination teams — who bring vaccine directly to neighborhoods — would continue in the St. Louis and Kansas City regions.
Dr. Alex Garza, who leads the St. Louis Metropolitan Pandemic Task Force, said the large-scale sites were more appropriate when there was overwhelming demand for the vaccines.
"But now it's, I think, more of getting out into the community," Garza said at a Wednesday briefing. "So rather than people coming to the vaccine, vaccine goes to the people."
Bible study
Vaccination data from the Department of Health and Senior Services suggests that residents in north St. Louis and north St. Louis County have received the COVID-19 vaccines in lower rates than the rest of the region. For ZIP codes in north St. Louis, the percentage of residents who have received at least one dose ranges from roughly 18% to 24%. In inner north St. Louis County, rates range from 21% to 27%. By comparison, 41% of residents in St. Louis County received one dose, and 38% across the state.
Rates through the region's south and central corridor — from Richmond Heights to Chesterfield to Augusta — largely exceed 50%.
The data isn't perfect. ZIP codes with lower populations have higher margins of error. And DHSS said that records were not included in cases where the ZIP code a patient provided did not match the county where that ZIP code is located.
Still, the data shows broad trends delineating vaccine haves and have-nots.
Pastor Rodrick Burton, of New Northside Missionary Baptist Church in Jennings, said he thinks it would help to have mobile vaccinations at places like bus and train stations. And he thinks there should be more public health messaging from voices that young people would listen to, like people of their own age, on social media.
"The health departments had to react so quickly, and they were already hollowed out," Burton said. "But if there's any additional resources, they would do well to do a larger campaign of messaging, information, awareness, through voices that are contextual and age-appropriate."
Burton said he has given presentations during Bible study about the vaccines, and the church has been giving congregants information about vaccine events in the area.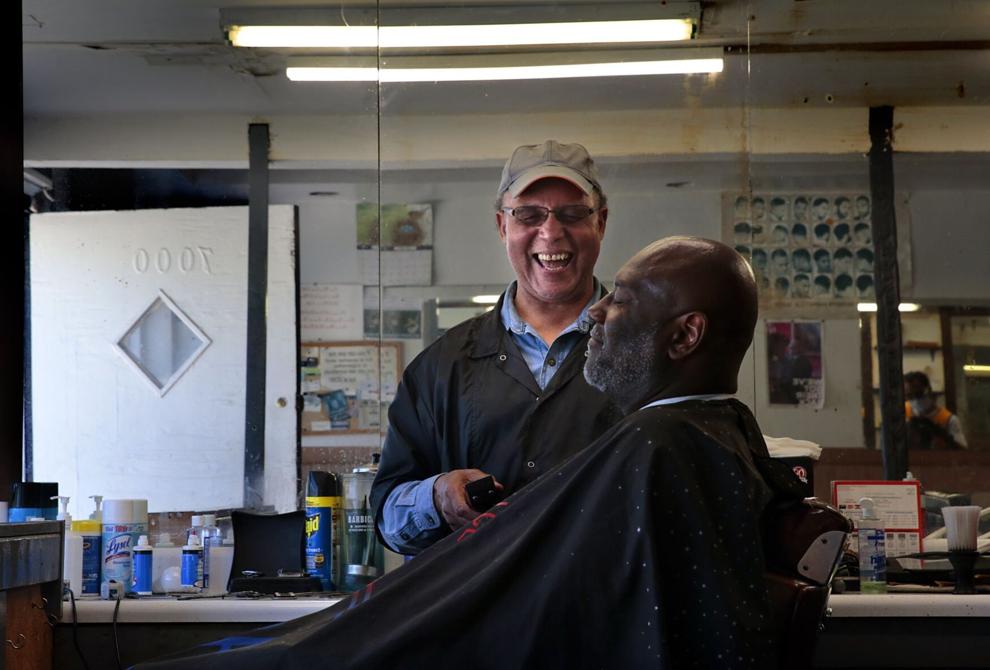 At the Gemini Barbershop in Pagedale, owner Howard Fields said he regularly asks his customers whether they have been vaccinated.
"There's a lot of people who don't have it yet," said Fields. "They're just afraid of it."
Fields and one of his customers, Edward Jones, 55, both said they were encouraged when they saw that the president had gotten vaccinated.
As he sat and waited for a haircut, Jones, of St. Louis, described how he was vaccinated at a local dialysis center. Now, he said, he encourages others to seek the vaccines.
"I'm high risk without it," Jones said.
'No excuse' now
Schmidt, the county health deputy director, said the county has dedicated more vaccine sites, staff and doses to North County. But long-standing disparities continue to spell lower vaccination rates: Some residents can't find child care or transportation. Full-time workers can't take time off. And there are fewer health care providers of all types.
"There are fewer dentists," Schmidt said. "There are fewer mental health providers. There are fewer primary care providers."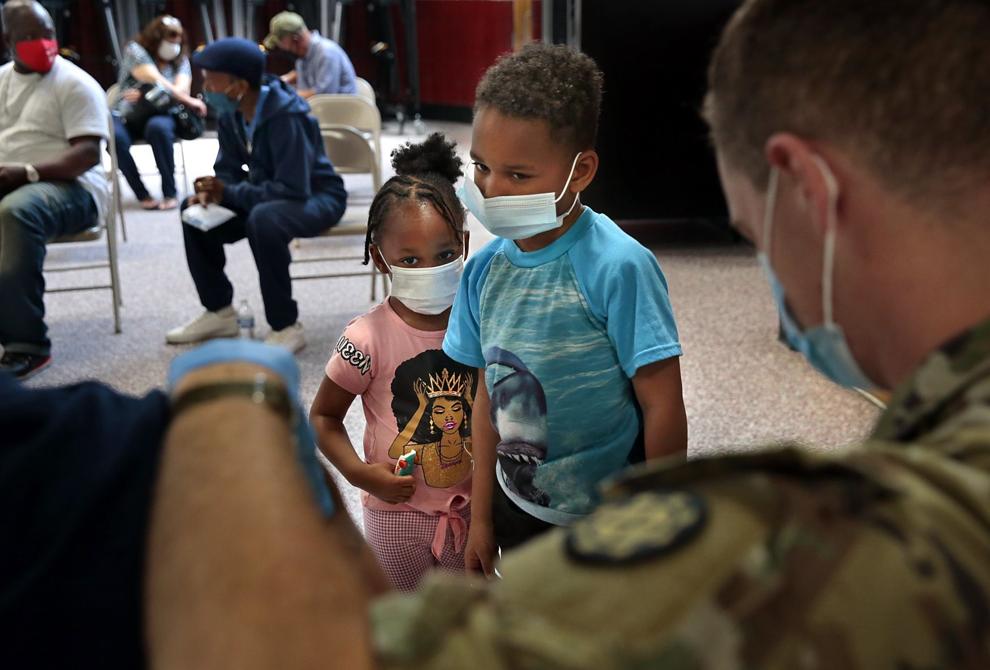 Some vaccine sites have experimented with early hours, or late hours. And mass vaccination sites have been intentionally placed along public transportation routes.
At a laundromat in Wellston, as she folded laundry with her mother, Audra Summlin, 48, of St. Louis, said she received her second shot in February, after she was encouraged to get vaccinated at work.
Summlin said she believes she had COVID-19 in the winter, when she experienced a cough, chills, shortness of breath and a sore throat. She said she is regaining her sense of smell, but lost her sense of taste.
"Many people don't believe the depths of the dangers," Summlin said, of contracting COVID-19. "They do not believe it will happen to them."
If it hadn't been encouraged at work, she said she might have waited longer because the vaccines were still so new. She said she worried that she would be "injecting something into my body that wasn't good, that really wasn't meant for me."
Now, she thinks, there is "no excuse" to skip the vaccine.