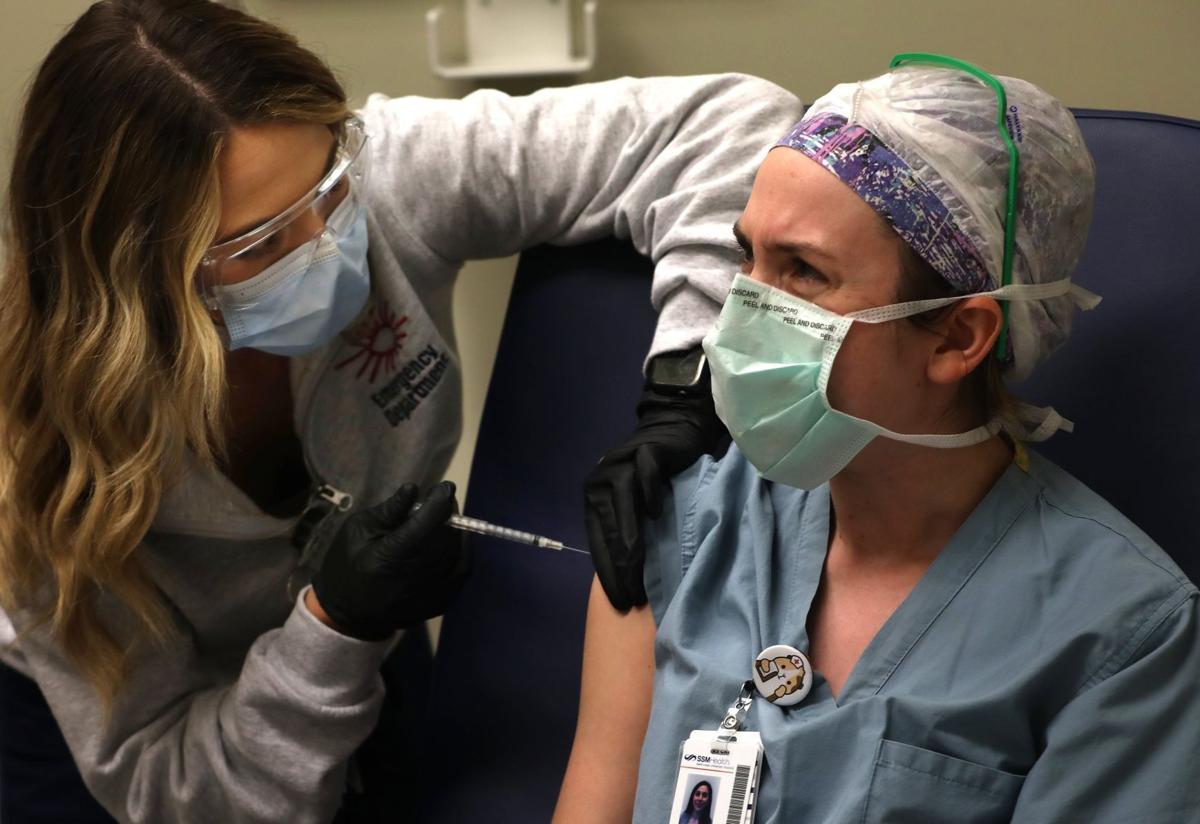 ST. LOUIS — Coronavirus infections and hospitalizations in Missouri and Illinois have slowed, at least temporarily, with state and local rates declining after spiking in the fall.
Missouri, for instance, reported about 1,400 new cases of COVID-19 on Thursday, four-and-a-half times less than its one-day peak in November.
The reversal has led some leaders to relax restrictions: St. Louis County Executive Sam Page lifted a ban on indoor dining in bars and restaurants last month. And on Thursday, Illinois officials announced that indoor dining could resume in the Metro East, following declines in COVID-19 cases and intensive care unit stays.
But experts warn that, while encouraging, COVID-19 is still spreading in the community.
"We still have a lot of people who are ill. And I think if we get complacent, and stop using precautions too quickly, it could certainly come back up again," said BJC HealthCare Chief Clinical Officer Dr. Clay Dunagan.
Through most of the late summer, Missouri reported between 1,000 and 1,500 new COVID-19 cases each day on average, according to a Post-Dispatch analysis.
October marked the start of sharp increases through the fall, pushing infections and hospitalizations to record levels, and bringing the state to a peak seven-day average of 4,723 on Nov. 20. Some hospitals scaled back elective procedures, in the face of overwhelming patient numbers, and some pediatric facilities accepted adult patients.
Since that time, despite periodic bumps, cases have declined markedly. On Thursday the seven-day average was 1,221, the lowest in months.
Officials say that there are still many sick COVID-19 patients in St. Louis, and there is a long way to go before residents can scale back their social distancing and mask-wearing. There is also always uncertainty in COVID-19 data, because many of the infected are asymptomatic, or never get tested, said Enbal Shacham, a professor at St. Louis University's College for Public Health and Social Justice. And while infections are down dramatically from November, she noted they still are not better than the summer.
Still, the region is on a better trajectory than it was two months ago.
The Metro East — which includes Bond, Clinton, Madison, Monroe, Randolph, St. Clair and Washington counties — saw cases and hospitalizations decline enough that on Thursday the state allowed indoor dining at bars and restaurants for parties of up to 10 people.
To adopt more relaxed guidelines, the region needed an average positivity rate — a measure of the portion of all COVID-19 tests that are returned positive — of 6.5% or lower for three consecutive days. It also needed to show 20% of ICU beds available for three days.
The state on Thursday also allowed retail businesses to operate at up to 50% occupancy; museums with up to 25% occupancy; and indoor recreation spaces, meetings and social events with 50 people or 50% capacity, whichever is lower. Some indoor facilities, including bowling alleys, skating rinks, indoor playgrounds and trampoline parks, will remain closed.
Experts say a few factors have probably played a role in the decline. The end of the holiday season meant residents were gathering and traveling less. Many people also chose to stay home, wear masks and avoid congregating in large groups. And, in the face of climbing coronavirus cases, some municipalities clamped down.
"St. Louis County, in particular, and St. Louis city put in some expanded restrictions to try to halt the surge we were seeing," said Dunagan, the BJC doctor. "I think the lion's share of the benefit falls on what actions individual citizens and municipal governments have taken."
Now the region is racing to scale up vaccinations, and tamp down infection rates, as health officials watch for signs of new variants that could potentially spread the virus more quickly. It is impossible to forecast the next few months of the pandemic, but health experts have expressed cautious optimism.
"I think, if we don't get too greedy, if we don't try to let things up too fast, there's a good chance that we can sustain this while we get the population vaccinated," Dunagan said. "It's so hard. Everybody is anxious for life to be back to normal."