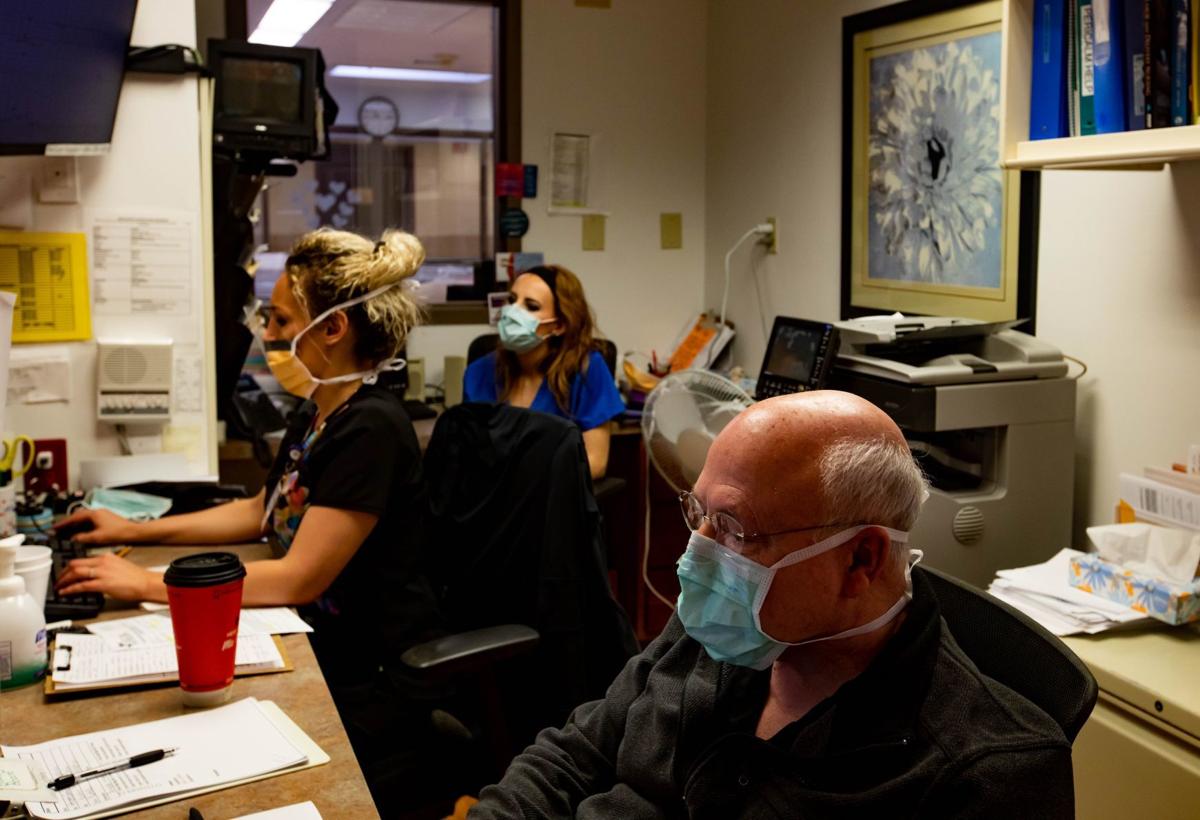 ST. LOUIS — Experts warned on Monday that a continued rise in COVID-19 hospitalizations in Missouri could lead to over-burdened hospitals, especially in rural areas.
Missouri's hospitalization numbers have been trending upward for weeks. And contrary to the early months of the pandemic, case numbers have recently risen the most in rural areas.
"Not only are the numbers rising, but the numbers are rising in places that don't have as robust a resource built into their communities," said Missouri Hospital Association spokesman Dave Dillon.
Hospitals now benefit from improvements in how the virus is treated, and better supply chains for personal protective equipment, among other necessities, Dillon said. But rural hospitals tend to have less intensive care unit capacity, and if there is a large surge of cases in a small community, patients may need to be sent to metro areas with bigger hospitals.
The Missouri Department of Health and Senior Services reported Monday that 1,022 patients, in total, were in hospitals with confirmed or presumed COVID-19 on Friday, the most recent data available. A day prior, the state reported 1,064, the highest total ever.
Before Aug. 25, Missouri had never reported more than 1,000 patients at a time. It has now happened on seven of the past 10 reported days.
In early May, the state's rolling average of hospitalized COVID-19 patients peaked at 927, according to a Post-Dispatch analysis. Then it declined, to a low of 581 in mid-June. Since then — absent an 11-day data gap in July — the numbers have been steadily climbing, and have surpassed the previous peak. Not every hospital reports every day.
At the same time, St. Louis-area hospitalizations have declined slightly since early September.
The seven-day moving average for total patients hospitalized was 261 on Monday, down from 308 on Sept. 1, for confirmed COVID-19 cases.
"We seem to be moving, at least for now, in the right direction," said Dr. Alex Garza, who leads the St. Louis Metropolitan Pandemic Task Force.
The task force reported on Monday 22 new hospital admissions and a seven-day average of 31. The task force data lags by two days, and includes patient numbers from BJC HealthCare, Mercy, SSM Health and St. Luke's Hospital facilities in the metro area.
"Previously in the pandemic you saw mostly growth in the urban areas," Garza said.
Now, daily case counts are dropping in places like St. Louis and St. Louis County, which have mandatory face mask orders and other "mitigation strategies."
"Unfortunately not all those strategies have been implemented across the state," Garza added.
As winter grows nearer, health officials are making unprecedented efforts to avoid overwhelming hospitals with a combination of flu and COVID-19 cases. And colder weather may make social distancing more difficult.
"It doesn't take much more than someone going off the highway to use the restroom or to buy a beverage while they're on a trip someplace, to create an infection in a community," Dillon said.
Missouri reported on Monday 1,463 new cases of COVID-19, reaching a total of 114,307, plus 12 more deaths over the last 24 hours.
Illinois reported 1,477 new cases, reaching a total of 275,735, plus seven more deaths.
Hospitalizations and deaths are remaining relatively low and stable in Illinois: Daily hospital counts have hovered at about 1,500 per day since the end of June, after peaking at more than 5,000 in late April. Deaths, meanwhile, rarely rise above 35 a day now, far fewer than the peaks nearing 200 in May.
These maps and charts show the spread of COVID-19 in Missouri and Illinois.
Daily updates on the latest news in the St. Louis business community.