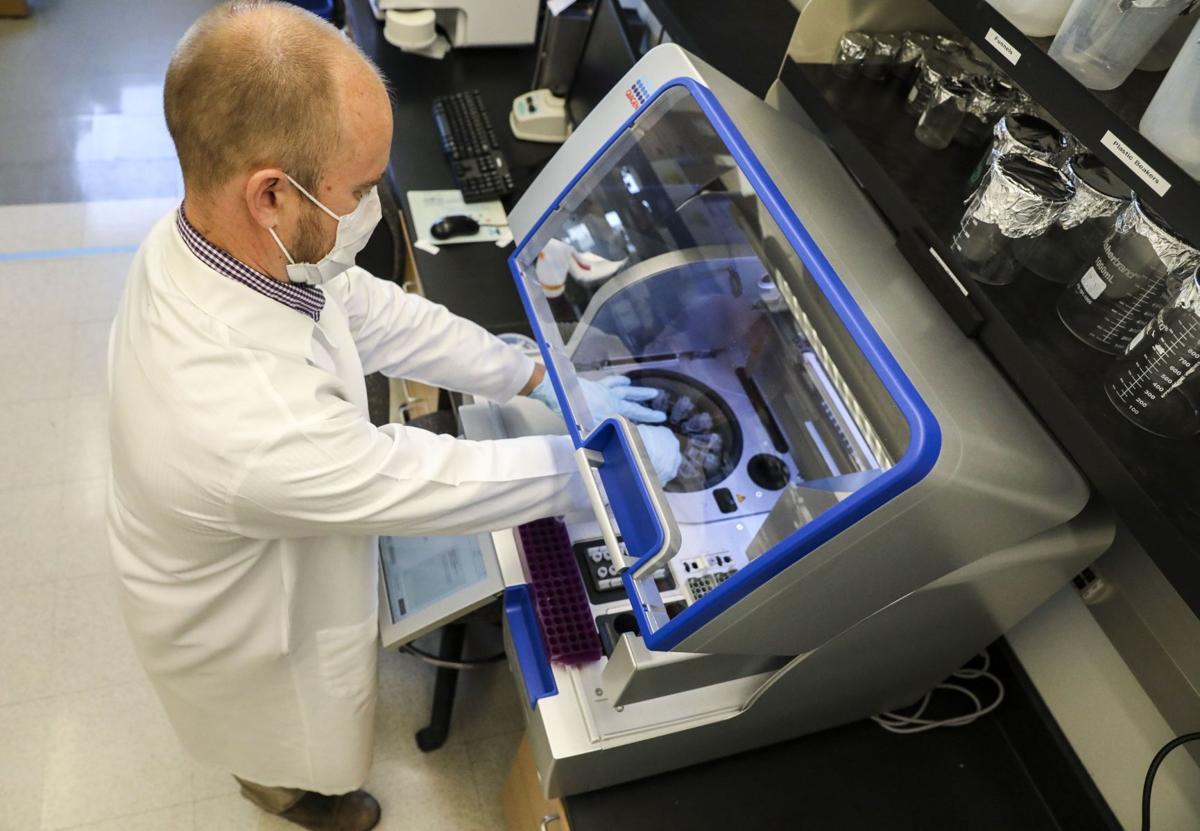 Recent wastewater samples from communities across Missouri have identified the presence of the faster-spreading UK variant of the coronavirus, state health officials have announced.
A press release from the Missouri health department about the discovery offered few details except that the variant was "not highly prevalent" in the samples.
Researchers at the University of Missouri-Columbia created the Coronavirus Sewershed Surveillance Project in partnership with the Missouri Department of Health and Senior Services and Department of Natural Resources.
The variant was first detected in the U.S. at the end of December. The most recent CDC data shows there are now 1,523 cases across 32 states, including one in Missouri found Feb. 6.
The case was discovered in Marion County in northeast Missouri, and contact tracing has not associated it with any other cases, state health officials have said.
"While this remains the only confirmed human case of its kind in the state, epidemiologists say it is clear that this variant has been found in samples in various locations throughout the state based on this continued wastewater surveillance," read the press release from the state health department.
Reached by a reporter on Sunday, Marc Johnson, a university virologist helping lead the sewershed project, said that the variant was detected in more than 13 of the wastewater systems across the state.
In most of the systems, the variant made up less than 1% of coronavirus genetic material collected from the samples, Johnson said.
Levels were higher, but still under 10%, in two systems, he said. One was Hannibal's system, near where the human case was detected. The other, Johnson said he did not want to name before getting approval from state health officials.
State health officials did not respond to a request for more specific information.
Johnson said he was surprised by how widespread the variant's presence was across the state.
"It wasn't present in high levels anywhere but it was detectable in a heck of a lot more places than I was expecting," he said.
Wastewater testing only measures the quantity of the coronavirus in wastewater, not the number of individuals currently infected with COVID-19. It is also unknown how long the virus can be detected in a person's stool after they are infected, Johnson said. Some studies show at least four weeks.
A correlation exists between the amount of genetic material from COVID-19 detected in wastewater and the number of cases in a community. An increase of 40% or more in a single week, or 25% for two consecutive weeks, predicts a 25% increase in COVID-19 cases with about 70% accuracy, according to Department of Natural Resources' information about the project.
Local health departments would likely have already begun seeing a spike in cases by the time researchers notified them of testing results, Johnson said. He sees the ability to detect emerging variants as the project's most important contribution.
"This is now potentially telling them something they didn't already know because they don't sequence every genome," Johnson said.
As part of a national variant monitoring program, the Missouri State Public Laboratory has been sending COVID-19 cases samples with genetic signs of variants to the CDC and the regional public health laboratory in Minnesota for sequencing.
In addition, Missouri health care providers can now submit approved specimens to the state laboratory, health officials recently announced.
In the press release, DHSS Director Dr. Randall Williams stated that even though COVID-19 cases in Missouri are steadily declining, the emerging variants make infection prevention efforts and getting vaccinated just as important as ever.
"While Missouri has only one confirmed case of a patient with the UK variant, we understand this variant is more widespread in the United States and Missouri than detected by clinical and sentinel testing," Williams stated. "We want to reiterate just the importance of washing your hands and using masks if you can't social distance as more variants are detected."
Another 410 coronavirus cases were reported Sunday in Missouri, bringing the weekly average down to levels not seen since early July. Data showed 700,844 Missourians had received at least their first dose of vaccine — 11.4% of the state's population.
Across the nation, the death toll from COVID-19 is expected to surpass 500,000 on Monday. In Missouri, the number remained 7,715, with 23 deaths reported in the past week.
Reported hospitalizations for COVID-19 in Missouri dipped to 1,234, down from a high of 2,862 on Dec. 22. St. Louis-area hospitals were caring for 301 COVID-19 patients, down from a high of 1,061 on Dec. 1.