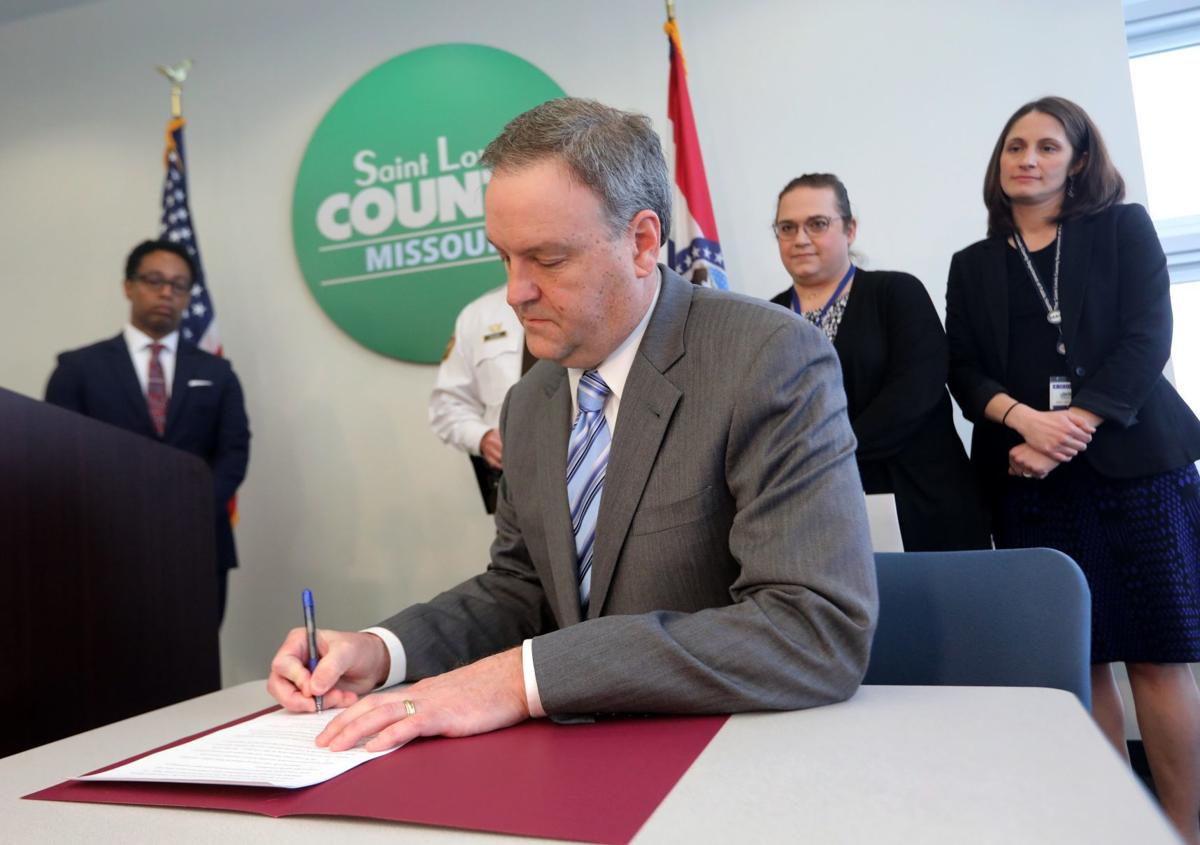 CLAYTON — Young athletes and their parents were in an uproar Friday over St. Louis County's restrictions on youth sports, many lambasting County Executive Sam Page in social media posts and some planning to picket his home.
And a lawyer for a Pattonville High School senior, who is also the daughter of one of Page's opponents in the Nov. 3 election for county executive, threatened a lawsuit if the restrictions were not lifted by the end of the day on Friday. But the lawyer said later it would still be a few days.
Page said Friday he had a duty to keep people safe, and the decisions were his to make.
Republicans on the County Council who have opposed the Democratic county executive also said Friday they hoped to advance bills next week that would limit the county executive's authority to keep emergency health orders in effect, and a resolution encouraging the return of children to classrooms and sports fields.
But Page said authority should continue to rest with his office "as it does with every chief executive in every similar jurisdiction in the country."
Even a sports medicine task force, whose guidelines on reopening youth sports the Page administration has largely followed, took shots. Its members said in a joint statement on Thursday that Page had misrepresented the risk of coronavirus spread in youth sports and hadn't communicated well with doctors on the task force.
The St. Louis Sports Medicine COVID-19 Task Force, which includes 14 pediatricians and sports medicine specialists from the Mercy, BJC HealthCare and SSM Health systems, criticized Page for claiming in July that youth sports were a "primary driver" of virus spread in the region.
"Even two months later, we still are not aware of a single case of COVID-19 spread through youth sports," the task force said in a statement.
Page fired back in remarks to reporters on Friday, referring to the task force as a youth sports advocacy group. He said county health officials had consulted with the task force and other groups and that he wasn't going to overrule his health department when one of those groups didn't like one of his decisions.
Doug Moore, a spokesman for Page, said the sports medicine task force's practice of publishing recommended guidelines was adding to confusion in the community. He said there shouldn't be confusion about which guidelines should be observed in St. Louis County: the ones that come from St. Louis County.
"We'd really like to have one uniform message," Moore said. "In a public health crisis, in a pandemic, you don't want to have that confusion. … This is important information that helps schools and parents decide how kids are going to interact both in school (and in sports) and it's important to get the information out in one voice."
In its statement, the task force said its members hoped the county "will continue to adapt more of our recommendations in the coming weeks, especially around moderate and high-contact sports" and said the lack of virus spread in St. Charles County "is a critical argument for the final phase of opening youth sports in the coming weeks."
Facebook group
Nearly 10,000 people joined a Facebook group called "STL County Sports Families Against Youth Sports Mandate." One of the group's administrators posted links for residents to order yard signs with the message: #LetThemPlay.
Several members shared a leaflet calling for parents to protest outside Page's home in Creve Coeur on Sunday. Page's spokesman said late Friday the county executive did not have anything to say about that.
A member of the Facebook group, Jenny Brosseau, of Ladue, tried to talk parents out of organizing a protest at a cross country meet where Page's youngest son would be competing.
Her son, Dylan, is a sophomore varsity ice hockey player at the same school where Page's three sons have attended, Ladue Horton Watkins High School.
"I feel bad for the kids, but I don't feel like we should be directing our anger toward kids who have the ability to play" sports involving less physical contact, Brosseau said. "I don't feel protests should occur at anyone's home. I'm not suggesting they shouldn't happen, but they should happen at the courthouse, where decisions are made."
She added, "I don't support all of his decisions but I support his role as a parent."
As for Page, Brosseau said she felt his decisions might be more widely accepted if he stood with pediatricians and epidemiologists at his news conferences to help communicate the scientific basis for them. "I want to hear from someone who is connected to infectious diseases."
She said she thinks families should be able to decide whether their kids play sports with high frequency of contact. "We need to be given that capability to make a decision."
Possible lawsuit
Also on Friday, lawyer Albert Watkins threatened to file a lawsuit against the county on behalf of a Pattonville High School senior and, he said, perhaps hundreds of other young athletes, if the county did not reverse course by the end of the day.
The student is the daughter of Paul Berry III, a Republican who is one of three candidates challenging Page, a Democrat, for county executive on Nov. 3.
In a letter to Page dated Wednesday, Watkins said shutting down fall sports disproportionately affected young athletes of color who may be pursuing athletic scholarships that "effectively serve as the only means by which my clients can garner access to institutions of higher learning." He said that failure to comply would result in "perpetuating the white privilege which has for so long served to render our nation's playing field something far short of level."
Later Friday, Watkins said he was still lining up experts for the lawsuit and said it would be a few more days.
Noting that other challenges to the county's health orders have failed in court, Watkins said, "I want to lose the old fashioned way — prepared."
Note: This story was updated to correct the gender of Paul Berry III's child.
Build your health & fitness knowledge
Sign up here to get the latest health & fitness updates in your inbox every week!