JEFFERSON COUNTY — Health officials here, faced with rising COVID-19 case numbers and divided public opinion, are warning that if residents refuse to take precautions, the virus will continue to grow, unchecked, and could tax the local hospital's capacity to handle patients.
In recent weeks, Jefferson County has seen some of the fastest growth of COVID-19 cases in the St. Louis area. Leaders of the county's only hospital are urging residents to wear masks and avoid large gatherings, especially as flu season arrives. And the local health department is stretched thin as it contends with increasing infections.
"It's going to be a very tough winter ahead," said Dr. Karthik Iyer, chief medical officer of Mercy Hospital Jefferson in Festus.
On Wednesday Missouri reported a seven-day average of 1,139 COVID-19 patients in hospitals — a record number. The state also reported 1,351 new cases of the virus, reaching a total of 126,113 since the beginning of the pandemic. Jefferson County, a rural and suburban swath of land southwest of St. Louis County, is among those driving the rise. Like many rural counties, Jefferson has seen higher caseloads recently than it did in the early weeks of the pandemic, when St. Louis, St. Louis County and other, more densely populated areas were hit especially hard.
Over the past week, Jefferson County, with a population of 225,000, has been reporting about 64 new cases of COVID-19 each day on average. That's nearly double the number seen in the city of St. Louis, which, with a population of 301,000, has been reporting 34 new cases each day on average.
Iyer said Monday that his hospital has not been overwhelmed and has not had to transfer patients because of lack of capacity. But he is concerned by the pace at which cases there are rising.
Efforts to increase mask-wearing in the county have been met with opposition.
"The majority of people are not wearing masks in public," said Dr. Jacob Peyton, a county resident and president of medical staff at Mercy Hospital Jefferson. "It's frustrating to see people choosing to not do the right thing."
Though some residents travel to St. Louis County facilities, Mercy Hospital Jefferson is the only hospital in the county.
Overwhelmed
From the beginning of the pandemic until the end of July, Jefferson County reported more than 1,400 cases of COVID-19.
In August, the county roughly doubled its case count, to more than 2,800 cases.
As of Wednesday, the county had reported 4,622 cases.
After largely staying home in the spring, by July and August people had started gathering together, excited to get out of the house, said Kelley Vollmar, director of the Jefferson County Health Department. Businesses reopened, school started, sports resumed, and the combination had a "snowball effect" on COVID-19 case numbers.
Now, the health department is stretched thin.
Back when a statewide stay-at-home order was in place, a resident who tested positive for COVID-19 might have recently been in contact with three or four people. Now, one person may have been in contact with 20 people. That adds to the number the department has to contact, educate about COVID-19, and monitor for symptoms.
"We're overwhelmed," Vollmar said. "Public health was underfunded and understaffed prior to COVID."
Vollmar said her days often are long and unpredictable. She spent one recent weekend going through video recordings of football plays, to determine which players on a local team had been exposed to the virus. She is hoping to hire 40 more contact tracers, short-term, to work through the department's backlog.
Meanwhile, the department is facing pushback from some members of the community, who believe the recommended precautions are unnecessary, and overly strict.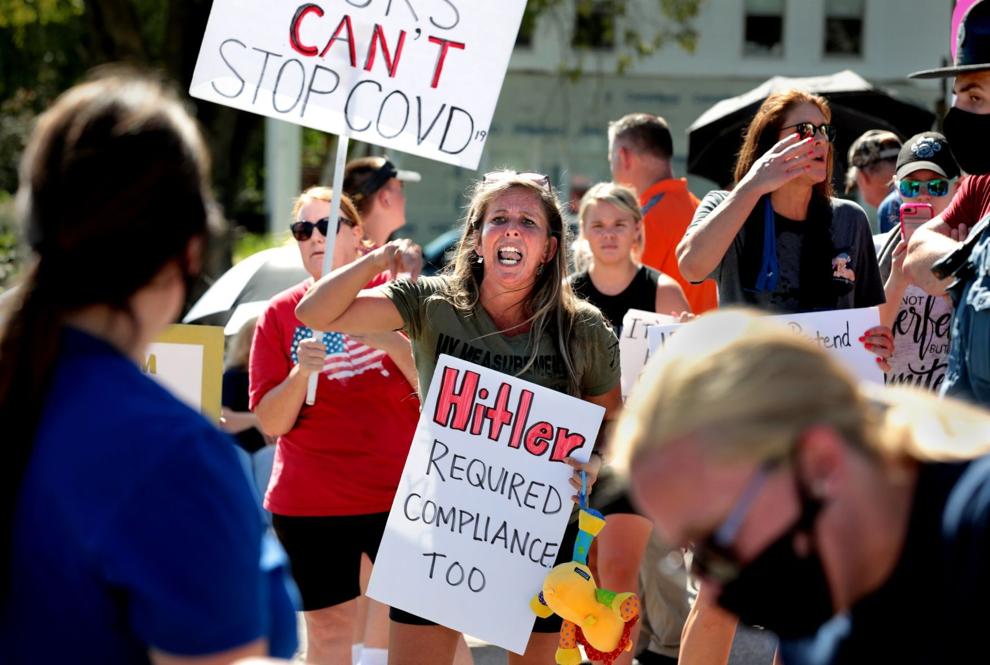 In July, some protested outside the health department, as the county health board discussed a proposal to require masks in public places. The board ultimately passed such an ordinance in late August, and then revoked it the following day after residents raised concerns about whether the board had appropriately notified the public ahead of the meeting.
Vollmar said people have threatened to protest at her house. She said some call to yell at health department staff.
"People aren't mad at us, they're mad at the situation. We're just the visual of the situation that they can't control," Vollmar said.
'Out of hand'
Melissa Parmeley, the health department's clinical services manager, said she thinks the people who have pushed back against the department's recommendations don't make up the majority. A lot of residents are taking COVID-19 very seriously, and doing everything they can to reduce the spread. But still, she said, the angry calls and social media posts are "completely and totally exhausting, and demoralizing."
"People don't go into public health to make money," Parmeley said. "We go into public health to help people."
At this point, Vollmar said, she doesn't know if a mask mandate would lead to more mask-wearing. Instead, providing education about the effectiveness of masks and holding a forum with local leaders to talk about possible solutions may be the county's "best bet."
"I don't want to say that I wouldn't support a mask mandate," Vollmar said. But, she added, "you have to be able to work with your community and meet them where they are."
Standing outside The Alteration Shop in Festus on Monday afternoon, Angelica Flores, of Hillsboro, said she thinks the county would benefit if there was a mask mandate in place for a short period of time. Meanwhile, up the street at Festus Music World, owner Tim Smith said he thinks the choice to wear a mask should be left up to the individual.
Retirees Patti and Bill Effan wore face masks as they walked their dogs, Murray and Duncan, along East Main Street that day. Many of the stores they passed advertised curbside service, and some had signs advising customers to wear a face covering before entering. Up the road at First United Methodist Church, an electronic sign in the parking lot urged passersby: "Jefferson County, Mask Up!"
"I think everyone should wear a mask," said Patti Effan, 70. But most people don't wear them here, she said.
Her husband, Bill Effan, 67, agreed.
"It's obviously out of hand," he said.
These maps and charts show the spread of COVID-19 in Missouri and Illinois.