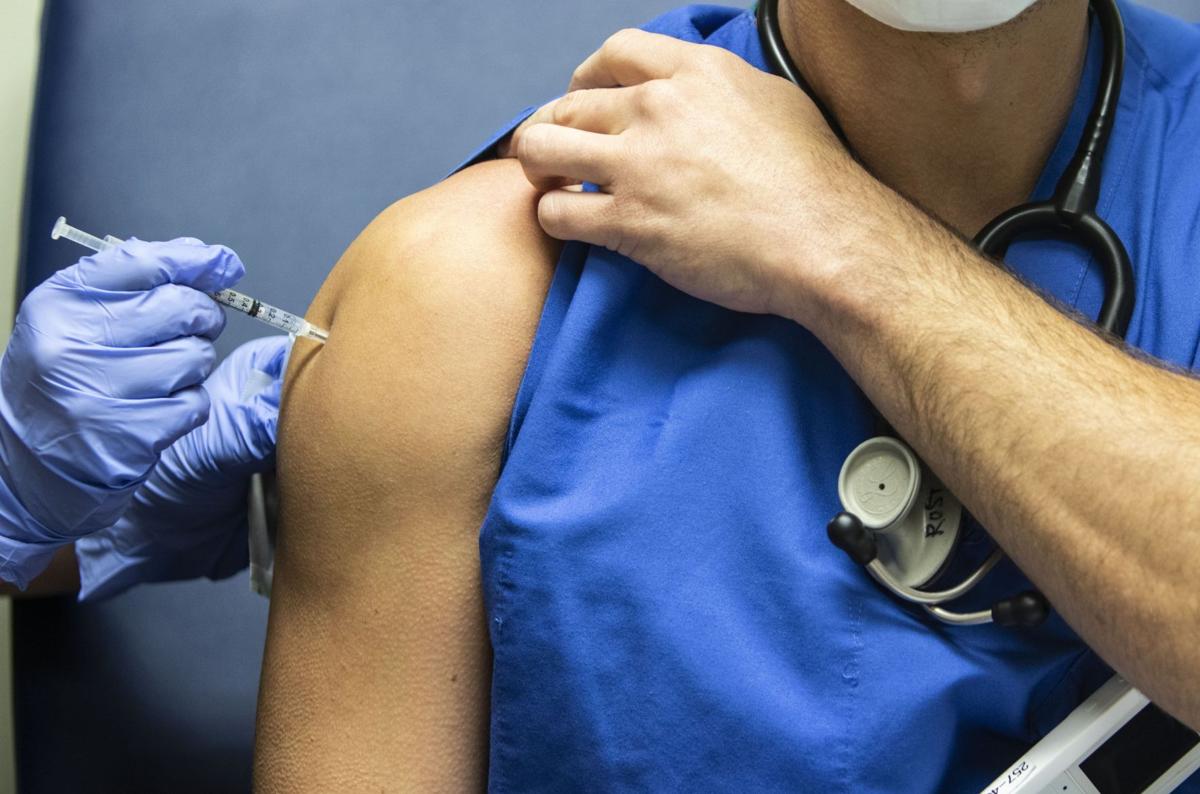 Update: Missouri Gov. Mike Parson announced Thursday afternoon that the state is expanding access to COVID-19 vaccines to those in the next Phase 1B, despite just 27% of Phase 1A health care workers and nursing home residents receiving their first dose. These "patient-facing" workers will continue to be vaccinated, he stated.
ST. LOUIS — As a certified nurse assistant at the Estates of Spanish Lake nursing home, Shunda Whitfield is among the only Missouri residents being offered the vaccine for COVID-19.
National guidelines call for first vaccinating "patient-facing" health care personnel as well as nursing home residents and staff before moving on to other high-risk populations and essential workers. Hospitals in Missouri began vaccinating their staffs under "phase 1A" of the guidelines one month ago; nursing homes began a couple weeks later.
But Whitfield, 51, of Bellefontaine Neighbors, is not ready to get the shot.
"I am really kind of worried," she said. "I have lupus, so I just really want to talk more with my doctor ... to make sure it's safe for my immune system."
Whitfield skipped the first vaccination clinic held at her facility at end of December. As part of the federal government's partnership with pharmacies, each long-term care facility gets three clinics, spaced three to four weeks apart, to give staff and residents an opportunity to get the required two doses. She is unsure if she'll get her questions answered before the next clinic and says she may wait until the vaccine is offered at doctor's offices.
Whitfield is among a significant number of hospital and nursing home staff not taking advantage of their priority status to get the vaccine despite their important role in caring for patients and setting an example for others to follow.
"Right now, just looking at how many people have received an invitation to get the vaccines and how many have actually signed up and received the vaccine, that hovers anywhere between 45% and 65%" among the BJC HealthCare, Mercy, SSM Health and St. Luke's Hospital facilities that make up the St. Louis Metropolitan Pandemic Task, said Dr. Alex Garza, the task force director.
The rate of vaccination across the state so far in hospitals and nursing homes is unknown. The Missouri Department of Health and Senior Services, in charge of allocating shipments of the vaccine, did not respond to requests for information. Many of the nursing home and hospital officials reached by the Post-Dispatch were reluctant to provide specific numbers.
"We've seen very good participation with our (nursing home) residents, which is very encouraging, but our staff is, you know, a lot of them are concerned," said Nikki Strong, executive director of the Missouri Health Care Association representing facilities across the state.
Americare Senior Living, with facilities across five states including 64 in Missouri, reports that at its vaccination clinics held so far, over 90% of residents typically show up to begin the vaccination process. Among staff at its Missouri facilities, though, the participation is much lower — from 8% in Dexter to 60% in Columbia, said Pat Cokingtin, senior vice president of marketing.
Federal data shows only one-third of the doses the state has sitting in freezers and boxes in Missouri have gotten into the arms of residents. As of Wednesday, 526,425 doses have been distributed to the state while only 161,784 people have initiated vaccination, according to the Centers for Disease Control and Prevention.
Area nursing home and hospital administrators say they are working to address concerns about safety of the vaccine and expect more will get vaccinated over the next month after seeing other colleagues go first.
States such as Florida, Texas, Oklahoma and New York have decided not to wait, according to The New York Times. The states have started offering the vaccine to others, such as older residents or those with underlying health conditions, before completing vaccinating their health care forces.
On Monday, Illinois Gov. J.B. Pritzker announced that some counties in Illinois, where fewer health care workers chose to get vaccinated than expected, can move to the next phase of vaccinating other essential workers and those older than 65.
"We don't want any of these vaccines sitting around," Pritzker said.
Garza said area hospital systems are trying to learn more this week about whether their employees are simply procrastinating or have chosen not to get the vaccine.
"We recognize that we can't be a barrier to moving vaccination forward," Garza said, "so if we have people that are absolutely not going to get vaccinated, then we don't want to delay getting to that next tier of vaccine."
Mission complete
Garza said it's possible some workers did not respond to email invitations to schedule a vaccine appointment because of the recent holidays. Some, he said, may not want to be among the first to receive a new vaccine.
"What we don't know is, why? Why didn't they sign up to get a vaccine?" he said. "But I do think there is as a segment of that population across health care that is going to have some hesitancy in getting the vaccine for various reasons."
Talking with other health system officials, Garza said, reluctance among health care workers has followed the same demographic lines of the general population. Attitudes vary toward the vaccine depending on geography, age, education level and race.
Survey results released Tuesday by the Missouri Hospital Association showed only 58% of Missourians are likely to immediately get the vaccine when it becomes available, and 20% indicated they would definitely not be getting the shot. The survey involved a cross-section of 800 adults questioned the first week of January and mirrors nationwide poll results.
According to the Missouri survey, 79% of seniors are very or somewhat likely to get the vaccine. Those least likely were middle-aged adults who identified as Republicans. Most likely were older adults who identified as Democrats.
Springfield and St. Louis "collar counties" are the two areas where adults are least likely to get the vaccine. Among Black respondents, 60% were very or somewhat likely to get the vaccine.
Garza said hospital officials are discussing setting a deadline for workers to commit to whether they want to get vaccinated.
"Then we can say, 'OK, you've been offered your chance, and it's fine if you want to decline now, but then we are going to call ourselves "mission complete" and move on.'"
While BJC HealthCare and Mercy hospital system declined to discuss specifics, an SSM Health spokeswoman said the hospital system made headway this week and gotten doses into nearly 75% of its staff who directly care for patients.
Feeling that vaccine shipments have become more steady and its hospitals will be able to provide the required second doses for its staff, SSM Health hospitals are preparing to expand offering shots to health care workers in the community, such as doctors and nurses in clinics and private practices, school nurses and EMS staff, spokeswoman Stephanie Zoller said in an email.
In the St. Louis area, only the St. Charles County and St. Louis County health departments have received small amounts of vaccine and begun vaccinating these groups, which include dentists and therapists.
State health officials notified hospitals late last week that they need to help vaccinate health care workers outside their walls, Zoller said.
"We have no idea how big that 1A population based in the community is," she wrote. "They did not do any polling or data collection to give us any idea on size, so we are working through that now."
$150 bonus
Hospital and nursing home administrators say they are doing all they can to educate staff about safety of the vaccine and answer questions through emails, conference calls, virtual meetings, video presentations, pamphlets and one-one-one meetings.
They are trying to craft responses that address the diversity of concerns as well as debunk myths such as the vaccine alters DNA or causes infertility.
Dr. Aamina Akhtar, chief medical officer at Mercy Hospital South and infectious diseases expert, said health care workers have a role as leaders in the community.
"We've asked the community to mask up and help us out, so now it's back to our turn to stand up, get vaccinated and demonstrate we are willing to do that," Akhtar said, "so that when the community gets the opportunity to get the vaccine, they are able to do the same."
Some nursing homes are trying monetary incentives to encourage vaccination among employees. At the seven nursing homes managed by the Missouri Veterans Commission, where the Post-Dispatch recently reported 50 to 60% of employees signed up for vaccines, veterans service organizations have donated big screen TVs and cash.
BRIA Health Services, with skilled nursing facilities in Belleville and Cahokia, is offering bonuses such as $150 for staff members who receive both doses of the vaccine and a free meal for those who work at any facility where more than 75% are vaccinated, said spokeswoman Natalie Bauer Luce.
Candice Brown, an administrator at Bethesda's Barnes-Jewish Extended Care skilled nursing facility in Clayton, said she was eager to get her first dose.
"It's in our power at this point, and we need to do what we can to try and protect them, and not only them, but ourselves and our families," Brown said.
Akhtar said at Mercy, they've noticed three categories of people when it comes to vaccination, one that that can't wait, one that is an adamant "no" and another who have questions and want to wait. That last group, she said, is where there's opportunity to increase compliance.
But, she acknowledges, at some point, their time is up.
"It's a very fluid point," Akhtar said. "Right now, we have a robust vaccination program, so we're continuing to get all our co-workers in, but at some point in time we as a health care system need to raise our hand to the state government and say we've really slowed down, so the vaccine that we have sitting here, we need to open up to the next group."