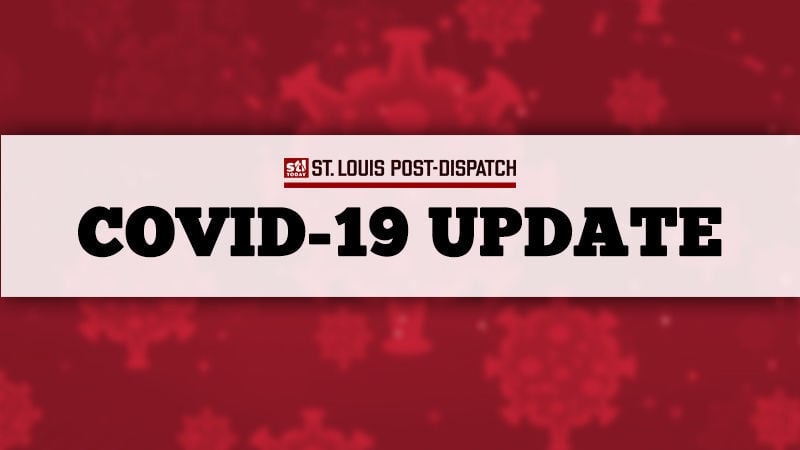 ST. LOUIS — Illinois Gov. J.B. Pritzker announced Friday that amid rising coronavirus case numbers, businesses and schools that don't follow mask orders can now face fines up to $2,500. Missouri case averages, meanwhile, continued to fall Friday, even as some officials struggled to convey the severity of the pandemic to the region's residents.
Pritzker announced the emergency order Friday allowing local governments to charge violators with a Class A misdemeanor that can hold a fine ranging from $75 to $2,500.
Pritzker said the additional enforcement was needed for his May 1 order requiring most people older than 2 to wear a face covering in public.
"This is a make-or-break moment for the state of Illinois to make sure that everybody is doing everything they can to mitigate, to reduce the spread," Pritzker said at a news conference.
The announcement came as Illinois reported more than 2,000 new cases in a single day for the first time since May 24. The state also reported 21 new deaths Friday, bringing the total to 190,508 cases and 7,613 deaths since the start of the pandemic.
The new fine will not be directed at individuals, but can apply to businesses, schools and nonprofits, the governor said.
Violators will be given several chances at complying with the order before fines: First local leaders will send a warning letter. Next they may order establishments to have patrons leave to bring the location into public health guidelines. If businesses or schools still are not complying, then they can be charged and issued the fine.
Previously, the only enforcement option for local governments was to pull a business' liquor license, Pritzker said.
"This is one way for us to make sure that businesses that have been scofflaws on this subject know that there is a real penalty at the end of the line here," he said.
Other states, including Ohio and Wisconsin, already have public mask mandates that include fines. Missouri Gov. Mike Parson has not issued a mask requirement. Some local governments, including St. Louis and St. Louis County, have — but they do not include fines.
Pritzker proposed a similar fine this spring but withdrew it in May after members of the Legislature's Joint Committee on Administrative Rules said they would oppose the measure in session because, in part, it included jail time as a possible punishment for violators.
On Friday, the Illinois Department of Public Health also placed 13 counties at "warning level" for new restrictions, including St. Clair and Monroe counties in Metro East. The Metro East counties were added because more than 50 people per 100,000 tested positive and more than 8% of tests came back positive over the previous week.
Pritzker has warned that rates of positive cases are the highest in Southern Illinois, attributing some of the rise to the close connection with other states, including Missouri.
Missouri cases
In Missouri on Friday, the state added 996 new cases and 21 deaths, the highest death toll announced in a single day since June 26.
The seven-day average of new daily cases in Missouri has fallen each day this week, dropping to 1,008 Friday from 1,567 on July 31.
Still, some local leaders remain concerned about how lags in test results reaching public health officials might be affecting the data.
St. Louis Mayor Lyda Krewson said Friday that of the 145 new cases announced in the city the day before, only 71 cases were from within the last week. Five of the positive tests were from June and many of the rest were also weeks old, from early July, Krewson said during a video briefing.
The region's volume of virus-related hospitalizations signaled some improvement: The St. Louis Metropolitan Pandemic Task Force announced 37 new hospitalizations Friday, down from totals in the 50s seen earlier this week. Any sustained averages of 40 or more threaten the area's healthcare capacity, officials said.
"We'll take those gains," Dr. Alex Garza, head of the task force, said at a Friday news briefing. "However, we won't see a consistent improvement until the entire region has really embraced all of those tools, such as universal mask wearing, and stops gathering in large crowds."
Garza noted that, earlier in the day, new research said that if everyone were to wear masks, as many as 70,000 lives could be saved in the U.S. by December.
"Mandatory mask orders," he said, "work in bringing up compliance."
The task force unveiled a new public service campaign featuring the St. Louis Blues, set to debut this weekend, encouraging the public to wear masks.
A video shared Friday features Jordan Binnington and Jake Allen, the team's goalies, who "know a little something about wearing a mask."
Franklin County, meanwhile, issued a notification Friday urging residents with confirmed cases of coronavirus to reach out to the county health department, if they had not already been contacted by the agency. The note suggested that the county has at times not been able to reach infected residents.
It also asked individuals to "strictly quarantine" at home while waiting for test results to determine whether they have the virus.
"We are seeing an alarming number of cases return to work and attend gatherings after being tested while awaiting results," the notification said. "This unnecessarily exposes many others in the workplace and within the community."
Presiding Commissioner Tim Brinker said Friday's note only applied to "a handful" of individuals who had not provided health officials with personal information needed to effectively assist the county's contact tracers. He was not able to clarify other details about the notice.
As of Thursday, Franklin County reported 14 new cases for a total of 579 to date.
Missouri has reported 57,379 cases and 1,301 deaths since the start of the pandemic.
COVID-19 Illinois: Testing
COVID-19 Missouri: Testing
Until May 23, health officials were adding together two different types of tests: viral tests (PCR) that show who is currently sick with COVID-19, and antibody tests (serology) that look for signs of past exposure.
Note from St. Louis Metropolitan Pandemic Task Force regarding the numbers for July 20: There was a delay in reporting some test results leading to the increase in reported hospital admissions.
NOTE: Missouri updated its data dashboard on Sept. 28 to delete duplicate cases. This resulted in a decrease of total cases which caused the daily count to reflect a negative number.