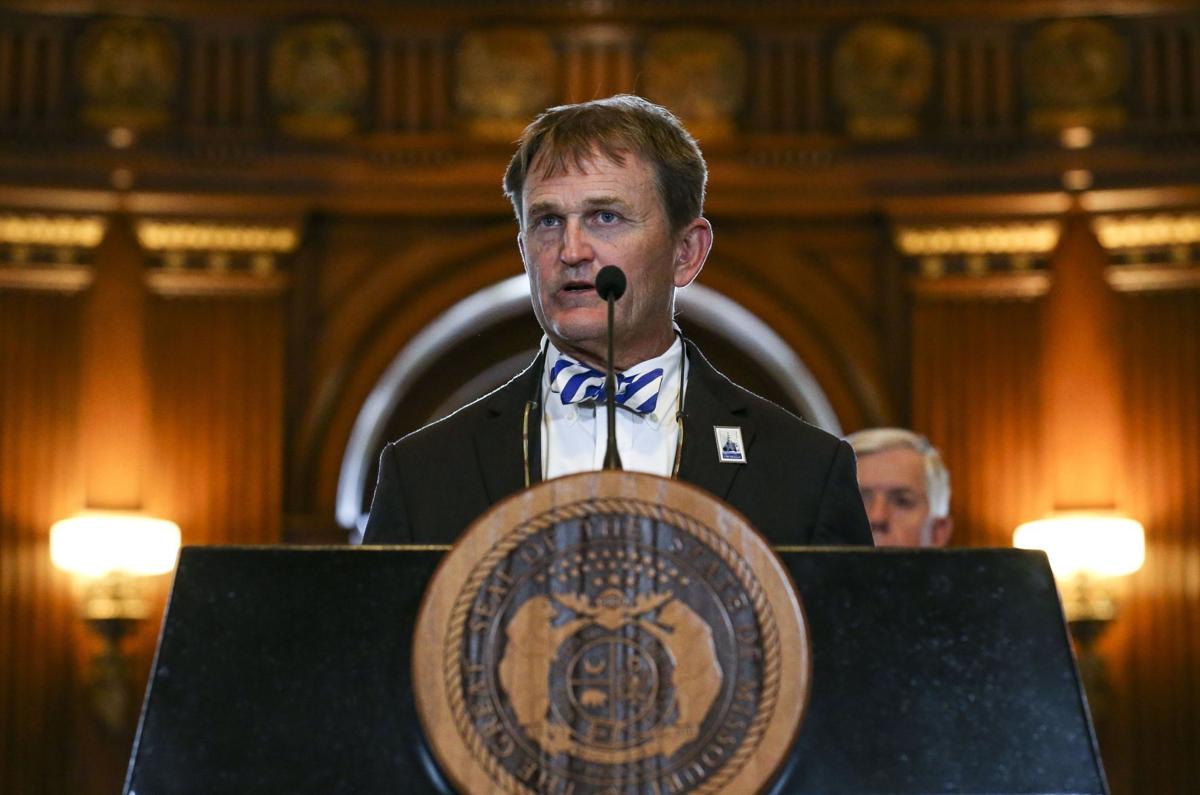 JEFFERSON CITY — A panel of Missouri lawmakers will meet next week to review the state's response to the coronavirus and how schools are determining if they should reopen.
The Special Committee on Disease Control and Prevention, formed in March by House Speaker Elijah Haahr, R-Springfield, is expected to hear from Gov. Mike Parson's health chief as the state endures an alarming surge that has seen multiple days of positive cases topping 1,000.
On Tuesday, as voters went to the polls, the Department of Health and Senior Services reported 1,193 new positive tests, bringing the total number of infections in Missouri to 54,080.
There were 11 new deaths attributed to COVID-19, bringing the death toll to 1,266.
Rep. Jon Patterson, a Lee's Summit doctor who is chairing the panel, said an agenda for the session has not been finalized.
But the ranking Democrat on the committee said planning for the coming school year could be a focus.
"I don't envy any school administrator trying to navigate these waters and make decisions," said Rep. Kip Kendrick, D-Columbia. "I understand that this is obviously a very fluid situation. The best laid plans could change in a matter of days."
Parson has faced criticism for lifting restrictions too early and not issuing a statewide mask order.
He also created a firestorm in July when he said children would likely get COVID-19 at school, but they were better equipped to recover from the deadly disease.
Department of Health and Senior Services Director Randall Williams has backed Parson's approach.
In March, when the U.S. had tallied just six deaths, Williams expressed confidence in the state's ability to deal with the virus.
"We have an incredibly robust health system. We do not think you're going to see numbers like China," Williams said.
China has reported under 5,000 deaths, compared to more than 152,000 in the U.S.
Now, Williams is advocating that people wear masks when they cannot keep a social distance, although he doesn't support a statewide mandate.
Williams' department also has overseen a testing system that has been plagued by long delays for people waiting to get results.
DHSS spokeswoman Lisa Cox said the situation appears to be improving after test results became bottlenecked at private vendors.
"It does appear that turnaround times have improved, but where one lab improves another may be seeing more delays," Cox said.
She said many laboratories that operate in connection with a hospital system are getting results within 24-48 hours.
But, some vendors have taken nearly two weeks to get results back.
In an attempt to offset delays, the department has directed groups to labs they believe are under used.
One committee member, Rep. Ashley Bland Manlove, D-Kansas City, said she does not have high hopes that the committee will accomplish anything.
"It seems to be like an `informational only' committee, not one that does anything," Manlove said.
She said the Parson administration's response to the pandemic has been lackluster.
"They don't know what's going on and they won't listen to science," Manlove said.
The meeting is set for Tuesday in the Capitol.
These maps and charts show the spread of COVID-19 in Missouri and Illinois.
Concerned about COVID-19?
Sign up now to get the most recent coronavirus headlines and other important local and national news sent to your email inbox daily.