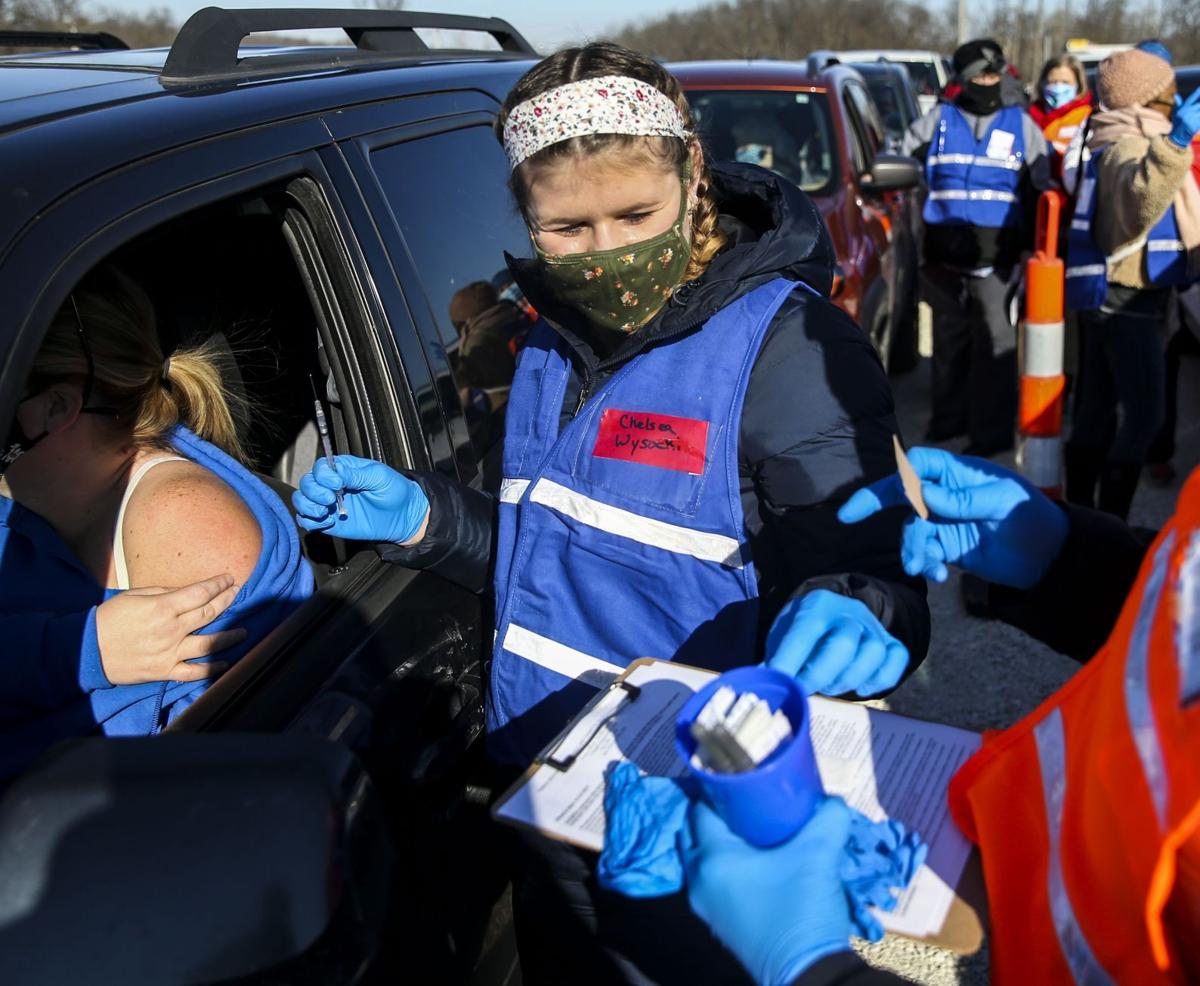 ST. LOUIS — The mass vaccination event for the St. Louis region will still be held Saturday on the campus of the University of Missouri-St. Louis in north St. Louis County, a local health department spokesman said Tuesday.
Missouri Gov. Mike Parson had announced late Monday that all the state-run vaccination events were canceled this week because of snow and frigid temperatures. A mass vaccine event, where more than 2,000 people are vaccinated at a time, has been held weekly in each of the state's nine vaccine distribution regions.
The event for the St. Louis region was the only one being held as late as Saturday this week. A St. Louis County Department of Public Health spokesman said it is still scheduled for 9 a.m. to 7 p.m. at the university's Millennium Student Center, 17 Grobman Drive.
Reservations are required and will begin Thursday morning on the state's vaccine website covidvaccine.mo.gov, said Christopher Ave, St. Louis County health department spokesman. Residents can also call the state's hotline at 877-435-8411.
"No walk-up service is available at this event. Only people who have signed up at the state's vaccine site can participate," Ave said. However, it's possible some who have signed up through St. Louis County's health department site at stlcorona.com may also be offered reservations.
Priority will be given to those with multiple risk factors and health care workers, Ave said.
The county health department will be partnering with the Missouri National Guard, campus staff and the State Emergency Management Agency for the event, where about 2,200 doses are expected to be administered.
Doses administered through the mass vaccination event are in addition to about 40,000 doses expected to be shipped this week to the St. Louis region, which includes the city of St. Louis and 11 surrounding counties, according to the latest count from state officials.
Most of the doses — 30,000 — will be sent to the region's four major hospital systems.
Several booster-only events, including one scheduled Friday in Lincoln County, were also canceled this week for those who got their first dose at an earlier mass vaccination event.
The booster-only events are postponed and plans are in the works to administer the doses as soon as possible, state health officials said. The booster dose can be administered as late as six weeks after the first dose without impacting its efficacy.
It appears two booster-only events scheduled for Saturday are still being held in Pulaski County and Pettis County, according to the state website.
Cases continue to decline
Across the state, the number of new coronavirus cases and hospitalizations continued to drop. Data showed 481 new coronavirus cases were reported Tuesday, dropping the seven-day average of new cases per day to 690. The highest daily average was 4,722 on Nov. 20, according to an analysis by the Post-Dispatch.
Over the past seven days, state data shows 11 new deaths from COVID-19, but death records continue to be updated to include deaths from several weeks ago. The latest updates show December has been the pandemic's deadliest month in Missouri, with 1,628 deaths out of the total 7,458.
In St. Louis area hospitals, the seven-day average number of patients in the hospital with COVID-19 dropped from 356 to 348, levels not seen since early October.
Illinois health officials on Tuesday reported 1,348 new confirmed and probable cases of coronavirus in Illinois, and 32 additional deaths. Illinois includes the results of antigen tests in its daily case count as "probable cases," while Missouri does not.
Editor's note: This article has been edited to correct the phone number for the state's vaccine hotline