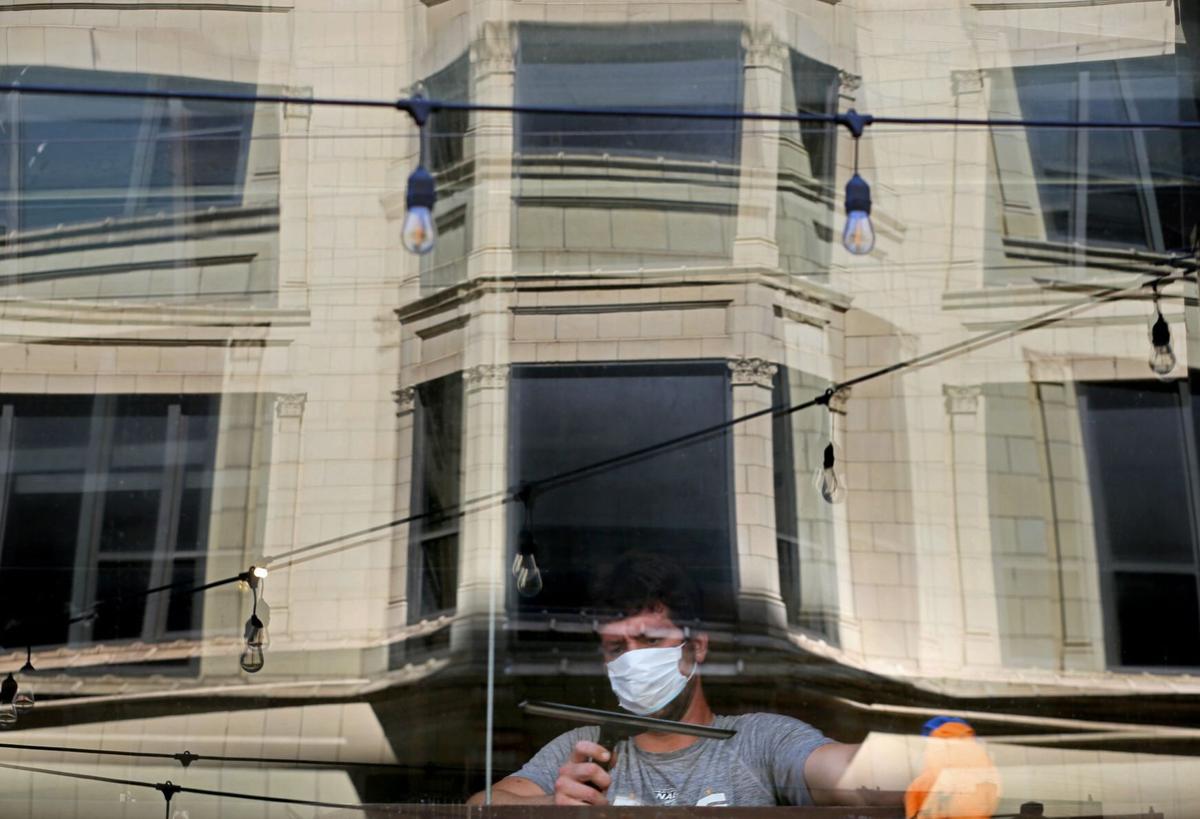 ST. LOUIS — City officials have asked a judge to keep St. Louis' current indoor mask mandate intact, contending that St. Louis isn't bound by a state law imposing restrictions on local health orders.
In a motion filed Monday, the city also said that even if it was covered by the state law, it has "substantially complied" despite missing the law's deadlines for aldermanic approval of two 30-day extensions of the July 26 mask order.
The motion, submitted for Mayor Tishaura O. Jones and Acting Health Director Fredrick Echols, followed Attorney General Eric Schmitt's effort Thursday in St. Louis Circuit Court to get the city mandate ruled invalid. Schmitt is trying to do the same with a similar mask requirement in St. Louis County.
In St. Louis, attorneys for the city contended that the mandate issued by Echols isn't covered by the state law because it doesn't close or limit access to businesses and other public places — the situation which triggers the state law.
"It merely directs persons in the City to wear masks while indoors in public places or on public transportation," said the motion. Schmitt asserts that Echols' action does in fact restrict access and limit attendance.
The city motion also notes that city and federal judges last year rejected previous challenges to coronavirus health orders, including some closing down businesses violating mask and social distancing requirements.
Those judges, the city motion asserts, "recognized the compelling need for defendants to respond to a pandemic that is still raging in our State and City."
Schmitt last week contested the validity of the Board of Aldermen's Aug. 30 vote to extend Echols' July 26 order by 30 days, noting that the board acted five days after the order expired.
Moreover, Schmitt said, even if the Aug. 30 vote and extension order were legal, the extension order would have expired Sept. 29, two days before a follow-up extension vote Friday by aldermen.
The city motion doesn't address the lateness of the aldermanic votes other than to say Echols' original order was issued while the Board of Aldermen was in recess but approved later.
The city's lawyers also acknowledge that they didn't file a response to Schmitt's original July suit on time, another of Schmitt's arguments.
Meanwhile, the city also argued that the state law, which also dealt with other local government issues, violated a constitutional prohibition on including multiple unrelated subjects.
A circuit judge in Jefferson City already has rejected another lawsuit challenging the same state law on similar grounds. That decision, in August, was on a challenge by the city of Overland.
Overland's concern, according to its suit, focused primarily on a provision affecting how much municipalities can charge utility companies for the use of a public right-of-way.
The St. Louis motion was filed by City Counselor Sheena Hamilton, whom Jones recently appointed; deputy counselor Robert Dierker, a former circuit judge; and other lawyers in the office.