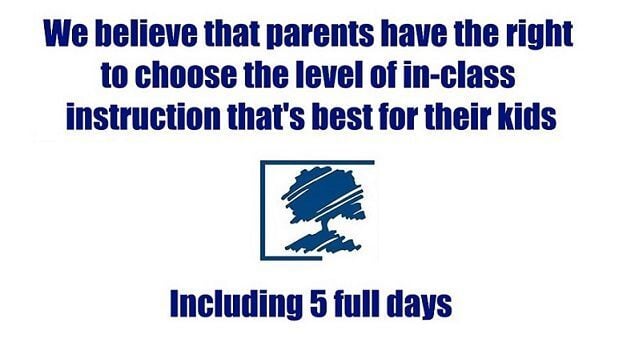 My friends the Steeles are educators.
They live down the street in our Wildwood neighborhood. Our daughters went to elementary school together. Sara has a doctorate in speech and hearing science and teaches at a local university. Tony is a counselor at another local college. Their children are all young, and they desperately would like them to go to school full time this fall, if it's possible.
So they joined a Facebook page in our school district advocating for that action called the Concerned Parents of the Rockwood School District. Immediately, they noticed some things about the postings on the page that bothered them. There were postings that spread false information about masks and about the reality of the coronavirus pandemic. There was a lot of political and conspiracy talk.
"Did you know that we aren't even at pandemic levels anymore?" wrote one man. "The curve has actually been flattened."
Neither of those statements are anywhere close to true, at least in the U.S., where confirmed cases (more than 4 million), hospitalizations and deaths (149,000 and rising) all surpass every other industrialized nation, and in many parts of the country are rising, and even setting daily records.
It was like too many places on Facebook. Perhaps it started as a good idea, a thoughtful place for discussion, but it became something else, in a Trumpian era where truth is evasive.
So the Steeles decided to conduct a social experiment.
Tony, as is his nature, decided to be snarky, joining in on the criticism of St. Louis County Executive Sam Page for daring to implement restrictions, "liking" posts when people questioned mask mandates. He even asked if anybody wanted to carpool to Page's house for a protest.
Sara decided to respond to posts with kindness, but also some facts about the seriousness of the spread of COVID-19. She stood up for science, and scientists, like when she pushed back on a post that said schools should open five days a week, no matter what.
"I feel your desperation," she wrote to another poster in the group. "And I agree that we need the virus numbers to go down not just in the community but in the state (and country) and until that happens it's going to be opening up (virus spikes) and then shutting back down. It angers me that the gains from the previous lockdown were squandered. It baffles me that people don't trust or understand science. It angers me that opening schools was not prioritized. And kids with IEPs are really getting the short shrift. At the same time, I don't think the answer is to throw up our hands and say, screw it — let's just open up."
Sara got kicked out of the group.
Well, not until he posted my recent column defending the work of Dr. Alex Garza, head of the St. Louis Metropolitan Task Force.
This is where we are as a society.
A mother and educator, a neighbor, one of the genuinely nicest people you'll ever meet, gets kicked out of a Facebook page on the schools and COVID-19 because she defended science, and tried to share her perspective with people whose children attend the same schools.
It's the right of the organizers of the page to do that, of course. They say so right up front:
"This group's goal is to find ways for our kids to return to school in the Fall for five full days of in-classroom instruction per week," it says under Group Rules. "Any member posting contrary to this goal will be removed."
"It's an echo chamber," Tony told me.
"If another member reports content and it's not aligned with our goal to get kids to school 5 days a week, it's distracting & they may be removed," said Johanna Beaudean, one of the Facebook group moderators, in an email to me.
Indeed, whether on Facebook or Twitter or many of our social groups these days, that is the world we live in. Too many of us, on the left and the right, stay in our safe little bubbles, protected from "others."
Never mind that we live in the same community, affected by the reality of the same science, that says that our grocery stores, bars, churches and, yes, schools, are destined to be operating at limited capacity or shut down as long as we push fallacies about not wearing masks or we dabble in conspiracy theories fueled by partisanship.
America remains the outlier among industrialized countries in terms of not effectively flattening the first curve of COVID-19 spikes because we didn't do enough in the first shutdown to slow the deadly spread of the virus. Now cases are rising again, in St. Louis, in Missouri, and in much of the nation. In some places, most notably hot spots in Houston and Miami, there have also been spikes in hospitalizations and deaths.
On Monday, Page announced the latest restrictions to be re-implemented, sending a strong signal that in-person school is likely a dream this fall, even for the two days that my children were hoping to attend. Our society needs all of us, regardless of our inner political leanings, to find a way to work together this time to make sure that virtual learning doesn't also become the norm in 2021.
Or we can retreat to our echo chambers, ignore the science and watch the death toll climb.
Concerned about COVID-19?
Sign up now to get the most recent coronavirus headlines and other important local and national news sent to your email inbox daily.