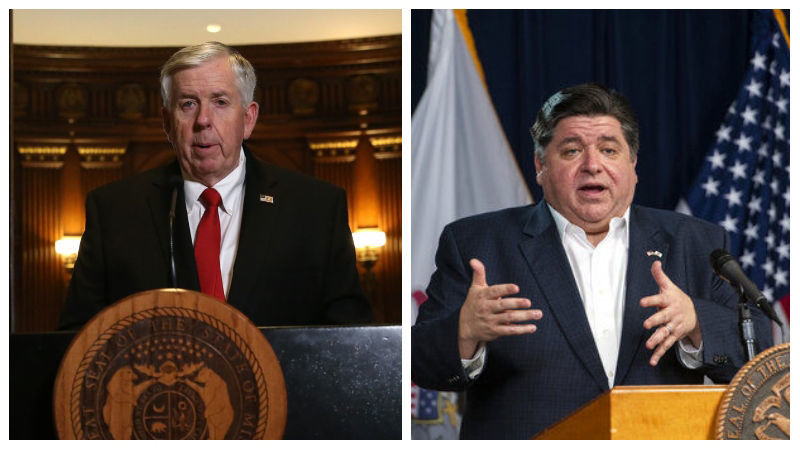 ST. LOUIS — A rift in approaches to the coronavirus between Illinois Gov. J.B. Pritzker and Missouri Gov. Mike Parson was on display Thursday, as Pritzker announced he would extend the state's stay-at-home order through the end of May, one day after Parson assured his state that many businesses will be able to open their doors by May 4.
For greater St. Louis, with a metro area split between the two, social distancing rules may soon differ significantly across state and county lines.
In Illinois, Pritzker, a Democrat, on Thursday announced he will extend the stay-home order set to expire at the end of this month through May 31. Some rules will be relaxed: State parks will begin a phased reopening, allowing fishing and boating. Greenhouses, garden centers and nurseries will be allowed to reopen. "Nonessential" retail businesses can reopen to fulfill telephone and online orders with curbside pickup or delivery, Pritzker said. And, starting May 1, Illinois hospitals and surgery centers will be allowed to perform elective surgeries.
But, Pritzker announced Thursday, masks or face coverings will be required in indoor public places and outside if people can't stay 6 feet apart. Illinois businesses will also be required to provide face coverings to employees who come into close contact with other people.
The changes are based on new models that show a plateau in deaths in late April or early May, Pritzker said. If the order was lifted, Pritzker said the models show a second wave of disease that could eventually lead to thousands of deaths and overwhelm the health care system.
"If we let up now, we would have nowhere near the kind of hospital capacity we need," he said.
In Missouri, Parson, a Republican, said Wednesday he would begin easing his stay-home order May 4, assuring most businesses that they would be able to reopen with some social distancing measures in place. Parson said he would announce more specifics on those measures Friday.
Parson has said some local leaders may keep tighter restrictions in place. Both St. Louis Mayor Lyda Krewson and St. Louis County Executive Sam Page have extended stay-home orders indefinitely and have said they may maintain tighter restrictions after May 4, depending on guidance from health experts.
In St. Charles County, the state's social distancing rules banning groups of 10 or more people and requiring people to stay 6 feet apart are already tighter than the county measures. The county's social distancing orders allow businesses to define for themselves if they are essential and give guidance against large gatherings, without banning them.
County Executive Steve Ehlmann said Thursday that he will decide how to go forward by tracking trends in hospitalizations and cases, but it may soon be up to businesses in his county to determine how to safely reopen.
In Franklin County, southwest of St. Louis, Presiding Commissioner Tim Brinker has already said nonessential businesses can reopen at midnight Friday. Businesses such as fitness centers, movie theaters, bowling alleys, golf courses and skating rinks can reopen as long as they follow state limits on gatherings of 10 or more people and keeping 6 feet apart.
In Illinois on Wednesday, Pritzker said he'd had no luck coordinating with Parson on efforts to reopen. Pritzker last week announced a bipartisan agreement with the governors of Michigan, Ohio, Wisconsin, Minnesota, Indiana and Kentucky to coordinate the criteria to reopen businesses. "We reached out to Missouri, and they were not interested in joining that pact," Pritzker said.
When asked about the remarks Thursday, Parson said plans have differed between states across the country.
"It's about where are we at in the state of Missouri," Parson said, adding he thinks Missouri would be prepared for any second wave of cases that may happen.
The difference between the two states is representative of the various responses by governors nationwide. While eight states — Arkansas, Iowa, Nebraska, North Dakota, South Dakota, Oklahoma, Utah and Wyoming — have stopped short of ordering people to stay home except for essential errands and jobs, other states such as California have extended stay-home orders indefinitely.
The pace of reopening has also differed. Georgia Gov. Brian Kemp, a Republican, announced Monday that his state would allow businesses such as nail salons, massage therapists, bowling alleys and gyms to open Friday, though President Donald Trump has criticized the decision.
On the House floor, ahead of a vote on a relief package worth more than $480 billion, U.S. Rep. Maxine Waters, a California Democrat, revealed her sister is dying of coronavirus in a St. Louis hospital.
Rising cases
COVID-19 cases and deaths continued to rise in both Missouri and Illinois Thursday.
Missouri reported 10 additional deaths and 184 new known cases of the virus, bringing the state total to 6,321 cases and 218 deaths.
In Illinois, which has about double the population, state officials on Thursday reported 1,826 new known cases and 123 additional deaths. There have been at least 36,934 cases and 1,688 deaths since the outbreak began, including at least 41 deaths in the Metro East.
In the St. Louis area, including Illinois suburbs, at least 226 people with COVID-19 have died.
On Thursday, St. Louis County also announced two grim milestones in this pandemic: The county's death toll related to the virus hit more than 100, and the first body arrived at an overflow morgue the county constructed to prepare for possible surges in deaths. The temporary morgue, named the Dignified Transfer Center, is a converted Earth City warehouse with room for 1,300 bodies.
The first body arrived at the location Wednesday from a local morgue that had already reached capacity, though county officials could not immediately say which one. The body was soon transferred to a local cremation center.
Build your health & fitness knowledge
Sign up here to get the latest health & fitness updates in your inbox every week!