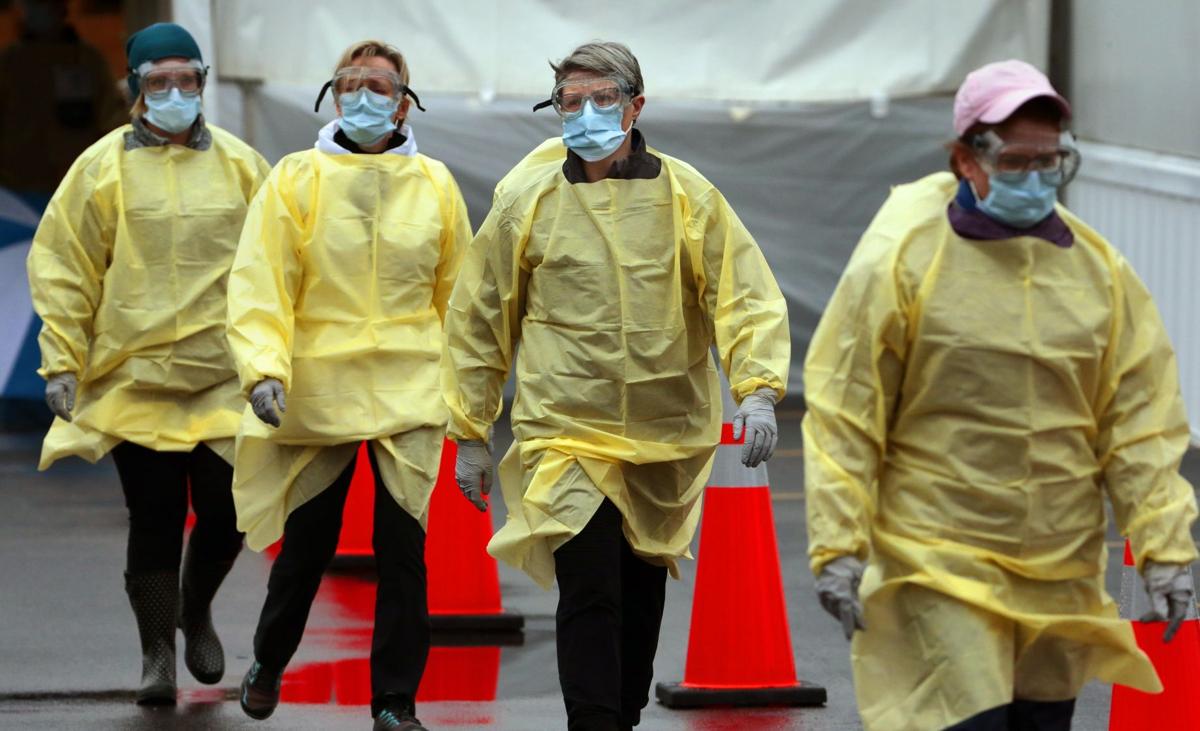 ST. LOUIS — As Missouri again reported a record number of COVID-19 hospitalizations Friday, the leader of the local pandemic response warned that cases are rising quickly in rural areas, a change since previous months of the pandemic.
Missouri's hospitalization numbers have been rising for weeks. Health experts have warned that hospitals will be challenged if new coronavirus case numbers continue to swell through flu season.
This week, Mercy Hospital Washington, seeing higher numbers of virus patients than ever, transferred two COVID-19 patients to another facility because of concerns about capacity.
The Missouri Department of Health and Senior Services reported on Friday that there were 1,068 patients in hospitals statewide with presumed or confirmed COVID-19, the highest number on record. The data lags three days, and not every hospital reports every day.
Dr. Alex Garza, who leads the St. Louis Metropolitan Pandemic Task Force, said it is concerning that case numbers are rising in outlying parts of the metro region, because hospitals in more rural areas often have less space, staff and equipment.
"We are starting to see that impact from patients in those rural areas now coming to the urban area, which is concerning" Garza said. "If we have increasing cases then in the urban area, that will add up."
Garza said that under a worst-case scenario, if virus numbers remain high and the region has a bad flu season, it could "significantly strain" health care capacity. But, he added, there is an increased effort to promote flu vaccinations this year, and the precautions residents are taking to prevent COVID-19 also could help keep flu cases low.
"Wear a mask, even if it's not mandated," Garza said. "This is crucial in our fight against the virus. The evidence is clear that it helps decrease transmission and protects the wearer as well as people around them."
The state's daily case count of 1,987 was tied for the second-highest ever. Missouri reported that there have been 120,298 COVID-19 cases since the beginning of the pandemic as of Friday, and there were 42 more deaths reported over the past 24 hours.
Franklin and Jefferson counties have had some of the highest rates of COVID-19 hospital admissions in the region recently, exceeded only by Calhoun County in Metro East, according to task force data released Friday.
Franklin County had 14 hospitalizations per 100,000 residents between Sept. 17 and Sept. 23, and Jefferson County had 13.
The city of St. Louis had four hospitalizations per 100,000 residents, and St. Louis County had eight.
The elevated patient numbers mean that Mercy Washington, located 50 miles southwest of St. Louis in northern Franklin County, has had more COVID-19 patients in recent weeks than ever.
Dr. Thomas Riechers, chief of staff and a general surgeon at Mercy Hospital Washington, said Franklin County was largely spared during the first few months of the pandemic. But beginning in July, the hospital has had slow, persistent growth in admissions for COVID-19.
This week, the hospital transferred two patients with COVID-19 to another facility, because of concerns about hospital capacity.
"We hate to transfer people out of the community," Riechers said. "But we have to have some ICU capacity to manage our unexpected emergencies."
The patients were moved from Mercy Hospital Washington, a 148-bed hospital, to Mercy Hospital South in St. Louis County, which has 767 beds.
Franklin County COVID-19 case numbers have climbed in recent weeks. In mid-August, the county was regularly reporting about 20 new cases per day. On Friday the county reported 40 new cases, and its seven-day average was 32.
Even if the county's case numbers decline, Riechers said, it will take time for that progress to translate into lower hospitalization numbers.
Though the hospital is licensed for 148 beds, many are in departments such as obstetrics or pediatrics. The hospital has 13 beds in the ICU, and six transitional care beds that can be used as ICU beds.
Riechers said the hospital needs to keep ICU beds available not only for COVID-19 patients, but for patients who have had heart attacks, undergone surgery, or have other serious conditions. He and others at the hospital have been urging local governments to consider masking ordinances.
"As a hospital and a system … we definitely are not advocating for closing everything down. We're just asking for reasonable precautions," Riechers said. "Whether it's hand washing and distancing, and face masks when in public and you can't be distant, it seems to me to be a small cost to pay that has been shown to be effective."
These maps and charts show the spread of COVID-19 in Missouri and Illinois.
Concerned about COVID-19?
Sign up now to get the most recent coronavirus headlines and other important local and national news sent to your email inbox daily.