Missouri topped 400,000 cases of coronavirus on Sunday, state data shows. Another 2,305 cases were reported, bringing the total to 401,761.
With a population of about 6.5 million people, the state ranks 23rd in the highest number of total coronavirus cases reported per capita, according to the New York Times nationwide database.
The three Missouri counties with the most cases per capita are Sullivan, Madison and Cole counties, state data shows. Each of those counties has reported over 10,000 cases per 100,000 people, meaning one in 10 residents have tested positive for the coronavirus.
Illinois added 4,469 cases on Sunday, bringing its total to 979,821 — which ranks 12th per capita. 
Missouri on Sunday reported 19 new deaths from COVID-19, bringing the total to 5,562. Illinois added 81 deaths for a total of 16,755.
In the past seven days in Missouri, 15,935 new cases were reported out of 87,018 people tested — for a positivity rate nearly 20%, meaning the transmission of the virus remains widespread. The positivity rate in Illinois is almost 10%. 
The average daily number of new cases in Missouri has been increasing over the past week, a Post-Dispatch analysis of data shows. Since Dec. 28, the seven-day daily average has gone from 2,185 to 2,810. The number had been going down since before Thanksgiving, when a high of more than 4,500 cases were being reported each day. 
In the past seven days, the state has recorded 60 new deaths.
Hospitalizations across the state remained high. The latest data from Dec. 31 shows 2,701 people were hospitalized with COVID-19, though not all hospitals report their totals each day. Intensive care units are over 75% full. 
The seven-day average number of hospitalizations has stayed above 2,500 since mid-November. That is double what the average number was in early October.
The St. Louis Metropolitan Pandemic Task Force reported 82 new COVID-19 patients admitted to hospitals in the area, up from 68 the day before.
The task force reported a total of 785 confirmed COVID-19 patients across area BJC HealthCare, Mercy, SSM Health and St. Luke's Hospital facilities — down from a peak of 961 on Nov. 30. Task force data lags two days.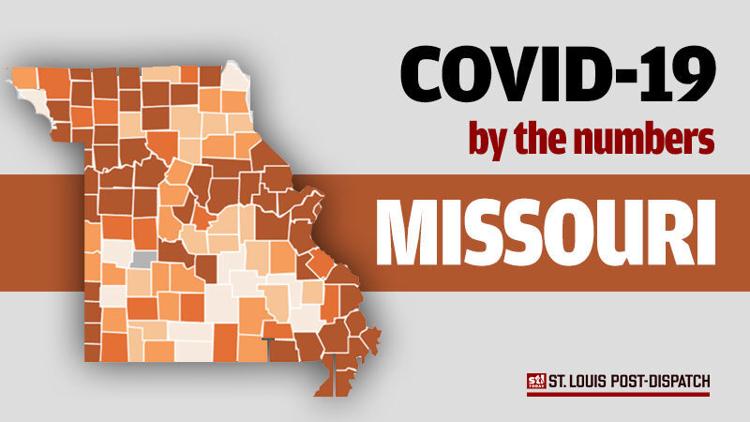 NOTE: Missouri updated its data dashboard on Sept. 28 to delete duplicate cases. This resulted in a decrease of total cases which caused the daily count to reflect a negative number.
Note from St. Louis Metropolitan Pandemic Task Force regarding the numbers for July 20: There was a delay in reporting some test results leading to the increase in reported hospital admissions.
Note from Missouri Department of Health and Senior Services: Note: Due to an abrupt change in data measures and the reporting platform issued by the White House on Monday, July 13, and effective Wednesday, July 15, Missouri Hospital Association (MHA) and the State of Missouri were unable to access hospitalization data during the transition. .