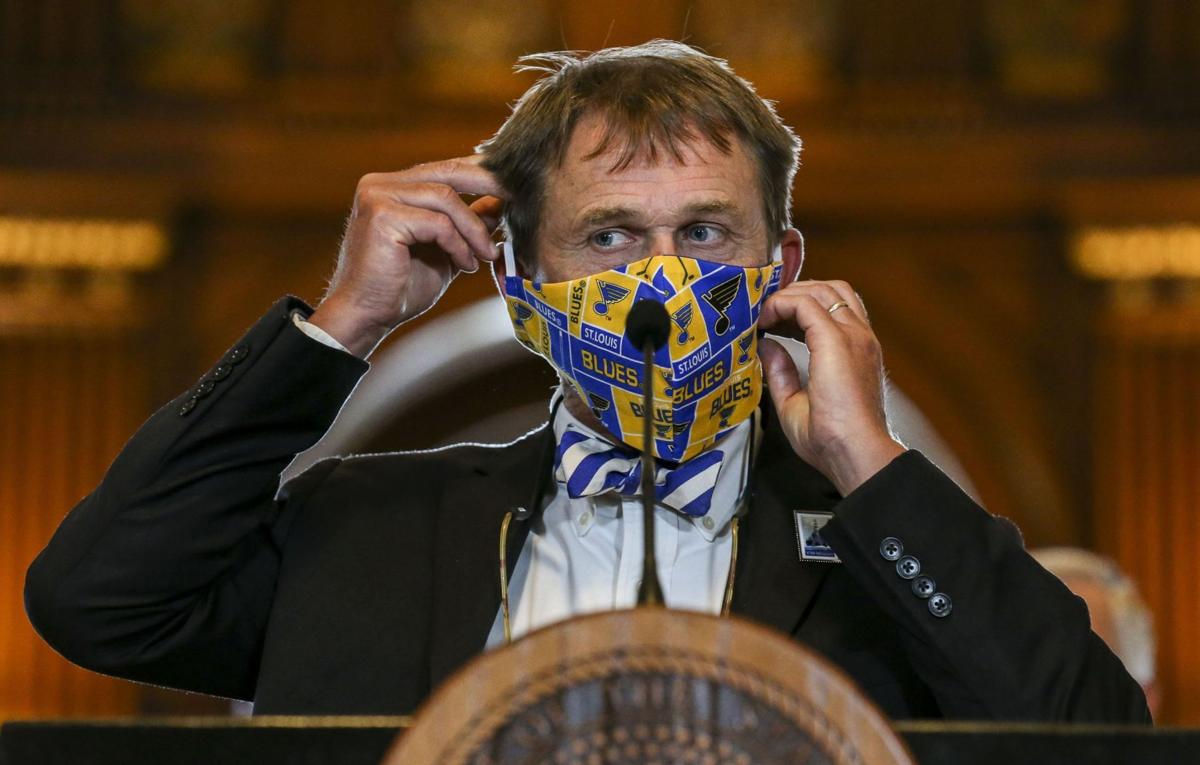 The number of people hospitalized for the coronavirus in Missouri reached another record Thursday, and the seven-day average positivity rate was more than triple the benchmark suggested by the World Health Organization. Meanwhile, Illinois on Thursday reported a one-day high of 4,015 COVID-19 cases after processing nearly 67,000 tests.
In addition to the record hospitalizations, the Missouri Department of Health and Senior Services' COVID-19 dashboard showed other alarming numbers, too: 1,875 new confirmed cases and 22 deaths. According to the dashboard, Missouri ranks fourth nationally in reported deaths over the past seven days, and eighth in the number of new cases. All told, Missouri has reported 150,554 confirmed cases and 2,442 deaths since the pandemic began.
Missouri's seven-day positivity rate was 17.9%. The national seven-day positivity rate was at 5.1%, according to Johns Hopkins University data. The WHO has set 5% as the benchmark.
Meanwhile, 1,443 people were hospitalized in Missouri on Wednesday, setting a new record for the third straight day. Hospitalizations have risen dramatically since the state loosened restrictions in mid-June. On June 16, 626 people were hospitalized, and that number dropped to 375 on July 7. It has nearly quadrupled since then.
DHSS Director Randall Williams said the surge isn't just happening in Missouri. Several other Midwestern states are seeing rising numbers of cases and hospitalizations — evidence of the need for people to continue to take the risk of the virus seriously, he said.
"Originally the hope was that as summer came it would burn itself out, or that these respiratory viruses tend to have kind of a rise and decrease, that that's not been our reality internationally or nationally with COVID," Williams said.
Four regions — Kansas City and northwestern, central and northeastern Missouri — reached record hospitalization levels. Two others — southwestern and southeastern Missouri — fell just short of records set over the past week. Only the St. Louis region, which was by far the hardest-hit area of the state early in the pandemic — was well below record numbers. St. Louis and St. Louis County both have implemented far stricter guidelines on face coverings and social distancing than those required statewide by Republican Gov. Mike Parson, who himself is a survivor of the virus.
Dr. Marc Larsen, who oversees the COVID-19 response at Kansas City-based St. Luke's Health System, said the system's rural hospitals are seeing surges just as bad as the hospital on the Plaza in Kansas City.
"Early on in this pandemic it was felt that this was a big city problem, and now this is stretching out into the rural communities where I think there has not been as much emphasis on masking and distancing, because it hasn't affected them to that point," Larsen said.
Parson has often encouraged Missourians to wear masks, practice social distancing and practice hand hygiene, but he has adamantly opposed any mandates.
Adding to the problem is the fact that many COVID-19 patients end up with far longer hospital stays than other patients. Larsen said patients requiring admission to the intensive care unit typically stay 15 days — three times longer than the average for non-coronavirus patients. About one-third of COVID-19 patients at St. Luke's end up in the ICU.
Williams said that with the onset of the flu season, it's especially imperative that people take precautions to help keep hospitals from becoming overburdened. He encouraged Missourians to get flu shots.
Illinois results
While Illinois announced 5,368 cases on Sept. 4, that number included several days of non-reported cases due to a slowdown in data processing. Thursday's total includes, for the first time, antigen tests, as well as molecular tests.
Officials also reported 53 more fatalities, the most since 64 deaths were reported on June 24.
When the coronavirus was first peaking in early to mid-May, Illinois was averaging more than 100 deaths per day, but the average daily death toll had dropped below 20 from mid-July to mid-August.
The seven-day average of new cases has continued to increase throughout this week after reaching a new high Monday. As of Thursday, the seven-day average for new daily cases was 2,989, up from 2,180 a week earlier. Before this week, the highest average was 2,565 daily cases, set May 4 and equaled three days later.
The share of coronavirus tests returning positive results also has been surging in recent days. The seven-day rolling average for the week ending Wednesday was 4.9% statewide, up from 3.7% a week ago.
With the additional infections reported Thursday, the state has now seen 331,620 known cases of COVID-19 since the start of the outbreak. The statewide death toll stands at 9,127. The state received results from 67,086 tests in the previous 24 hours.
Gov. J.B. Pritzker warned Wednesday that the data show that Illinois' efforts to contain the virus are trending in a "concerned direction." Pritzker and Illinois Department of Public Health Director Dr. Ngozi Ezike encouraged the public to rethink plans for celebrating upcoming holidays to avoid accelerating the spread of the virus.
In figures reported Thursday, each of the 11 regions in Pritzker's phased reopening plan has seen its rolling positivity rate jump from the past week. The biggest increase was in DuPage and Kane counties, which saw their combined seven-day average shoot up more than 2 percentage points, from 4.9% for the period ending Oct. 5 to 7% for the period ending Monday. Many regions also have been seeing a rise in hospitalizations.
Statewide, 1,932 people were hospitalized with COVID-19 as of Wednesday night, up from 1,755 a week earlier, a 10% increase. The number of coronavirus patients in intensive care and on ventilators were down slightly from the week before. As of Wednesday, 388 patients were in intensive care, compared with 392 the week before, and 147 were on ventilators, compared with 163 a week earlier.
The Metro East region outside St. Louis, which until Friday had been under tighter restrictions since mid-August, has seen its rolling positivity rate rise over the past week, though it remain below the 8% threshold set by the state. If it reaches that level for three straight days, restrictions would kick in once again.
Includes reporting by the Chicago Tribune, the Associated Press and the Post-Dispatch.
These maps and charts show the spread of COVID-19 in Missouri and Illinois.
Concerned about COVID-19?
Sign up now to get the most recent coronavirus headlines and other important local and national news sent to your email inbox daily.