ST. LOUIS — Researchers at Washington University in St. Louis announced Wednesday they have developed a mouse model of COVID-19 that replicates the illness in people — accelerating the global effort to develop an effective vaccine, discover therapies and understand the disease.
The mouse model is described in a paper published online Wednesday in the journal Cell.
"It's a model that can be used by any laboratory immediately for testing vaccines and therapeutics," said Dr. Michael Diamond, principal investigator and an expert on viral infection whose team has been working feverishly on the model since the end of February.
When it comes to research, the mouse is king. The animals are small, cheap, friendly and have large litters with similar genes, making them easy to study.
But, until now, a mouse model of COVID-19 has not been widely available. Because of the urgency of the pandemic, many vaccines entered clinical trials in humans without the typical animal studies that weed out failures.
"These investigational drugs and vaccines have been put directly into humans, and many of them haven't panned out," Diamond said. "Mice are useful because you can study a large number of them, and observe the course of the disease and the immune response in a way that is hard to do in people."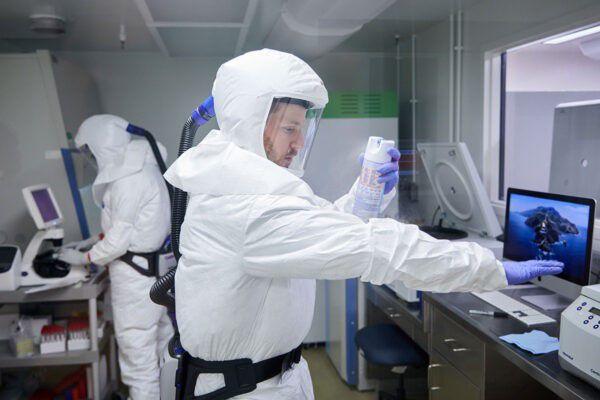 Testing how potential drugs and vaccines work in mice before moving to primates or humans is more efficient, saves money and is safer for people, he said.
Mice are unable to naturally get infected with the coronavirus that causes COVID-19.
In people, the virus latches onto a protein called ACE2 on the surface of cells in the respiratory tract. The human ACE2 protein is different than the mouse ACE2 protein. The virus is unable to attach to mouse protein.
During the SARS epidemic in 2003, researchers created a strain of genetically modified mice born with the human ACE2 protein so they could study SARS.
After the epidemic, however, interest waned. The mice colonies closed, and their embryos were frozen.
The emergence of COVID-19, which is similar to SARS, triggered a rush to begin breeding the mice again. But there's still not enough of the genetically altered mice for researchers trying to study the disease.
"Most investigators and most drug companies and vaccine companies don't have access to them," Diamond said.
Researchers needed a faster way to obtain mice. Diamond and his team decided to try introducing the human ACE2 protein into mice temporarily.
To do this, they inserted the gene for the human ACE2 into a mild respiratory virus called adenovirus. At the same time, they disabled the adenovirus' ability to multiply.
"One can think of it as a crippled virus that is not able to do its normal viral things," Diamond said. "But it can deliver a gene, and it's delivered into the lungs."
After researchers infected mice with the crippled adenovirus, the animals began to produce human ACE2 in their respiratory tracts, making them vulnerable to COVID-19.
After five days, the researchers gave the mice the COVID-19 virus through the nose. The COVID-19 virus quickly spread along the respiratory tract and to the lungs, where it replicated and caused pneumonia with severe inflammation — just like it does in people.
"They get quite sick for a while but eventually recover, like the vast majority of people who get COVID-19," Diamond said.
The important thing about the technique is that it can be used on any mouse — and researchers have access to a library of mice.
There are mice with obesity, diabetes, high blood pressure and heart disease. There are mice missing different genes that regulate the immune system.
"It would be easy to study, for example, older mice or obese mice and see how they respond to infection. I'd expect that they would do substantially worse, but the real question is, 'Why?'" Diamond said.
"Do they have more virus in the early stages? Is their condition weakening the immune response, or perhaps exacerbating a detrimental inflammatory response?" he said. "With this model, we can begin to look at some of those factors that are very hard to study in people."
Diamond said he expects to see a "first generation" of vaccines for COVID-19 that will not work as well as the second generation.
"The second generation are the ones that are going to probably go through the more traditional process of studies in animals ...," he said, "and hopefully they'll be much better, or a bit better, either efficiencywise, costwise or safetywise."