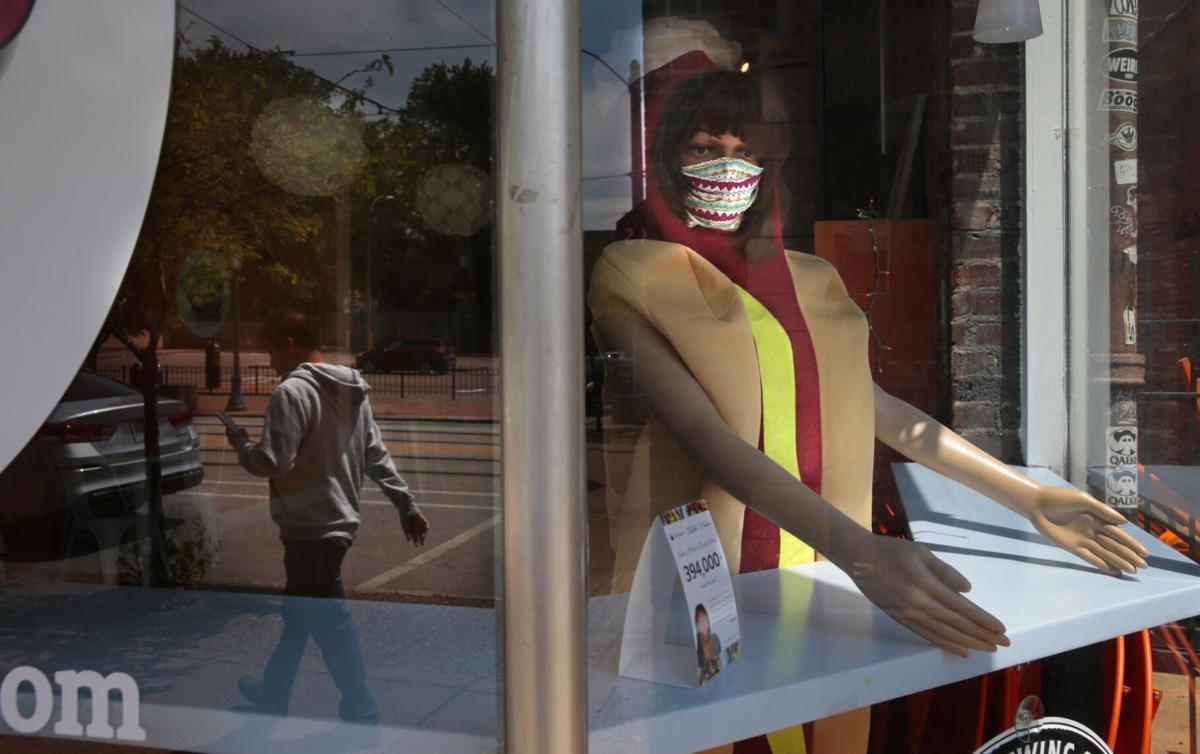 CLAYTON — St. Louis County on Friday greatly expanded its public health order requiring face coverings to help prevent spread of the coronavirus.
Effective today (Aug. 24): :
• Pupils in public and private schools from kindergarten to grade 12 are required to wear face coverings.
• Businesses now must deny entry to customers who refuse to wear face coverings. A previous order authorized businesses to deny entry to those people, but did not require them to do so.
• Children 6 or older must wear face coverings in public. A 5-year-old attending kindergarten must also wear a face covering. A previous order had been in effect only for children 10 or older.
The order on schools affects pupils in kindergarten through 12th grade. Pupils may only remove masks during certain activities as long as they remain 6 feet apart — while at recess or physical education; in band, choir or music class; or while eating. Masks may also be removed in accordance with the county's youth sports guidelines while participating in a school-sponsored sport.
Public health experts have emphasized for months that masks are one of the most effective tools to help fight the pandemic.
A news release from the county health department said it has received many complaints about businesses not requiring face coverings.
"The clarification of this language should not only assist businesses in enforcing the requirement, but also make customers feel more protected," the department said. "The Face Covering Guidelines provide alternatives to businesses who provide goods or services to those unable to wear face coverings due to a medical condition or those who refuse to wear a face covering for other reasons."
A business may allow entry if the person is willing to wear a face shield instead of a face covering, the order said.
The amended orders were scheduled to be posted later Friday on the county's coronavirus website, stlcorona.com.
St. Louis County's seven-day average for new daily cases fell to about 200 Friday, down from more than 300 in late July. The county reported 223 new cases and no new deaths Friday for a total of 17,517 cases and 710 deaths since the beginning of the pandemic.
Statewide, Missouri reported 1,419 new COVID-19 cases and two additional deaths Friday. That brings the state's total to 72,964, including a death toll of 1,419. The seven-day rolling average of new cases in Missouri also dipped over the past week, from 1,127 on Aug. 14 to 1,099 Friday.
Metro East 'warning'
In Illinois Friday, the state public health department placed most Metro East counties on its weekly "warning" list for COVID-19 metrics. St. Clair, Madison, Monroe, Clinton and Randolph counties were all listed among the 20 counties at warning level in the state.
Counties are put in the category if they exceed a threshold in at least two of the state's eight metrics tracking the coronavirus, including the rate of cases per 100,000 people and the rate of tests that come back positive.
The region, which also includes Bond and Washington counties under the state pandemic plan, reported a seven-day average positivity rate of 9.4% as of Tuesday.
If that rate remains above 8% by Aug. 30, new restrictions could be added to rules already reimposed on the region by state health officials Aug. 16. The rules included an 11 p.m. curfew for bars and restaurants.
The COVID-19 death toll spiked in St. Clair County Friday, with the county adding 10 new deaths from the virus, a single-day record for the Metro East county. Public health officials said in a video briefing that nine of those deaths were added because the county reclassified what qualifies as a COVID-19 death, adding deaths of people who tested positive within 30 days of their death.
Statewide, Illinois reported 2,208 new cases and 24 additional deaths. There have been 215,929 confirmed cases and a death toll of 7,857 in Illinois since the start of the pandemic.
Hospitalizations in the St. Louis area are on a downward trend this week. The region's major hospitals reported a seven-day rolling average of 37 daily COVID-19 admissions on Friday, down from 41 the week before. Updated at 5 p.m. Friday with more information.(tncms-asset)b229532a-c225-11ea-a821-00163ec2aa77[1](/tncms-asset)
These maps and charts show the spread of COVID-19 in Missouri and Illinois.
COVID-19 Missouri: Rolling 7-day average
COVID-19 Missouri: Hospitalizations St. Louis Metropolitan Pandemic Task Force
The chart below includes numbers for these hospitals in the St. Louis Metropolitan Pandemic Task Force: BJC HealthCare, Mercy and SSM Health hospitals and St. Luke's. Numbers include people who have tested positive or are under investigation
"Calculated" = Post-Dispatch methodology. NUMERATOR: Number of new "Lab Confirmed Cases" per day via Missouri COVID-19 Dashboard; DENOMINATOR: Number of new 'PCR Tested Individuals' per day via Missouri COVID-19 Dashboard. We record new numbers for each day and calculate the average for the past seven days.

"MO DHSS reported" =
The % as reported on the Missouri COVID-19 Dashboard. This number was first published to the dashboard on July 25, 2020. The Missouri Department of Health and Senior Services uses numbers from "the most recent 7-day period that we feel our data is mostly complete," according to Lisa Cox, Communications Director for the department. The data is "listed on the date that the person was actually tested, initially. Then when interviews have happened and contact tracing is done, many times we have more information provided to us for that case. If symptom onset date is a new piece of information gathered, the testing date reverts to symptom onset date. This data is always changing for this reason," according to Cox. For more information on why numbers may differ, CLICK HERE.

NOTE: No new testing data was available via Missouri COVID-19 Dashboard on July 10, 2020. We have interpolated the available data to estimate that number.
Concerned about COVID-19?
Sign up now to get the most recent coronavirus headlines and other important local and national news sent to your email inbox daily.