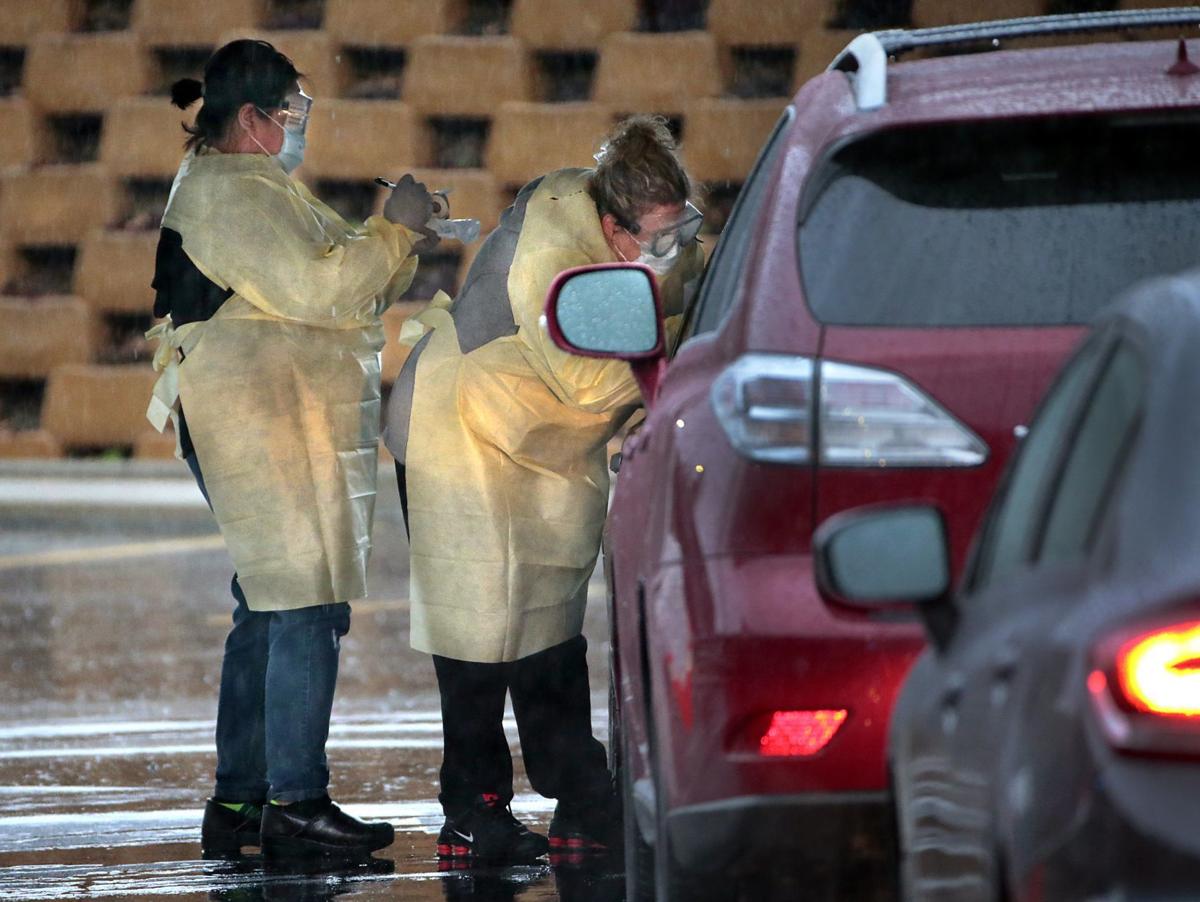 ST. LOUIS — October became the deadliest month for Missouri in the coronavirus pandemic as fatalities statewide rose to 618 for the month, surpassing September, with the toll still likely to climb.
At the same time Wednesday, Missouri reported another grim record: The state's seven-day total hospitalization average rose to 1,604, marking the first time that number has surpassed 1,600. Missouri hospitalization data lags three days, and not every hospital reports every day.
The state reported 441 virus-related deaths in April, 413 in May, 202 in June and 271 in July.
The state reported 2,599 new cases of COVID-19 on Wednesday, and 24 more deaths. Missouri has recorded 193,023 cases and 3,088 deaths since the beginning of the pandemic.
Illinois cases rise
Illinois, meanwhile, reported 7,538 new cases of COVID-19, the second-highest number throughout the pandemic, and 55 more deaths. The state's virus toll stands at 437,556 cases, and 9,933 deaths.
As of Wednesday morning, all 11 regions of Illinois are under heightened, virus-related restrictions.
Illinois Department of Public Health Director Dr. Ngozi Ezike said during a briefing Wednesday that the restrictions will bring positivity rates down if individuals follow all of the guidelines, but the high rates of the virus statewide will draw out that process.
"Of course the individual activity, the personal responsibility, the wearing of masks, and limiting these private gatherings, that's key and essential," Ezike said. "It's going to take longer because the rates are so high. There is so much disease now."
There were 3,761 COVID-19 patients in Illinois hospitals as of Tuesday night, the highest number since May 26. Of those, 776 were in intensive care units, and 327 were on ventilators.
Area cases
The St. Louis Metropolitan Pandemic Task Force reported 69 new hospital admissions for COVID-19 on Wednesday, retreating slightly from the record 74 new admissions reported on Tuesday, but still well above the levels seen in previous weeks. Task force data lags two days and includes Mercy, SSM Health, St. Luke's Hospital and BJC HealthCare facilities in the region.
Local hospitals are stressed, facing a rapid resurgence of COVID-19 nearly eight months after the state's first case was reported.
SSM Health spokeswoman Stephanie Zoller said Wednesday that a couple of the system's St. Louis-area hospitals have full intensive care units. In some cases, emergency departments have had to hold patients until a room is available.
"It's not just our ICUs," Zoller said. "Our hospitals, in general, are just full."
These maps and charts show the spread of COVID-19 in Missouri and Illinois.
Concerned about COVID-19?
Sign up now to get the most recent coronavirus headlines and other important local and national news sent to your email inbox daily.