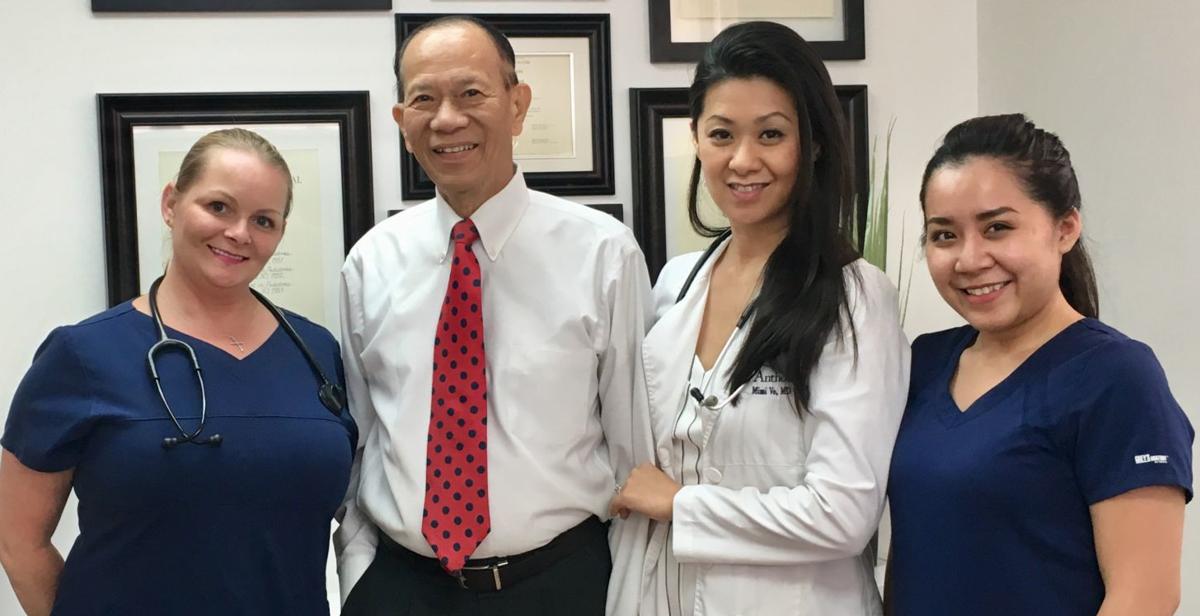 ST. LOUIS — An internal medicine doctor in St. Louis says she has struggled for weeks to get COVID-19 testing for herself and her patients, two of whom died suddenly after traveling overseas.
Dr. Mimi Vo, with Vo Medical Clinic, says she has repeatedly asked St. Louis County, Missouri Department of Health and Human Services, Mercy Hospital and even a private lab for testing, and has been denied even when patients' symptoms and travel history suggest exposure to the coronavirus.
"I am so frustrated," Vo said. Although some people may have the perception that tests are now widely available, that's not the reality for doctors in private practice, she said.
The St. Louis County Department of Public Health said that for most of last week, very few test kits existed in the region. "Due to that shortage, many individuals were not tested," a statement said.
Joe Poelker, a spokesman for Mercy Hospital, said the hospital's testing hotline is following guidance from the federal Centers for Disease Control and Prevention and the state health department.
"We aren't taking physician referrals," he said. "We need patients to call us directly."
Poelker said the current travel screening includes all of Asia, Australia, Europe, and the states of California, Colorado, New York and Washington. But he said he wasn't sure when all of these locations were added to the screening criteria. The Missouri Department of Health and Senior Services has not yet responded to requests for comment on Vo's account.
Meanwhile, Vo said health care workers on the front line are risking their lives without access to protective equipment or testing.
"Two-doctor families are putting together wills," she said. "These are the decisions we are making. At least one of us has to be alive to care for our kids."
Harrowing details
Here is Vo's day-to-day account, in her own words, of how the coronavirus pandemic has impacted her private practice.
Feb. 1: I have been noticing an uptick in viral respiratory illnesses and bronchitis in my practice. I had put up signs for patients to use surgical masks if they had a fever or respiratory illness. I began searching for fitted respirator masks in mid-January. Our medical suppliers said they were sold out for private doctors. I was told that I could only buy it if I had already been purchasing them in the last 180 days. I was only able to buy 10 boxes of surgical masks.
Feb. 20: A 57-year-old patient who is otherwise healthy suddenly dies two days after returning from overseas. I find out on Feb. 27 when I'm called and asked to sign his death certificate.
March 4: I review the emergency room notes for the patient who died Feb. 20 after I receive his death certificate in the mail. His death was diagnosed as a cardiac arrest. Reading notes, I realize this patient had returned from overseas days prior.
March 5: Another patient who recently returned from overseas presents with fever, cough and myalgias (muscle aches). Tested flu negative in office. My staff called the local emergency room. We are given the phone number for the state department of health's COVID-19 line. We are told the patient did not meet criteria because the country they are returning from was not China, South Korea, Iran or Italy.
March 10: I find out another patient, a female in her 50s in the same community as the patient who died Feb. 20, also died suddenly two days after returning from overseas. She was also previously healthy.
March 11: I see a couple who returned from overseas two weeks prior. They have the same respiratory symptoms and flu-like illness but test negative for the flu. This time, my suspicion is high, so instead of having my staff make calls, I stop my clinical practice and make the calls myself. I call a local ER, who give me a different number to call. The operator at this number says that I have reached the St. Louis County Health Department and says to call the city department's number. I checked the patient's home address and told the operator that the patients live in St. Louis County despite my office being in the city. The operator proceeds to give me the number to the State Health Department's COVID-19 line. I am told that the patients did not meet criteria, despite stopping in Japan for a few hours in transit. I am frustrated and call Mercy's COVID-19 hotline, am told the same thing; patients do not qualify for testing.
That evening I began coughing and experiencing shortness of breath. Treated myself at home as an asthma exacerbation. Symptoms are similar to my previous asthma attacks, but I am concerned about my past two weeks of exposure. I do not go to the ER, as I had no masks at home. My oxygen level is stable, my vitals are stable. I self-treat with nebulizer treatments through the night but am afraid to take steroids due to knowing this worsens outcomes for patients with COVID-19.
March 12: Switched my practice to telemedicine to ensure patient safety. I rushed to my office to grab supplies, put up signs to inform patients and gather lab testing forms and radiology forms to send to patients.
I call the state health department about myself. I am told I do not meet criteria for testing. I called the Mercy line and was also rejected for testing. I called a pulmonary/critical care doctor at Mercy, and he confirmed that I did not meet criteria at the present time. He recommended I start steroids for my asthma. I call my primary care physician. She agrees I need testing but has gone through similar hurdles and knows I will not qualify. She agrees with the pulmonary doctor on steroids, so I start the medicine. The night before, President Trump told the American public that testing was available if your doctor felt you needed it. I am a doctor, and I could not get tested.
I was able to see 27 patients via telemedicine. I am exhausted.
March 13: I have a low-grade of 100.8 fever. Called the state health department again and also the Mercy line to see if I could qualify for testing. Again told I did not meet criteria. Called LabCorp and asked about ordering a private test. Told I could not have the testing done at a LabCorp testing center because they did not want to put their staff at risk. Testing had to be done in my office. I do not have any of the viral Universal Transport Medium or synthetic Nasopharyngeal swabs in my office (this is not a routine test), so I have to order these supplies. LabCorp rep says they could give me a maximum of five tests which can be done for five people, and I would receive these supplies in three to four days. I asked if I could pick up at a distribution center locally and was told I could not.
Saturday: Received a text from the pulmonary doctor I spoke to at Mercy informing me that the drive-thru testing was available. I call the Mercy line and was told that the previous criteria still applied. Told them that the CDC recommended health care workers be tested with a lower index of suspicion. Meaning, that if at all suspicious, I should be tested to avoid spread to my patients. I was told that this was not in their guidelines and they are not aware of such a thing.
Sunday: I saw a patient via telemedicine who was suspicious for COVID-19 and had my staff call the hotline. Again, the same criteria applied and the patient could not be tested.
Tuesday: Saw a young 20-year-old female with fever, sore throat, myalgias, who returned two days ago from Portland, Oregon, and had spent one week prior in Houston. Called to see if she could be tested, and the criteria has not changed. Testing is still limited and she cannot be tested.
I see a patient who is 67-years-old with fever, cough and shortness of breath. She was coughing and struggled to catch her breath between words. Her son and daughter are pharmacists in St. Louis working at retail pharmacies and seeing patients daily. I call her local ER. They agreed she should come in. She arrives in a mask. She did not meet criteria to test.
I still do not have any face shields, fitted masks, or gowns which the CDC recommends we use when we test patients for possible COVID-19 exposure. I still have not received any testing kits from LabCorp.
Persistence pays off
Wednesday: I feel my shortness of breath is a bit worse today and more tired. Still no LabCorp supplies. I have my staff call to check on this status and let them know we are waiting.
On Thursday, Dr. Vo reported some progress. A vice president at LabCorp personally reached out to her, and the testing supplies were delivered. She was tested and is awaiting results.
Concerned about COVID-19?
Sign up now to get the most recent coronavirus headlines and other important local and national news sent to your email inbox daily.