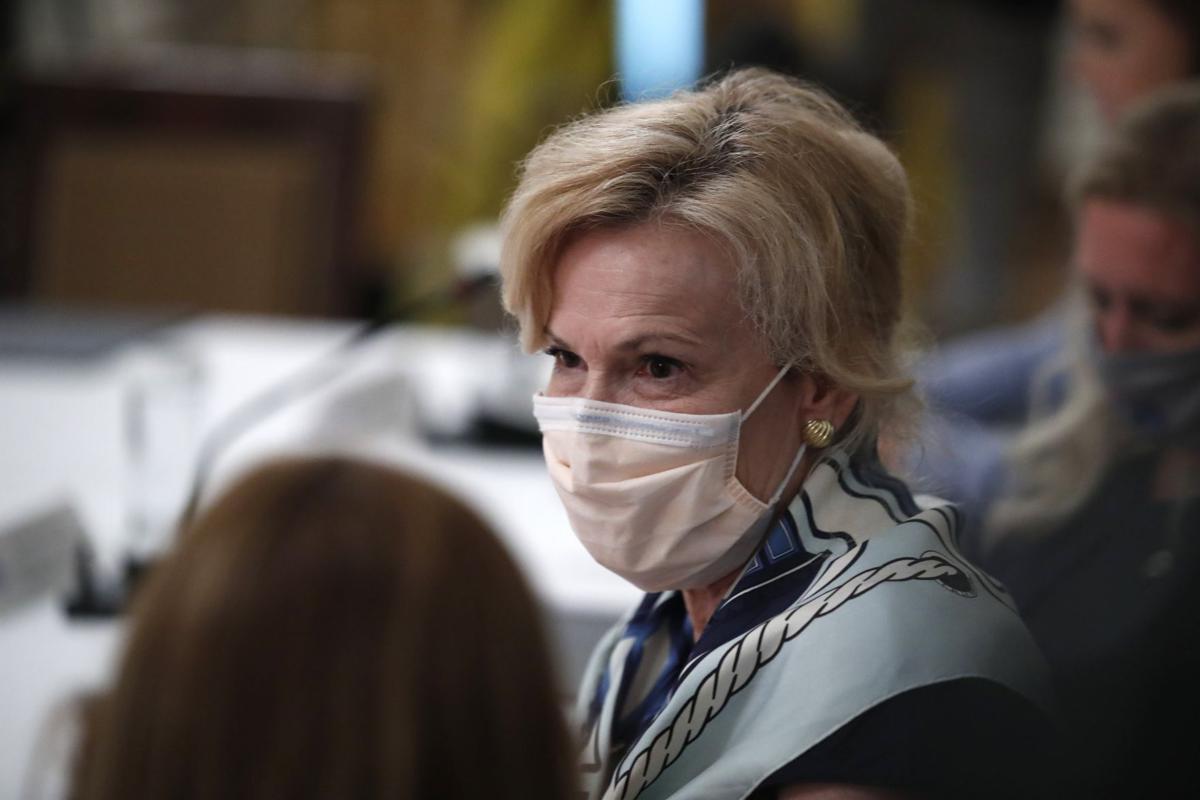 JEFFERSON CITY — Missouri's governor and top health official did not commit to any new COVID-fighting actions, they said Tuesday, following a meeting with Dr. Deborah Birx, the White House's coronavirus response coordinator.
Birx met with Gov. Mike Parson and Dr. Randall Williams, director of the Department of Health and Senior Services, after she toured the state to assess Missouri's response to the virus. The governor's office said Missouri was one of 20 states Birx has visited.
The federal government in a July 26 report prepared for the White House Coronavirus Task Force said Missouri was in the "red zone" for new cases, with more than one new case per 1,000 individuals.
The state Department of Health and Senior Services on Tuesday reported 794 new cases of COVID-19 and 26 new deaths.
Birx on Tuesday urged Missourians to either wear a mask when out in public, or to stay at least 6 feet apart from others. Parson and his staff — who have routinely not worn face coverings to his news conferences — were wearing masks on Tuesday.
While Parson wore a mask as he approached the podium, he took it off when he gave his remarks. Birx, following Parson's remarks, kept her mask on while she spoke.
As she urged Missourians to wear masks, Parson stood behind Birx, without a mask.
"We need to ask ourselves every single time, outdoors or indoors — although outdoors is safer, we see spread occurring at outdoor parties, too — we need to say to ourselves, 'Am I 6 feet apart at all times, or is my mask on?'" Birx said. "And if you can't answer that, then you shouldn't be there."
She stopped short of saying Missouri should issue a statewide mask mandate.
"Every public health official anywhere in the country will tell you it is easier to have a statewide mask mandate," Birx said. But, she said, "if you can get 100% of the retailers to require masks … it sends the message to the community that masks are important."
Birx touted Texas' system for mandating masks, which requires face coverings in public, when social distancing isn't feasible, for individuals living in counties with more than 20 cases, according to the Texas Tribune.
She said she discussed that option with Parson on Tuesday.
"In states like Mississippi, or states like Alabama, where 95-plus-percent of counties had active community spread, that's why they did a mask mandate," Birx said. "Missouri has less than half their counties in that situation."
Asked if he would use the Texas model for county mask mandates, Parson wouldn't say whether Missouri would follow suit. He said local leaders have taken the lead with mandating face coverings.
"We know in the state of Missouri where our high areas are that already have a mandate," he said. "I think a lot things that, you know, that Dr. Birx talked about are good things to see what other governors are doing."
When Williams was asked if he was going to make any strategic changes after meeting with Birx, he said, "I've got to sit back and reflect on it."
He said he liked the idea of passing out COVID-19 literature to families whose children are returning to school, similar to what Arkansas has done.
The federal report that classified Missouri as a "red zone" state recommended a mask mandate for counties with a seven-day positivity rate of more than 5%.
The statewide seven-day positivity rate as of Tuesday was 11.2%, according to the state's coronavirus data dashboard.
The weekly average rate in St. Louis County was 7.8%, according to the county's dashboard. In the city of St. Louis, as of Aug. 3, the rate was 9.4%, according to the city's dashboard.
Both St. Louis city and county have mask mandates in effect.
Parson, a Republican, has declined to mandate face coverings in public spaces, drawing criticism from his Democratic opponent in November, State Auditor Nicole Galloway, who has blasted Parson's approach to the virus.
A poll commissioned by Missouri Scout, a political intelligence firm, found 65% of likely voters surveyed supported this statement: "The spread of COVID-19 is a public health threat, and face masks should be required in public."
Remington Research, a GOP-leaning firm, conducted the poll between Aug. 12-13 and surveyed 1,112 likely voters.