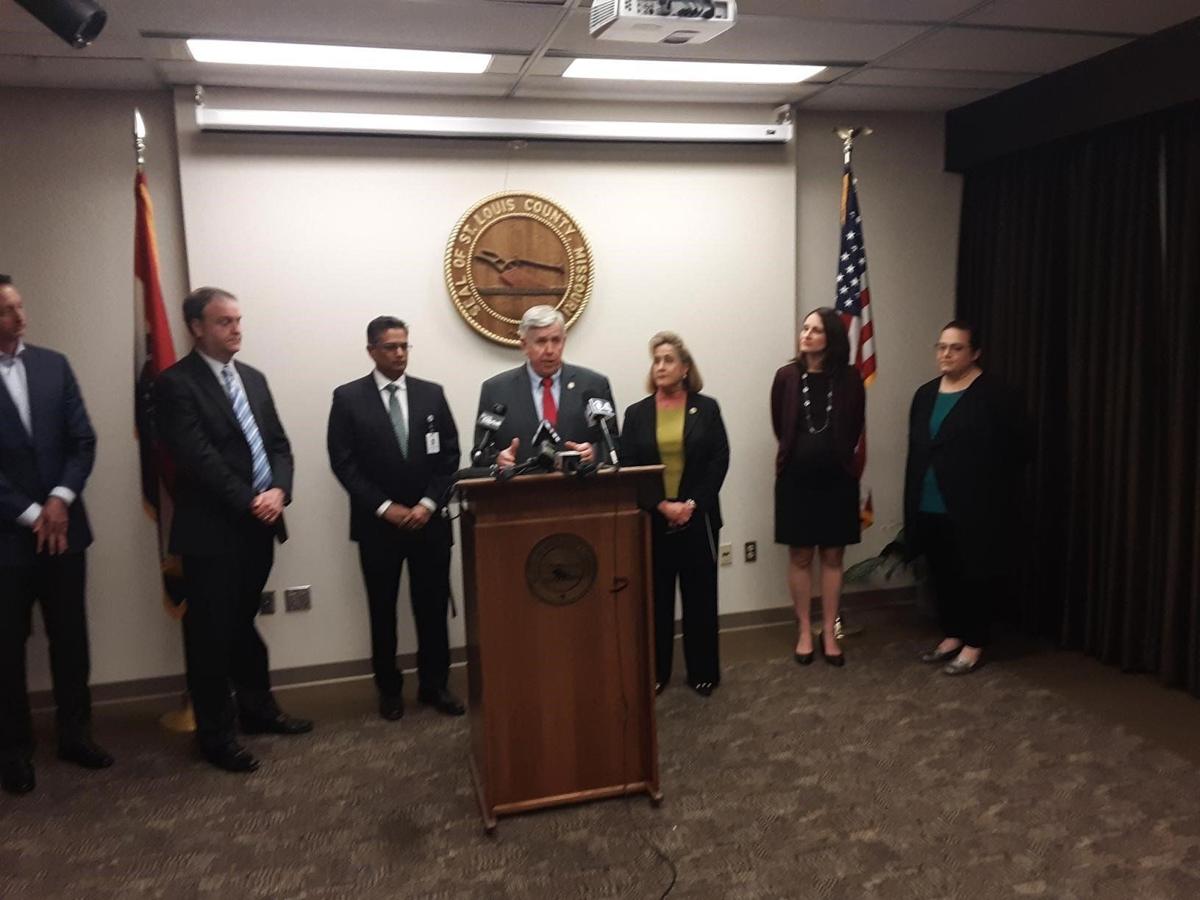 CLAYTON — A young woman who studied abroad in Italy before returning home to St. Louis County earlier this week is Missouri's first positive case of the COVID-19 coronavirus, Gov. Mike Parson said Saturday night.
The 20-year-old woman had a fever and respiratory problems that prompted her to go to Mercy Hospital St. Louis in Creve Coeur. She was evaluated before returning home and quarantining herself along with her parents, who are not showing symptoms, health officials said at a news conference attended by Parson and County Executive Sam Page at county offices in Clayton.
Page said health officials are working to identify the people the woman came into contact with since her return from Italy. Officials declined to identify the woman or say where in the county she lives. She attends an out-of-state school, officials said.
"This is a serious challenge and our public health officials are up to the task," Page said.
Parson said the woman's test result is "presumptive positive," and the result still needs to be confirmed by the federal Centers for Disease Control and Prevention. Page said it is "highly likely" the CDC will confirm it.
He said the woman and her parents assured health officials that they have not left their home since the woman was evaluated at Mercy.
Officials declined to say when the woman returned to the United States, but said she began developing symptoms Wednesday and went to Mercy on Friday for testing. She was sent home because she wasn't sick enough to be admitted to the hospital, officials said.
As of Saturday, there were 26 people across Missouri who have been tested for the coronavirus, including the St. Louis County woman. Health officials are awaiting results on three other tests.
"I want to assure you that we will continue to work with federal, state and local health officials, and emergency personnel, to keep Missouri safe and healthy," Parson said.
U.S. Sen. Roy Blunt said in a statement that under emergency federal legislation approved this week, Missouri will receive at least $9.9 million to support response efforts, including additional test kits, protective equipment and other supplies.
Earlier Saturday, Kansas confirmed its first case of coronavirus in a Kansas City-area woman under 50 who traveled to the northeast.
Gov. Laura Kelly and health officials said the woman was isolating herself at home after seeing her doctor over the common symptoms of the coronavirus of a cough, slight fever and shortness of breath. She lives in Johnson County, the state's most populous county.
"The patient's doing very well," said Lee Norman, secretary of the Kansas Department of Health and Environment.
The virus first emerged late last year in mainland China, but this year has increasingly been spreading around the world. More than 100,000 illnesses have been reported globally, in more than 90 countries and territories. The count includes more than 3,500 deaths.
For weeks, cases in the U.S. remained very low, but the count has been accelerating in the last several days.
President Donald Trump visited the CDC in Atlanta on Friday, where he defended his administration's handling of the outbreak and tried to reassure Americans that the government had the virus under control. But Trump also detoured from that message, calling Washington state's governor a "snake" and saying he'd prefer that people exposed to the virus on a cruise ship be left aboard so they wouldn't be added to the nation's tally.
The Associated Press contributed to this report.