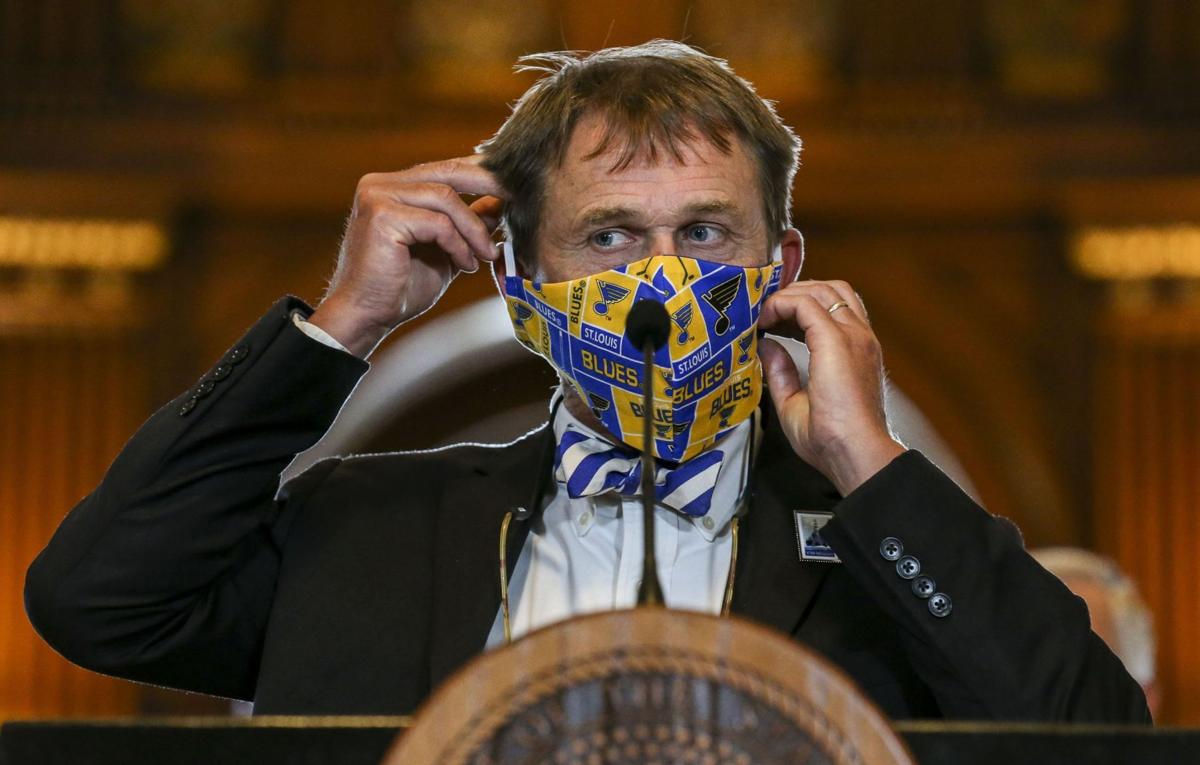 ST. LOUIS — Missouri health officials reported 582 new cases of the coronavirus Sunday, the lowest daily number recorded since a two-week surge pushed the state to break its daily record of positive tests seven times since July 20.
The state reported no new deaths Sunday and a 51,840 cumulative case total since the start of the pandemic. The daily tally of positive cases was similar to levels last recorded around the beginning of July — a welcome reprieve after Missouri's daily virus count peaked on Thursday with 2,084 cases. Friday's 1,489 cases marked the 11th consecutive day in which Missouri logged more than 1,000 positive tests.
The surge in cases prompted a White House task force last week to add Missouri to a list of 21 states considered in the "red zone" for new COVID-19 cases. Missouri Gov. Mike Parson said on Twitter Saturday that he was at his farm when Vice President Mike Pence called him to offer resources to help the state combat the virus.
The seven-day average of positive tests in Missouri fell again Sunday to 10.2%, down from a peak of 15.5% Thursday.
The rising numbers in the St. Louis region come as a dramatic statewide increase in cases over the last several days appears to be leveling off. 
St. Louis County, meanwhile, reported 109 new cases, for a total of 13,271 since the crisis began, and no new deaths. Its average testing positivity rate stood at 9.1% for the last week.
St. Louis County Executive Sam Page announced Sunday that the county would partner with the St. Louis County Library to provide mobile WiFi hotspots to families that need internet access to participate in remote learning when schools resume in a few weeks. The plan offers more detail on how the county will use the $4 million in federal CARES Act money that a week ago Page pledged to use for remote learning.
About 20 school districts in the St. Louis region have already announced plans for all-virtual instruction.
As cases rose here and across the state, many area school districts have pivoted from plans calling for at least some students to return to the classroom to an all-virtual environment for the return to school, a move Page called "prudent."
The county executive said a recent survey found at least 10,000 families in St. Louis County — in pockets of poverty around north St. Louis County, Lemay and southwest St. Louis County — lack access to the internet. The county will make at least 12,500 mobile hotspot devices available through the library system. School districts can survey the needs of their families and pass the information on to the library, which will send the equipment home so students can attend class virtually.
The county will also use the funds to provide another 2,500 tablet computers for families that need them and offer access to an online professional tutoring service, tutor.com, to every student in St. Louis County.
St. Louis city reported no new deaths and 42 new cases Sunday, for a total of 4,621 cases since the start of the pandemic.
St. Charles, Illinois cases
St. Charles County reported another 89 new cases Sunday, for a total of 3,679 over the last five months. Deaths remained unchanged at 97 in the region's second-most populous county. In Franklin County, another three people tested positive, for a total of 509 total cases.
The three Metro East counties nearest St. Louis added 95 total cases Sunday, for a cumulative case total of 6,347. One new death, in Madison County, was reported, bringing the Illinois suburbs to a cumulative death toll of 238. Madison County tallied 41 new cases for a total of 2,161.
More than a dozen districts in the St. Louis region have announced an all-virtual start as the number of coronavirus cases in Missouri climbs.
St. Clair County added 45 cases for a total of 3,907 since the outbreak. The county reported a 6.8% testing positivity rate Sunday, which St. Clair County Health Department emergency response coordinator Samantha Bierman called a "great number." Monroe County added nine new cases for a total of 279.
Hospitals in the region reported a drop in new admissions, according to the St. Louis Metropolitan Pandemic Task Force. Admissions dropped from 56 yesterday to 32 Sunday, pulling down slightly the seven-day moving average of hospital admissions to 40 from 41.
But five more people were moved to intensive care units, for a total of 72. The seven-day moving average of hospitalizations stayed flat, at 246.
These maps and charts show the spread of COVID-19 in Missouri and Illinois.
Concerned about COVID-19?
Sign up now to get the most recent coronavirus headlines and other important local and national news sent to your email inbox daily.