ST. LOUIS — Kellie Meehan and her team hear the desperation in the doctors' and nurses' voices. Their patients need life-saving care that their small hospitals are not equipped or trained to provide.
Meehan is the director of nursing logistics at Mercy's throughput center for Missouri's eastern region. The center is like a traffic control tower for patient transfers. The staff takes calls from hospitals seeking to transfer a patient to a Mercy facility, and they direct the patient to an appropriate unit.
Typically, the requests are easily accommodated. Surges in COVID-19 patients during the pandemic have, at times, made the transfers difficult.
But this surge is different.
Meehan said she is having to do something she never thought she would ever experience in her career: turn down dire cases that could easily be treated.
She refers them to other hospital systems, but she knows those hospitals are facing the same capacity crisis. While she and her team don't know what happens after they hang up the phone, she knows people are likely dying every day.
"What is happening now, unfortunately, is these patients are not getting the care they need, and they are not surviving in some cases," Meehan said.
The conversations are heartbreaking, she said, unfathomable for her and for those calling.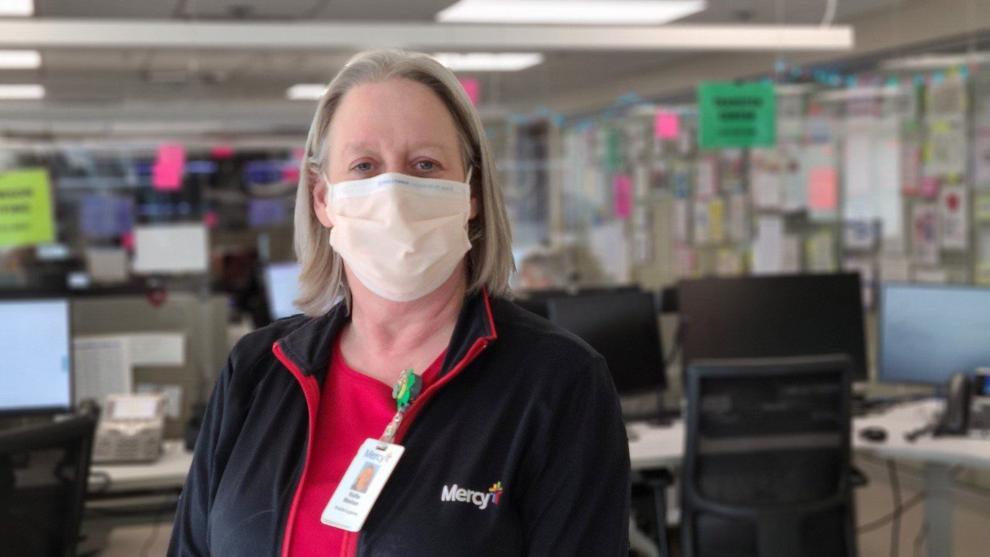 "You get to a place where you feel like you are the one that is determining the outcomes of a patient, and it's one of those situations where we know under normal operations, these patients would be fine, there would be no problems," she said.
One reason why this surge is different is the hyper-infectious omicron variant. It caused a sharp spike in COVID-19 patients that came fast and furious, tripling hospitalizations in just a few weeks to the highest, by far, in the pandemic.
The St. Louis Metropolitan Pandemic Task Force, which includes the major hospitals in the St. Louis area, reported a total of 1,378 COVID-19 patients on Friday — more than triple the number six weeks ago — and much higher than the 962 seen last winter.
Hospitalizations in Missouri hit 3,310 patients on Wednesday, the latest data available, almost 500 higher than last year's peak.
Across the country, hospitalizations of people with the virus have increased 80% in the last two weeks, also surpassing the previous record. Deaths have increased by 30% to more than 1,600 being announced nearly every day.
At the same time, many health care workers have become infected and are having to isolate or quarantine because of exposure.
"What we are definitely still experiencing is this rise in patients in the population of the hospital, and the decline of co-workers from all capacities throughout the hospital, not just those at the bedside, but every ancillary area and everything that make a facility run," Meehan said.
Skilled nursing, rehabilitation and hospice facilities are also dealing with outbreaks, leaving hospitals with nowhere to discharge some patients. Ambulance drivers are also out of commission.
Meehan said hospitals are trying to adapt the best they can by canceling elective surgeries, converting units into intensive care units, grouping together patients waiting to be discharged and shuffling staff in ways that still keep patients safe. Staff members are working harder than ever. But it's still not enough.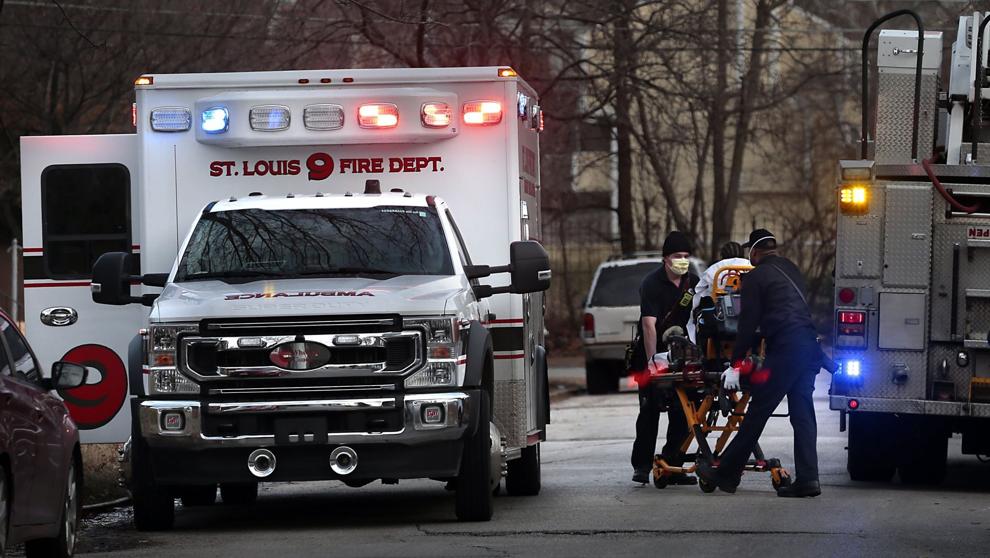 Leaders at small hospitals across Missouri and in the Metro East share stories of boarding patients in their emergency rooms for days, losing a patient who likely would've survived elsewhere and performing a surgery that staff doesn't typically do.
"No one wants to stand up and say, 'Hey, this tragic thing happened at my facility.' But we know things are happening," Doolittle said. "Staff and hospitals are dealing with time-critical circumstances where lives are saved or not, and it's easy to imagine that when you hurt the ability of the system to provide life-saving care, there are going to be very real consequences."
It is uncharted territory for those on both ends of the system, on both ends of their phone calls, Meehan said.
"My heart goes out to those providers because they took an oath to do no harm, and they are doing everything humanly possible to take care of these patients, but there's just nowhere to go," Meehan said.
"It's very emotional," she said, her voice shaking. "From my perspective, I always think what if that were my mom or my grandma or my loved one? And that is somebody's loved one."
Boarding ER patients
During the first week of January at HSHS St. Joseph's Hospital in Breese, Illinois — a 45-minute drive from St. Louis — the most staff members ever were out because of COVID-19 and not one bed was available in the 48-bed facility, nor anywhere in HSHS's 15-hospital system.
The Breese hospital has just six emergency room beds and two special care beds, a step down from intensive care.
"We are boarding patients in our ER for days at a time because we were not able to transfer them to St. Louis or our own larger hospitals in our system" in Springfield, Illinois, said CEO Chris Klay.
Patients were moved into the hallway to free up space for others coming in. Staff worked to move other patients around within the system or put them on a helicopter to facilities far from their families. Patients with cardiac or neurological emergencies are prioritized to get the immediate care they need, but Klay said it's not easy.
Care of critically ill patients was not compromised, he said. But, he added, "It's not without a lot of pushing and pulling to get them into the right environment."
HSHS hospitals had more wiggle room this past week, but Klay said the workforce is at its most fragile point in the pandemic. Many staff members continue to test positive for COVID-19.
"Tomorrow, what will our team look like? Will we have the right team in place to take care of the patients in front of us? That is a question I don't have an answer for," Klay said. "At some point, and I hope this day doesn't come, will we want to get a patient to a higher-level of care and it's not there?"
Citizens Memorial Hospital in Bolivar, Missouri, has had to board six to eight patients over the past week in its 12-bed emergency room, CEO Michael Calhoun said. The hospital, which is close to Springfield and just two to three hours from Kansas City, St. Louis or Columbia, never has to board patients.
"The facilities that are in urban centers are so full, so we call 70 to 100 different hospitals looking for a transfer, and we are calling every day," Calhoun said.
The hospital has expanded to 12 intensive care beds, and has about 32 other medical beds. The beds are full, with about 22 occupied by COVID-19 patients, he said. The hospital is having to turn down requests from even smaller hospitals seeking care for their patients.
Patients whom Citizens Memorial needs to transfer to higher-level care are typically not COVID-19 patients, Calhoun said. "They need a neurologist that can do a procedure we can't do, or a dialysis service or a gastroenterology service we can't provide. Those are the kinds of patients who end up waiting in our ER for beds."
Eventually, they find a spot, he said, but it's two to three days later.
"We're good at stabilizing care while they wait," he said, "but we do worry that delay could cause a problem."
Calhoun is also worried about what's to come, as the omicron surge in outstate Missouri is lagging behind urban areas. The hospital and its affiliated clinics do most of the COVID-19 testing in the area, and it's seeing 100 new cases a day as opposed to 30 during previous waves.
The hospital was performing more than 100 monoclonal antibody infusions a week, a therapy that helps prevent high-risk individuals who get COVID-19 from ending up in the hospital, Calhoun added. Those medications, however, don't work well against the omicron variant. A new version has been developed, but it is still in short supply.
"I'm nervous," he said, "what these next couple weeks are going to look like."
'Whatever is needed'
The 24-bed Hermann Area District Hospital, about an 80-minute drive from St. Louis, does not have an intensive care unit but has trained staff able to care for patients on ventilators if necessary, said Dr. Michael Rothermich, the hospital's chief of staff.
The hospital has struggled to transfer patients during previous surges in the pandemic, and some who died might have survived at a large facility, Rothermich said. He has seen one such case recently with a patient needing additional respiratory support.
"With this surge we have already had one patient that we thought might have a better chance of survival if we could get them an ICU bed, but before a bed opened up at another hospital, the patient rapidly declined and has since died," he said.
Chances of survival are better in a large hospital's intensive care unit where experienced nurses are monitoring just a couple patients and able to identify early signs of complications, he said. A team of specialists can respond immediately.
"As long as nothing goes wrong, a patient can recover just as well in our hospital or in a medical/surgical ward at any hospital," Rothermich said. "However, when a patient is so sick, they have just been put on a ventilator, there are innumerable things that can go wrong … if those problems are not identified quickly and an appropriate rapid intervention take place, the outcome is seldom good."
Dr. Harbaksh Sangha is the chief medical officer at Lake Regional Health Hospital in Osage Beach, Missouri. Even with a 35-bed emergency department and 18-bed intensive care unit, the hospital is finding itself boarding as many as 10 patients in its emergency department with nowhere to send them.
What has helped, Sangha said, is having unusually high level of expertise for a hospital its size. Staff this past week was unable to transfer a patient with a tumor growing into the airway, so the surgery was done there.
"Ideally, it should've been done in a center with higher expertise," Sangha said. "But we are ready for any eventuality. We are doing whatever is needed."
Rationing care?
At Phelps Health Hospital in Rolla, nearly two hours from St. Louis, the 242-bed facility is full, staff says. About 18% are COVID-19 patients.
Unable to transfer patients for days or even a week, the hospital is taking care of more critically ill patients than ever, said Keri Brookshire-Heavin, chief nursing officer.
"The problem is we are not always capable of taking care of everything like an urban center would be," Brookshire-Heavin said.
The patients include those who've had strokes or who have cancer. Staff can stabilize and monitor them, but not do much more, said Dr. Nathan Ratchford, chief medical officer.
"We don't typically have the specialists to take care of these patients," Ratchford said. "They either stay in the emergency room or possibly go to a floor while waiting for a bed in a tertiary facility. Best we can do is stabilize them and support them and give them fluids."
The situation wears on staff and frustrates patients and families, they said. It's hard to know how the delays will affect patient outcomes.
"We can keep patients in a holding pattern until the care they need opens up, but long-term, we don't know the impact that is going to have on their health," Ratchford said.
Dr. Ann-Elizabeth Mohart, chief medical officer at Mercy Washington, said they have begun preparing staff for the possibility the region will move into providing crisis standards of care — where care is rationed to those likely to benefit most — by talking with ethicists, chaplains and other experts in end-of-life care.
"If we get to the point, we need to be ready mentally, spiritually and psychologically," Mohart said, to support families through the decisions.
The hospital staff is already facing having those conversations when they are unable to find a four-hour treatment where a machine purifies blood in patients whose kidneys have failed.
"Very commonly we get patients who have acute kidney injury and they need hemodialysis," Mohart said. "We call the entire region, the entire state, and there is simply not a single hemodialysis bed available."
"We have an excellent palliative care and chaplain staff who are very trained in, if we are not able to offer treatments to patients, what kind of conversations do we begin to have to have with each other and with patients and families — very difficult conversations," Mohart said.
The hospital leaders urged every person to get vaccinated against COVID-19, which greatly reduces the chances of ending up critically ill or dying, and to wear a mask in public to help prevent spread of the virus.
Every person's life depends on the community working together to lessen the load on hospitals, they say.
"If you get into a car accident today, there may not be a trauma bed or even a surgical staff or nurse available," Mohart said. "If you have a heart attack, a stroke, if you fall and break your hip, anyone who unexpectedly may suddenly need the hospital system, will absolutely be affected by this."
Originally posted at 4:22 p.m. Friday, Jan. 14.