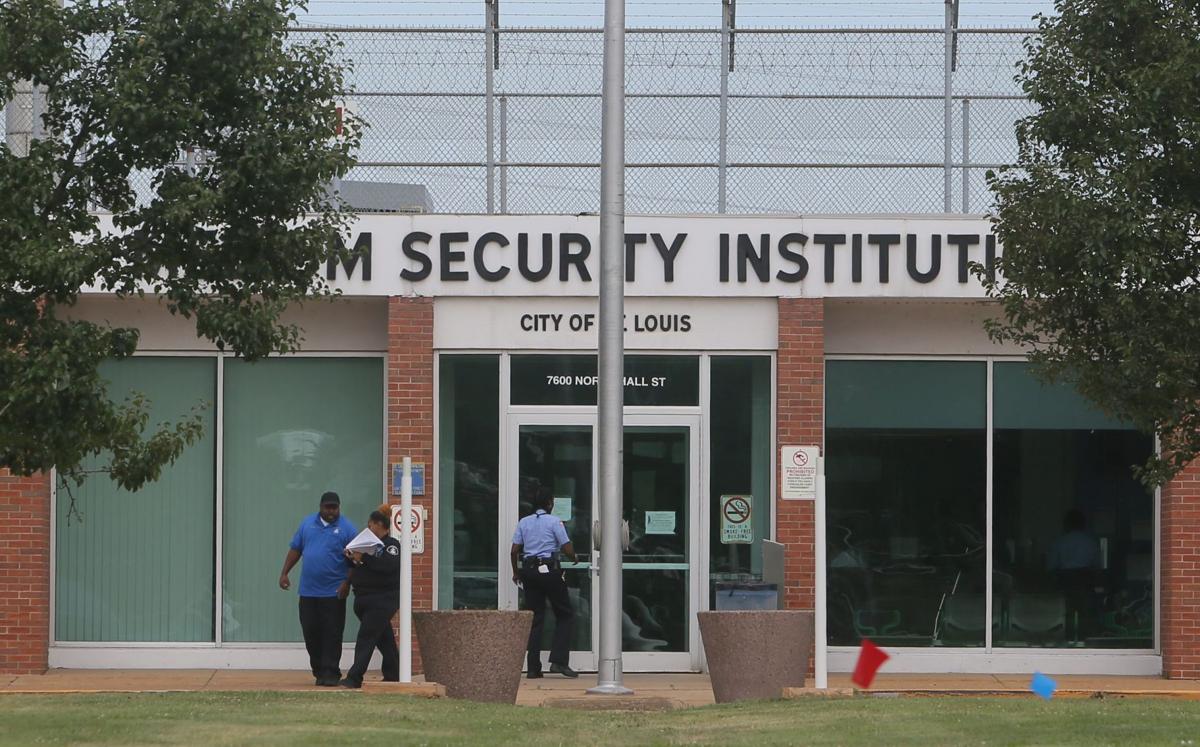 CLAYTON — Coalitions of leaders from civil rights groups, academia, houses of worship, law enforcement and medicine urged the Missouri Supreme Court in letters Thursday to free inmates from jails and prisons during the coronavirus pandemic.
A letter from Missouri Public Defender Mary Fox asked for the release of all people serving sentences in a city or county jail on probation violations, those at risk of illness or death because of health conditions, those convicted of misdemeanors or municipal ordinance violations, and those confined before trial on nonviolent misdemeanors, municipal ordinance violations or class C felony charges or lower. (Class C felonies include first-degree involuntary manslaughter and third-degree child molestation.)
Fox's letter did not call for releasing inmates in state prisons, which are overseen by the state Department of Corrections, not the courts. In a brief interview, Fox said she had not received a response from her letter. A Supreme Court representative could not be reached for comment Thursday.
But Tim Lohmar, president of the Missouri Association of Prosecuting Attorneys, said in a statement that such an order would be "unwarranted and would undermine the cause of individual justice, disallowing judges from considering the relevant facts of each individual situation." The prosecutors group urged the court to let local courts and sheriffs decide on whom to release.
Fox said she did not know how many jail inmates in the state would be released by such an order. St. Louis and St. Louis County have already said they planned to release more than 140 offenders out of concern to limit the spread of the new coronavirus. The city's public defender said he was filing motions to release or lower bail for about 190 other cases. The St. Charles County jail has also seen its population drop by 20% in recent days.
"With the virus rapidly spreading across Missouri and the rest of the country, and people cycling in and out of city and county jails daily, it is a matter of when — not if — the virus will infiltrate Missouri's jails," Fox wrote. "Action taken now can avoid death, suffering, and the creation of hundreds more contagious individuals desperately looking for beds in an overburdened health care system."
The letter was also signed by officials from public-interest law groups including ArchCity Defenders and the Roderick and Solange MacArthur Justice Center, the St. Louis city and county chapters of the NAACP, the ACLU, several churches and faith-based groups, St. Louis Sheriff Vernon Betts, and retired Supreme Court Chief Justice Mike Wolff.
In a separate memo, St. Louis University medical professor Dr. Fred Rottnek told the high court that COVID-19 "has the potential to devastate the lives of both incarcerated individuals and jail personnel, and result in a medical emergency that could overwhelm Missouri's medical infrastructure" because jails and prisons are under-equipped and ill-prepared to prevent and manage an outbreak.
Rottnek's letter said jails and prisons should evaluate for release all medically vulnerable people, anyone 55 or older, anyone who is held because they are unable to afford a cash bond, and a significant number of inmates to guarantee the jail can accommodate social-distancing guidelines from the U.S. Centers for Disease Control and Prevention.
The letter included signatures from 16 area doctors and public health officials, including Dr. Laurie Punch, a Washington University surgeon and St. Louis County police commissioner, who has been calling attention to a lack of "simplest access to personal safety" in jails. Also signing was Jason Purnell, program director for Health Equity Works at Washington University, a research project that has focused on unequal health outcomes in St. Louis.
Some have expressed concern about the release of inmates. County Councilman Tim Fitch, a retired county police chief, tweeted Wednesday that "if someone is being held in the co. jail, it's because they committed a violent/serious felony. If released, the public deserves to know what their charges are."
Under CJ reform, if someone is being held in the co. jail, it's because they committed a violent/serious felony. If released, the public deserves to know what their charges are. St. Louis city & county to release more than 140 inmates amid virus concerns https://t.co/CP3X9ngqVY

— Tim Fitch (@ChiefTimFitch) March 26, 2020
The county's justice services director, Raul Banasco, responded Thursday to Fitch that of the 14 people released on Wednesday, 11 had been charged with drug possession and that three of those had been charged with other crimes, including receiving stolen property, unlawful use of a weapon and domestic assault. Of the remaining three cases, the charges included burglary, domestic assault and auto theft.
Fitch tweeted, "If they're in jail for burglary/vehicle theft — guaranteed it's many counts of each or they wouldn't be there. #NotGood."
The Supreme Court has suspended all in-person proceedings in state courts through April 17 and has allowed for oaths to be taken using video or phone conferencing.
---
Concerned about COVID-19?
Sign up now to get the most recent coronavirus headlines and other important local and national news sent to your email inbox daily.