ST. LOUIS — Two more St. Louis-area health systems rolled out large-scale COVID-19 vaccinations on Thursday, giving hospital workers a source of optimism near the close of an exhausting year.
BJC HealthCare and SSM Health both planned to administer hundreds of doses to their health care workers in the region.
"I think most people are going to feel a sense of relief," said Barnes-Jewish emergency doctor Sean Fitzmaurice after receiving his first injection of the Pfizer-BioNTech vaccine Thursday morning at Washington University. "A sense that the future is once again in front of them."
The region's first health care workers were vaccinated on Monday at Mercy Hospital South. BJC HealthCare offered a handful of vaccinations on Wednesday, but scaled up on Thursday across 10 hospitals. SSM Health launched its first vaccinations Thursday at St. Louis University Hospital, and expected to vaccinate 1,000 employees by the end of the day. St. Luke's Hospital expects its first doses to arrive next week.
Dr. Hilary Babcock, an infectious disease specialist at Washington University and BJC, is scheduled to be vaccinated Friday, and said it felt good to be planning for something positive.
"We have been planning to manage a lot of bad during this year. Lots of cases ... shortages of PPE, stress on our health care system," Babcock said.
Those issues haven't gone away, she said — the St. Louis Metropolitan Pandemic Task Force reported on Thursday 898 total virus patients at area hospitals, more than twice the number at the beginning of November, and more than triple the number at the beginning of October.
But, Babcock said, the vaccine has been a source of hope, and arrived far sooner than expected.
Each vaccinator could administer doses to 42 people per day, said Mike Lauer, BJC HealthCare's executive director of emergency preparedness. With 10 stations, Lauer expected that 420 people would be vaccinated at Washington University on Thursday. Across BJC's Missouri facilities it would be upward of 1,100, he said.
"This is the day we've all been looking forward to," Lauer said.
BJC notified 8,800 people earlier this week that they could schedule appointments to be vaccinated, and another 6,000 were notified on Wednesday, Lauer said.
There are around 33,000 health care workers at BJC and Washington University who interact with patients.
Rick Stevens, president of Christian Hospital, said he expects that more than half of the hospital's workers will receive their first vaccination by the end of December. There were about 90 doses administered Thursday at Christian Hospital in north St. Louis County.
"The employees here have been very dedicated, coming in day in and day out, coming into a hazard zone, knowing they could take the virus home," Stevens said.
North St. Louis County has been hit hard by the virus. Stevens said it is especially important for people there to get vaccinated once there are doses available to them. He said the hospital will soon start doing outreach to inform the public about the coronavirus vaccines.
Sandy Roy, the laboratory manager at Christian, filled out her forms outside the vaccination area on Thursday afternoon. She and her family were excited when they heard she would get vaccinated.
"This is progress for the whole world," she said.
At Barnes-Jewish, Fitzmaurice said he planned to encourage everyone to get vaccinated.
The day before, he recalled, he saw about five patients who were positive for the coronavirus.
"The numbers just keep going up," he said.
In the already hectic environment of an emergency department, the virus has added an extra layer of difficulty and trepidation, he said. There's always a lingering fear of bringing the virus home to his family, and the protective equipment he has to wear when seeing patients has made communication and human contact harder.
"I can't see their faces. They can't see my face," Fitzmaurice said. "You're basically unrecognizable."
Fitzmaurice said he wants to see his extended family, who live in different parts of the country, and he wants life to return to something that feels like normal.
"We've all been living," Fitzmaurice said, "but it hasn't been the kind of living that really gives life color."
BJC begins vaccinating frontline caregivers
BJC begins vaccinating frontline caregivers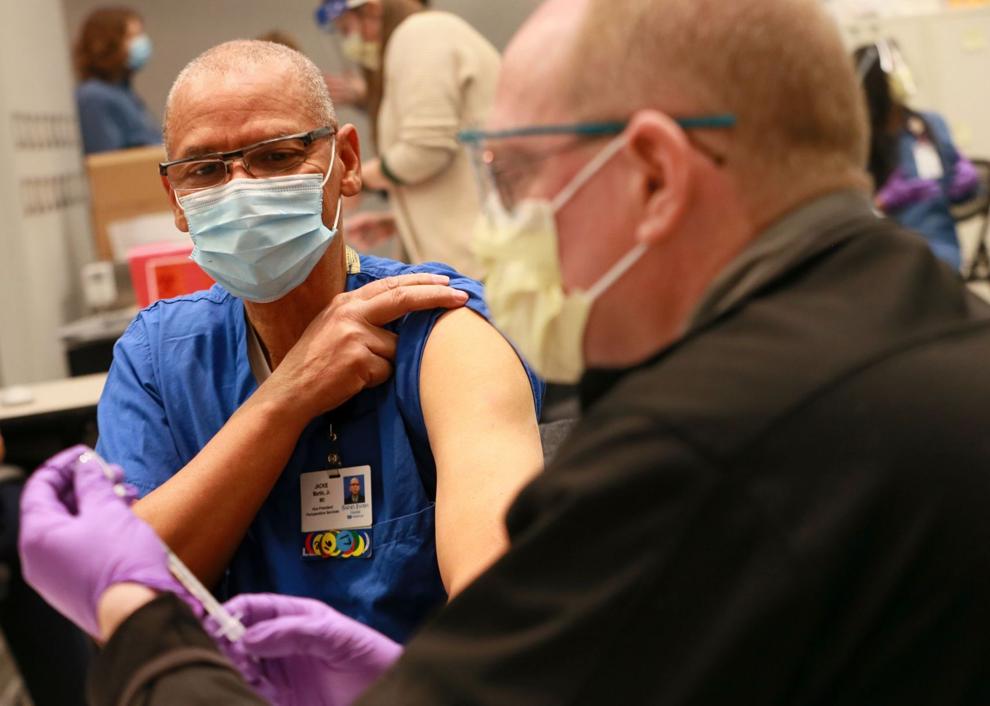 BJC begins vaccinating frontline caregivers
BJC begins vaccinating frontline caregivers
BJC begins vaccinating frontline caregivers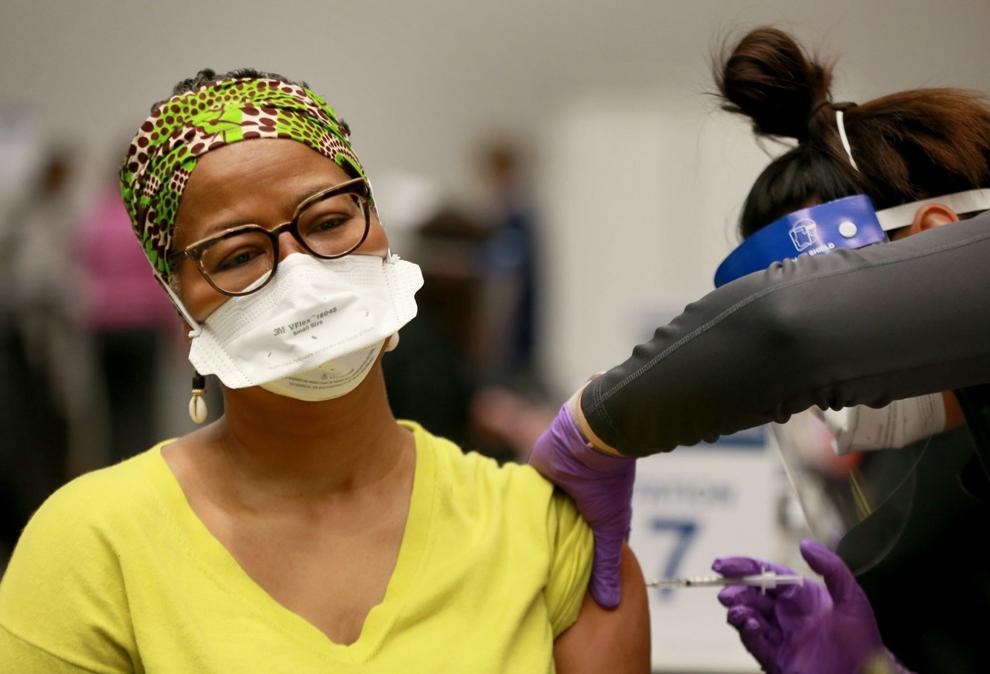 BJC begins vaccinating frontline caregivers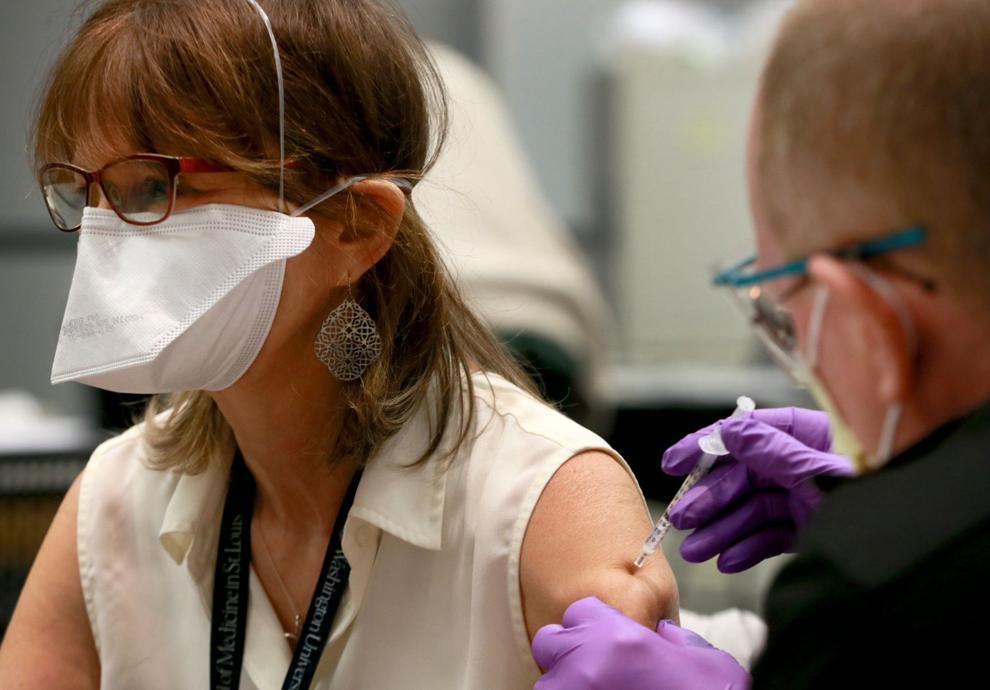 BJC begins vaccinating frontline caregivers