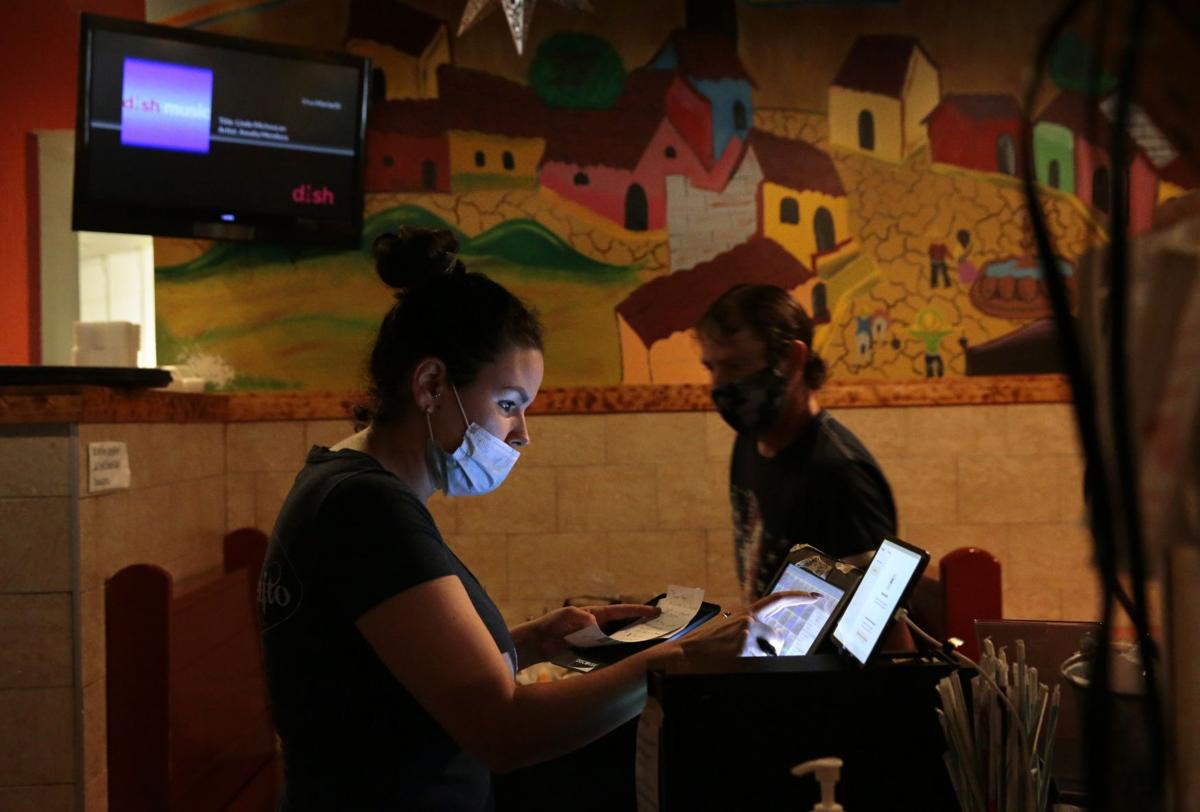 BELLEVILLE — Illinois rolled back some virus restrictions for the Metro East on Friday, reopening indoor dining and bar service, even as Missouri reported near-record numbers of COVID-19 cases and hospitalizations and a record number of deaths.
Illinois Gov. J.B. Pritzker said the rate of positive COVID-19 tests dropped far enough to allow for the reopenings, starting at 5 p.m. on Friday. Restaurants and bars will still have to space out tables and limit group sizes, the state said.
"We can't let our foot up off of the gas," Herb Simmons, executive director of the St. Clair County Emergency Management Agency, said during a briefing Friday morning. "Otherwise we will be back doing this same thing again."
Illinois' Region 4 — which includes Madison, St. Clair, Bond, Clinton, Monroe, Randolph and Washington counties — has been under tighter restrictions since early September, after hitting a peak positivity rate of 10.5% on Aug. 27. But the state reported on Friday that the region's average COVID-19 positivity rate had fallen below 6.5% for three days.
Missouri, meanwhile, reported 2,008 new cases of the virus — the second-largest number ever — and 136 previously unreported deaths. The death count was the highest recorded by the state in one day, but reflected months of data, the state said. Still, with the numbers added Friday, the data now shows that in September, Missouri saw the most COVID-19 fatalities out of any month in the pandemic.
And because death certificates often take two or three weeks to reach the Department of Health and Senior Services, more could still be added to the September total, said Nathan Koffarnus, program coordinator and epidemiologist at Missouri's Bureau of Communicable Disease Control and Prevention.
Koffarnus said the department learns about most COVID-19 fatalities through local public health agencies, which receive reports of deaths from doctors, hospitals and nursing homes. DHSS reports those immediately. But periodically — usually on a weekly basis — the department also reviews death certificates.
In doing so, sometimes the department identifies deaths that were mistakenly reported as virus-related and removes those from the totals. But more often, lately, it has been identifying previously unreported fatalities, Koffarnus said, as it did on Friday.
Of the deaths added Friday, one occurred in July, 10 occurred in August, and 125 in September.
The department only reports those that list COVID-19 as a cause of death or a contributing factor on the death certificate, and only reports deaths of individuals who had a test that was returned positive.
Koffarnus said that compared to the spring, a smaller portion of people who test positive are dying of the virus. But death numbers are still swelling.
"The reason why we're seeing our deaths come back up to earlier, spring levels is because case numbers are so much higher," Koffarnus said.
This week, the state has also seen the highest numbers of hospitalized COVID-19 patients ever reported. And the St. Louis metro area saw the highest daily admissions since late August, according to the St. Louis Metropolitan Pandemic Task Force. A significant increase, the task force said, was coming from rural Missouri counties.
"Admission rates at these levels just can't be sustained over time, particularly as we head into influenza season," said Dr. Alex Garza, who leads the task force.
Garza said the region will fare better if the flu vaccine is highly effective, if a large portion of the population is vaccinated, and if residents take precautions like social distancing and hand washing to prevent both COVID-19 and flu. On the other hand, if none of those things happen, health systems may reach a point where they have to take preventive measures again, like limiting visitors and stopping elective surgeries.
"Assuming that we have a worse case scenario, as well as a surge of COVID-19 cases, that could potentially overwhelm our health care systems," Garza said.
Daily updates on the latest news in the St. Louis business community.