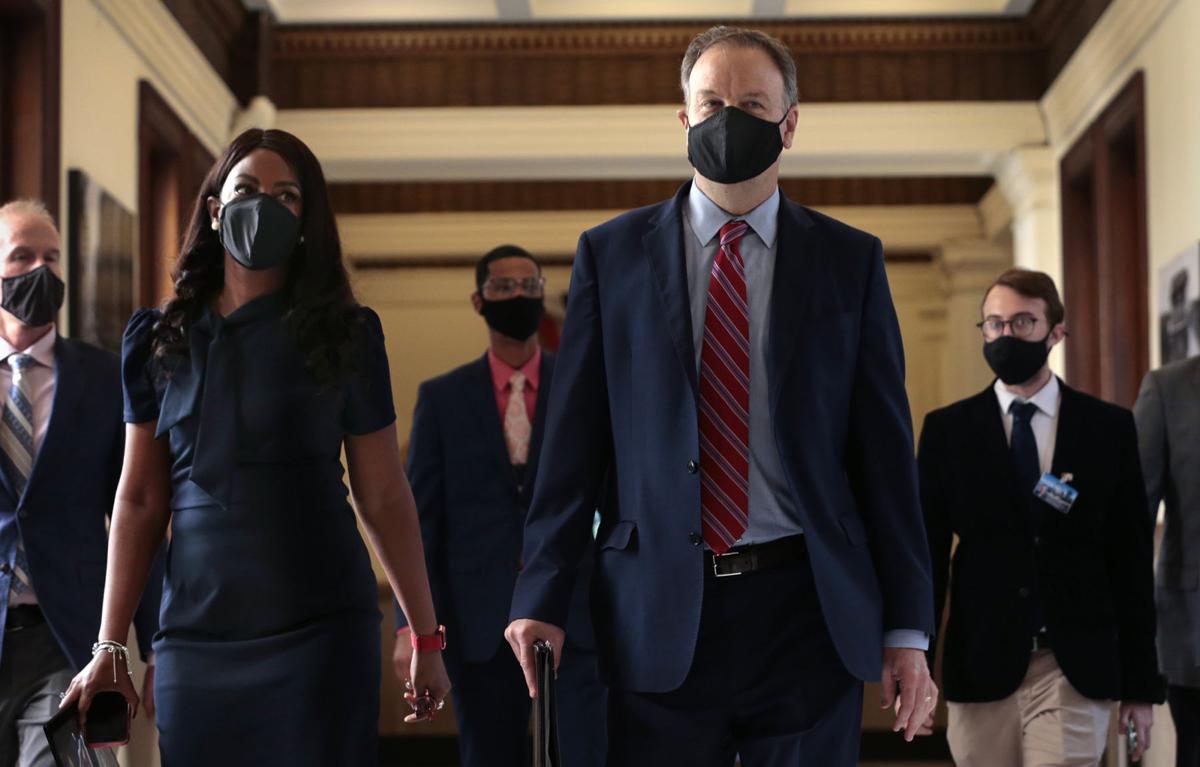 ST. LOUIS — City aldermen on Friday voted to extend St. Louis' indoor mask mandate another 30 days, a continuation that Attorney General Eric Schmitt argues is invalid because it came after the health order already expired.
Schmitt, in a motion filed Thursday in St. Louis Circuit Court, also said a previous 30-day extension approved Aug. 30 by aldermen was illegal for the same reason.
"The unlawful Mask Mandate restricts the personal liberty and freedom of action of St. Louis City's residents," Schmitt said in asking Circuit Judge Joan Moriarty to issue a permanent injunction against enforcement of the order.
In response, Nick Dunne, a spokesman for Mayor Tishaura O. Jones, said "while lives are on the line, the attorney general is wasting taxpayer dollars to further his own political ambitions." Schmitt, a Republican, is seeking the GOP U.S. Senate nomination next year; Jones is a Democrat.
Dunne added that the mayor "will continue to base public health decisions on the guidance of public health experts to protect residents from COVID-19."
Schmitt's motion was added to the lawsuit he filed in July to try to block the reimposition of mask orders announced by the mayor and St. Louis County Executive Sam Page amid a resurgence of coronavirus cases in the area.
In the new motion, Schmitt cited a state law limiting health orders restricting access to businesses and other public places to a maximum 30 days within a 180-day period if they don't receive approval by the local governing body.
The city order in question, issued by Dr. Fredrick Echols, the city's acting health director, took effect July 26 but the Board of Aldermen didn't vote until Aug. 30 to extend it. That was five days after the Aug. 25 expiration date under the state law.
Schmitt also said that even if the Aug. 30 vote and order were valid, the order would have expired Wednesday — two days before Friday's follow-up extension vote by the board.
Dunne, Jones' spokesman, did not comment on the legality of the board's approval votes.
Echols said in a letter to aldermen in August that he had drafted his July order so as not to restrict access to a public place — the situation that triggers the requirement of local board approval.
But because the law was "subject to interpretation" and may apply anyway, he asked aldermen to go ahead and approve extensions.
The latest board resolution endorsing the extension of a mask mandate was approved on a voice vote with no opposition. The resolution notes that as of Sunday, only about 53.6% of eligible city residents had been fully vaccinated against COVID.
A co-sponsor, Alderman Jack Coatar of the 7th Ward, said masking "is just one of the tools we have to combat this pandemic" and urged fellow aldermen to continue urging their constituents to get COVID shots.
The board also voted to list all 28 members as co-sponsors in addition to board president Lewis Reed, the measure's main backer.
That was an apparent turnabout for one member, Alderman John Collins-Muhammad, 21st Ward.
On July 27, after the County Council initially voted to reject Page's mask mandate, Collins-Muhammad tweeted that he believed the county made the right decision and that the Board of Aldermen needed to do the same thing. He asserted in the tweet that the mandates violate state law.
Collins-Muhammad declined to comment Friday. The council later reversed itself but a county circuit judge ruled that the July county mask mandate had already expired under the state law limiting health orders to 30 days.
A new county order issued Monday also faces a court challenge from Schmitt. Schmitt's July suit was filed in the county but the city portion was moved to a city court. The suit alleged that the mandates were arbitrary, capricious and unconstitutional.
Car tampering ban passes
Aldermen, meanwhile, voted 20-7 without new discussion to pass a bill making it illegal in itself to lift or tamper with door handles of one vehicle after another.
In a lengthy debate last week, supporters said the bill is needed to deal with organized crews of thieves that walk down streets, tugging at car door handles to see if they're unlocked so they can steal the vehicles or take what's inside.
First-time offenders would be sentenced to probation, community service and/or treatment programs. People convicted a second time within 90 days could be jailed up to 30 days, fined $500, or both.
Opponents objected to any incarceration for what they view as a low-level offense, with some expressing concern that the measure would result in racial profiling.
Subpoena issue


A resolution introduced Friday to authorize subpoena power for 12 aldermanic committees has spurred questions on Twitter from the mayor.
Jones, in a retweet Thursday, said "the last time a resolution was granted was ... you guessed it … against me. And it was one committee."
That referred to a resolution passed in June 2020 giving the Streets Committee subpoena authority to look into a contract executed by Jones when she was city treasurer with a company to manage parking meter collections and other work.
Jones, in another retweet, drew attention to a tweet by attorney Chuck Hatfield saying "legislative subpoena power is a dangerous thing. If it is to be, it should be very limited" with specific standards and a process for court review.
The resolution sponsor, Reed, said in an interview that it was "absolutely not" aimed at Jones and her administration and noted that aldermen also have oversight over offices independent of the mayor.
He said it simply made more sense to pass one resolution for any committee whose chairman wanted the authority. A few chose not to be included, he said. He said in future years, he'd propose adopting such a resolution at the start of each aldermanic session.