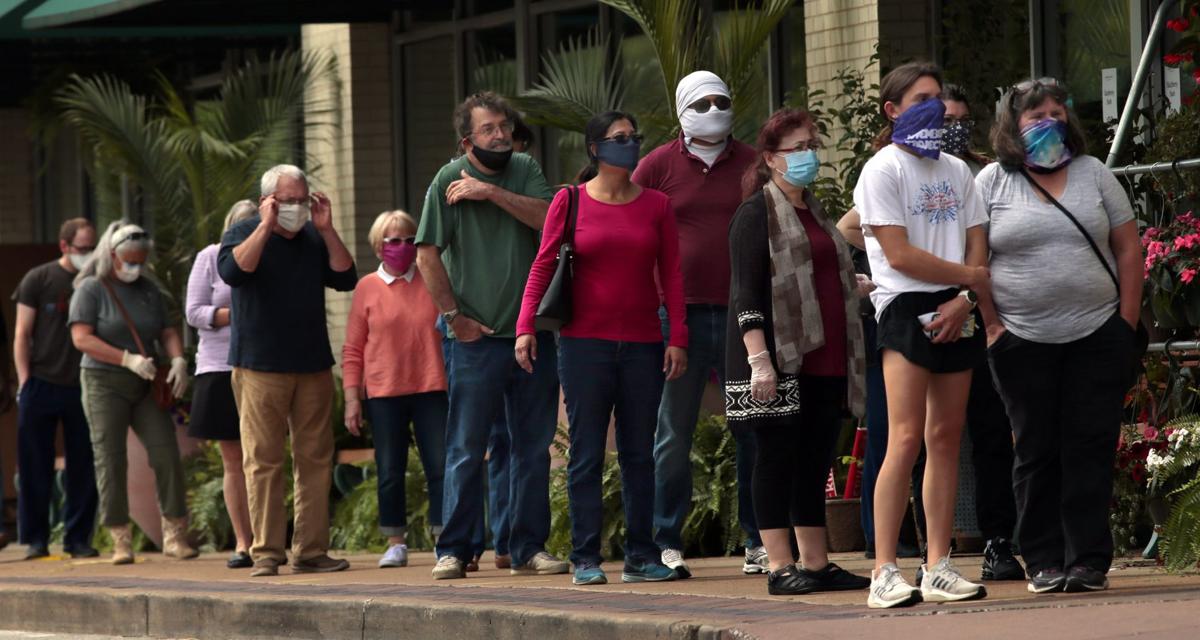 ST. LOUIS — The new coronavirus is spreading faster than ever in Missouri. A record number of people are hospitalized, fighting to recover. The month of September was the state's deadliest yet.
Now seven months into Missouri's pandemic response, the state is regularly reporting more than 1,500 new cases each day — six times the highest levels seen in the spring. People of color are still becoming infected, and dying, at disproportionate rates. And the virus has permeated rural areas, where the population is often older and sicker.
Missouri reported a record number of hospitalizations for the third day in a row Thursday, with 1,443 patients statewide suspected or confirmed to have COVID-19. The sick and dying from other regions are now coming to St. Louis area hospitals. Health systems are on the edge of a "perfect storm."
"We are at significant capacity," said Dr. Alex Garza, who leads the St. Louis Metropolitan Pandemic Task Force. "Are we about to be overwhelmed? No. But it's enough that we're concerned about it."
Throughout the spring — as state and local officials instituted shutdowns — the state's seven-day average of new cases never surpassed 260, according to data from the Department of Health and Senior Services. Since June, the numbers have crept steadily upward, and last Sunday, Missouri reported a seven-day average of 1,662 new cases, a record. 
Missouri deaths are rising, too, from 201 in June to 516 in September — the most of any month so far.
And racial disparities are stubbornly hanging on: Despite making up 12% of the state's population, African Americans account for 20% of the virus fatalities, though race data is unknown for 26% of the state's deaths.
Patients, some still recovering, warn the disease is not to be underestimated. Health care workers in cities and small towns alike fear this winter could bring more illness, more heartache.
'I couldn't use my legs'
COVID-19 struck Christian Hospital, in north St. Louis County, early.
Nurse Annie Denison remembers the calm before the storm. If the virus hits St. Louis, she told one patient, they should just stay home.
"I remember having that conversation thinking, 'Hopefully it won't come,'" Denison said. "'It'll be something we just watch on TV.'"
The hospital had few rooms dedicated to COVID-19 patients then, in mid-March. But within a week or two, an entire floor was set aside for the virus.
It was sobering, said Denison, driving to work when the rest of the world had shut down.
"I was going towards what everybody else was running away from," she said.
The next few months were the most difficult of her career.
One of Denison's patients, Thomas Biondo, was in the hospital for more than two months.
Biondo, 68, of St. Louis County, said he tested positive in April, after experiencing shortness of breath. Not long after, he was admitted to Christian Hospital.
Biondo lives in Bellefontaine Neighbors with his wife, Bonnie. He is retired from Emerson, where he worked for almost a decade. He likes to spend his time doing repairs around the house, and picking up his grandchildren from school. The couple have four children and six grandchildren.
In the hospital, Biondo was on a ventilator for nearly a month. He lost sight in his left eye, which he still hasn't recovered. Over time, he also lost strength in his legs; it required physical therapy for him to walk again.
"I couldn't get out of bed. I couldn't use my legs," Biondo said. "That was really scary."
Nurses like Denison stayed after their shifts to set up Zoom calls with his family. The family's encouragement, she said, helped him recover. Biondo said they are Facebook friends now.
"He is my miracle story," Denison said. "There were a lot of families that weren't so lucky."
In Missouri, more densely populated areas like St. Louis and St. Louis County were the first to see high numbers of COVID-19 cases.
St. Louis Mayor Lyda Krewson recalled the city's first virus-related restriction, in March, barring organized events of more than 1,000 people.
"That was just the first in a series of many difficult, hard decisions that had to be made," Krewson said in an interview on Thursday. "Most of us thought that by this time it would run its course. But that, of course, was not at all true."
"The people in St. Louis city and county have had a mask mandate, have been social distancing, have been continuing to follow those tough guidelines for seven months," Krewson said. "I wish that we could persuade everybody in our region, because their cases would certainly be lower if we had widespread adoption."
St. Louis County Executive Sam Page said he expects COVID-19 case numbers will continue to rise.
"COVID is going to get worse," Page said in an interview Friday. More restrictions, he said, are always a possibility.
He called for residents to follow the advice of health officials, to make "modest sacrifices."
'It's real'
Katherine Quinn, 54, of St. Louis' Vandeventer neighborhood, started feeling ill in early July. She had nausea, but didn't know what was wrong. She said she went to an urgent care, and was told she may have ulcers.
Quinn has two children, both now in their 30s, and works as a medical biller for Affinia Healthcare.
She kept working, but finally her nausea was too intense. She went to the emergency room, and was tested for COVID-19. She received a call a couple of days later, and learned that she had the virus.
Quinn, who has asthma and diabetes, was isolated at home for weeks. Her daughter would bring her food, but she had no appetite.
"I just was trying to put something in my stomach," Quinn said.
She felt dizzy, and short of breath. About eight days after she tested positive, she started to feel better, and she finally went back to work in mid-August.
"I tell everybody: it's real," Quinn said. "It destroys you."
Spike in Franklin County
Late March and April were extremely busy for Mercy Hospital Washington, about 50 miles west of St. Louis. But cases dwindled in May, and those weeks in the early summer allowed time to reset, and prepare for the months ahead.
Then cases spiked in Franklin County, like other outlying parts of the St. Louis area.
August brought more patients, and the hospital peaked again near the end of that month, said Dr. David Tannehill, clinical director of critical care medicine for Mercy Clinic. Hospital staff are tired.
"You're seeing the same person struggle for a long period of time. You get to know the patient, you get to know the family," Tannehill said. "It's just human nature to grow attached to these folks, and then when they don't make it it's that much more painful."
Colleagues check in on each other. Tannehill said many are more sensitive about making sure one person doesn't get assigned too much work.
"All of us in the ICU recognize how much stress everybody is feeling," Tannehill said. "It's been stressful for six months, and it's not going away. And there's a chance it might get a whole lot worse."
Fifty miles northeast, back at Christian Hospital in St. Louis County, Dr. Michael Opoku said there has been an uptick in cases in August, September and October.
"It never really went away," Opoku said.
And Opoku worries about the rising numbers in smaller Missouri towns.
"The rural areas are being hit really hard as we speak right now," Opoku said. "Eventually it's all going to trickle down to us."
Editor's note: This story has been updated to reflect that Missouri's most recent hospitalization data was released on Thursday. 
These maps and charts show the spread of COVID-19 in Missouri and Illinois.